10 Best Dive and Snorkel Destinations
Nature is vast and colorful and as beautiful are the lands, mountains beaches and rare fresh air, equally will amaze you the deep, blue life under the ocean which holds many secrets with itself. There is something about life underwater it is almost like self discovery and being one with yourself. People who have experienced scuba diving at least once in their lifetime know the feeling of being away from the world and entering another one- it is almost magical. So here is a list of 10 best dive and snorkel destinations which you must visit if you wish to add some thrilling memories in your collection.
1. Great Barrier Reef, Australia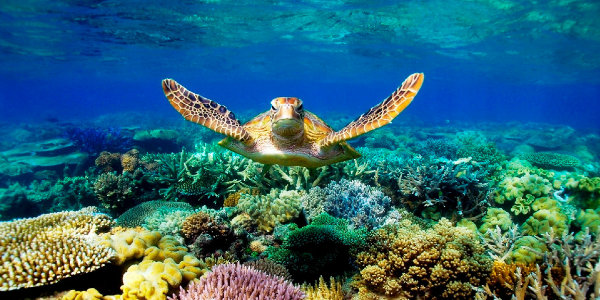 The Great Barrier Reef offers one of the most brilliant underwater experiences. As the largest reef system of the planet, The Great Barrier Reef in Australia consists of 2,900 individual reefs and coral cays which stretch 1,400 miles off the Queensland shoreline. There are multiple spots from where you can dive or snorkel setting your base at Cairns or Port Douglas. You must cover this spot on you Australia holiday tour.
2. Ilha Grande, Brazil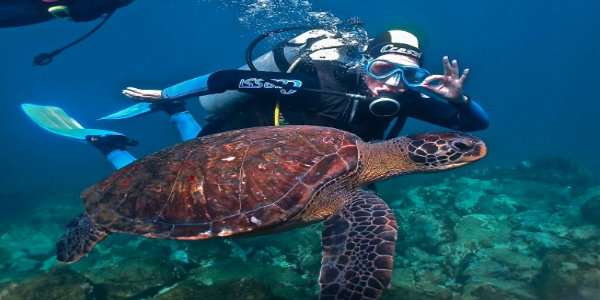 Halfway between São Paolo and Rio de Janeiro you will find the treasure of wilderness and wonder in Ilha Grande which is popular for its monkey filled jungles surrounded by sapphire water which is dosed with colorful fishes and sea species. You can dive into the warm waters of the Blue Lagoon and forget the world of land with sea horses, underwater coves, turtles and angelfishes.
7. Palawan, Philippines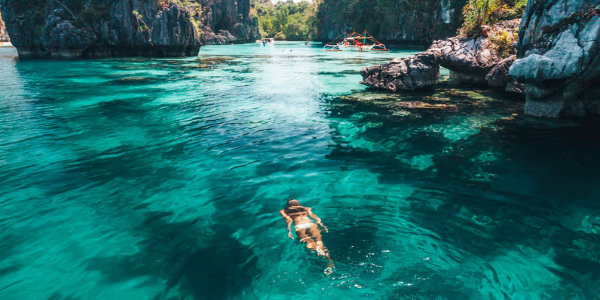 One of the most beautiful places and a top choice for honeymooners, Palawan in Philippines will greet you with one of the most memorable diving and snorkeling experiences. The water surrounding the 7,000 islands in the archipelago boasts about breathtaking wildlife and offers plenty of options for snorkeling. You can dive into the Bay of Donsol and swim with whale sharks or you can visit the coral reefs outside Noa Noa Island.
9. Baa Atoll, Maldives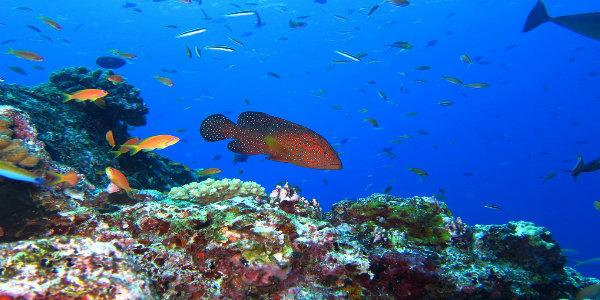 Not only a popular choice among-st honeymooners but also among-st divers, Maldives is not all about beautiful islands and resorts but even more beautiful underwater spectacle. Some 700 species of fish, including tuna wahoos, and butterfly fish inhabit in Baa Atoll in Maldives which is already famous for its manta rays and whale sharks at Hanifaru Bay.
6. The Big Island, Hawaii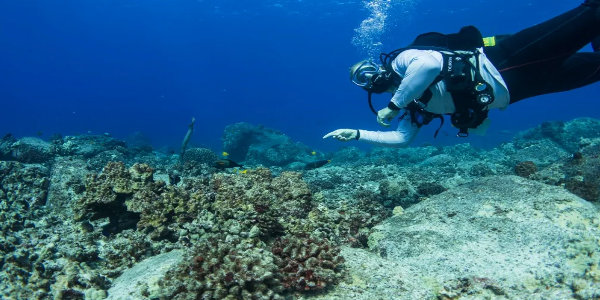 There are numerous incredible spots around the entire Hawaiian archipelago for snorkeling but the Big Island has not only more square footage than all the other islands combined but also offers the most in terms of diving experiences. Besides being generous with technicolor coral and colorful fish the underwater state park at Kealakekua Bay is also rich in history as it marks the point where Captain James Cook landed on the island
2. Devil's Crown, Galápagos

An extinct sunken volcanic cone near Floreana Island, Devil's Crown is loved by the adventurous divers and snorkelers who are immediately attracted to the wonders of underwater. Around 600 miles west of Ecuador in the Pacific Ocean is the treat for all animal lovers called the Galápagos Islands which drives its nick name from the circular formation of jagged lava rocks. If you wish to dive here it is advised to go with an experienced guide as outside the crown, you may see hammerhead sharks and the currents can be stronger than you expect.
3. Silver Bank, Dominican Republic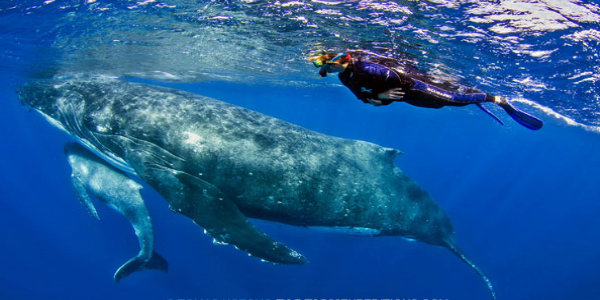 80 miles north of the Dominican Republic lies Silver Bank, in the Caribbean Sea where the unreal is real. You can snorkel alongside the humpback whales. It is once in a lifetime experience as this Marine Mammal Sanctuary is one of only three places in the world that allows you to swim and snorkel among the North Atlantic humpback whales making this one on top of many bucket lists. Best time to visit Silver Bank is between December and April.
4. Grenada, The Caribbean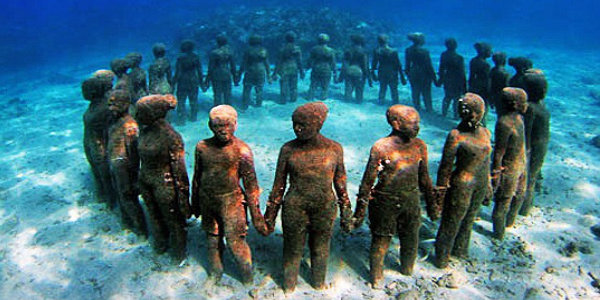 One of the most popular snorkeling sites in the world is an underwater gallery of sculptures in Molinere, Grenada. Grenada is blessed with over 30+ dive sites full of healthy species and colorful corals. If you are an advanced diver you can consider exploring the site of the Bianca C shipwreck, a 600-foot passenger cruise which sunk twice.
8. Komodo Island, Indonesia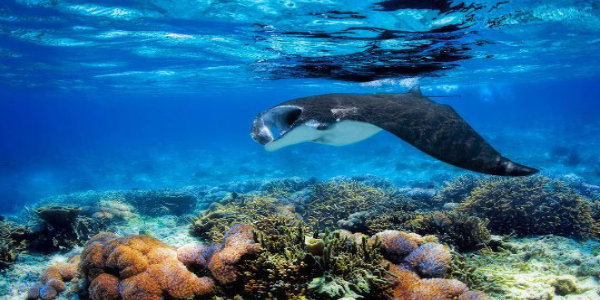 Besides being the home to approximately 4000, 3m-long Komodo dragon monitor lizard, Komodo Island in Indonesia is also one of the best places to dive or snorkel. Made up of rusty-red volcanic hills, savannah and forests Komodo Island is a part of the Lesser Sunda in Indonesia. You can visit the Pink Beach to swim with rays, schools of groupers, and hawksbill turtles or explore the sea surrounding the Komodo National Park which homes approximately 1000 species of fish, 260 different types of corals, and some 14 types of endangered whales, dolphins, and giant turtles.
10. Buck Island, St. Croix, USVI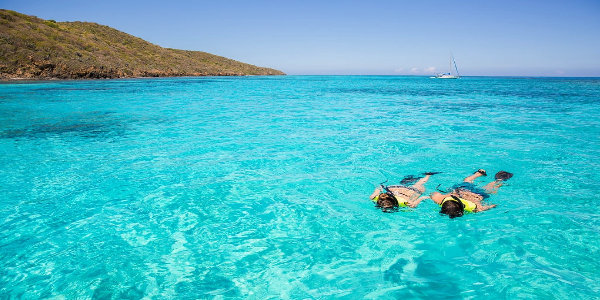 How would you feel running into a friendly octopus, or following a colorful parrot fish along an underwater trail? Expect the unexpected at Buck Island in U.S. Virgin Islands. Buck Island Reef National Monument or just Buck Island includes 18,839 acres of submerged lands offering some breathtaking underwater views and experiences which you will never forget in your life. Expect sea turtles, brain coral abound and brown pelicans at this amazing park. The shallow waters are ideal for beginners
So next time you go through the numerous choices you have for your holiday packages, make sure it includes at least one these beautiful places where you can dive or snorkel before the reefs and everything we call nature is no more.