Best Of Bhutan In February
Bhutan is one of the most amazing tourist destination that sets itself apart by introducing the tourists to attractions they would surely fall in love with. While there are quite a number of natural wonders, Bhutan is known for the diversity it offers to its visitors. If you are planning a Bhutan Tour anytime soon, then avail the Bhutan tour packages from Ahmedabad and make your way down to one of the most amazing holiday you would ever experience. Right from the weather to the heritage and culture, Bhutan is nothing less than a complete package for an individual who is looking forward for a spell-bounding vacation. Here we talk about a list of things to experience in the month of February.
1. Experience Mild Snowfall In Paro and Thimphu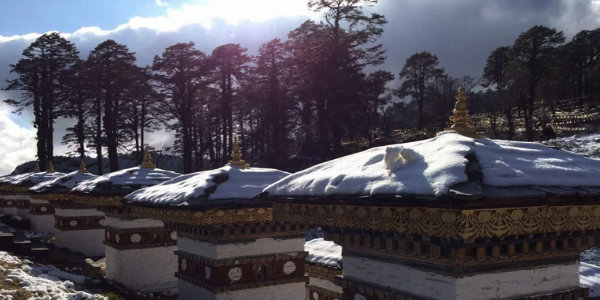 February is the perfect time when you would experience the best of snowfall in Bhutan. The mild snowfall sets the perfect mood for any tourists who wishes to see the best of Bhutan. Paro and Thimphu, however here are the two recommended places you should visit if you love to be around snow. These two places get covered in an envelope of snow and is a mystical sight to say the least. There are a number of festivals too, that take place with the onset of snow, making the entire surrounding a pretty affair.
2. Culture And Heritage Of Bhutan
The culture and heritage of Bhutan is what piques the interest of many tourists who are travelling to Bhutan. Bhutan comes along as a place which is famous for its monasteries that are located with serene backdrops. The cultural values are well preserved here and is very much influenced by Buddhism. There are no dearth of monasteries, temples, chortens etc. You would be equally delighted to see the colorful prayer flags on the hillsides which are considered sacred. In the life of Bhutanese, the festivals play a very key role and are considered very auspicious. Even the dance forms that are exhibited during some of these festivals are something which would make your heads turn. Chortens are one of the most commonest structures which you are going to find in Bhutan. Apart from that, Goemba, Lhakang, Dzongs are also some of the finest heritage monuments which you would find in Bhutan.
3. Phobjika Valley – A Natural Wonder Which You Should Surely Not Miss Out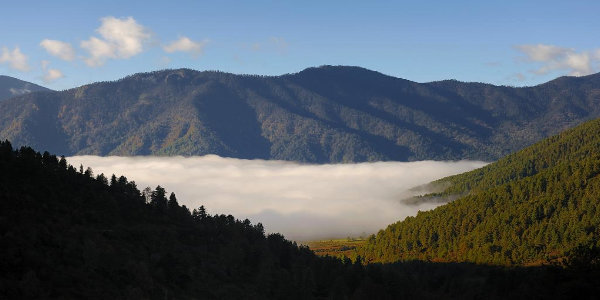 This very famous U shaped Gangteng Valley is named after the Gangteng Monastery and is hugely popular for its scenic as well as cultural splendor. Over the years, this valley has attracted tremendous boost in the religious and ecotourism industry. The valley is culturally very rich and hence there are high chances that you might experience the local festivals in Phobijka Valley as well.
4. Taktsang Monastry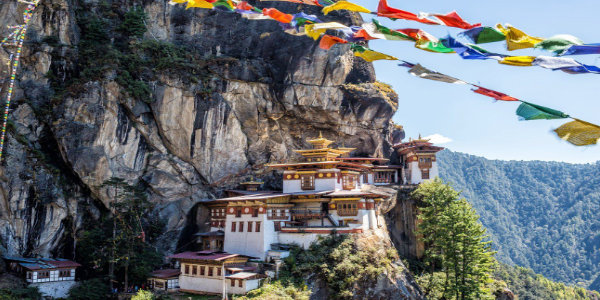 Also known as Paro Taktsang, Taktsang Monastery is a very famous and iconic temple complex which has indeed become a cultural icon of Bhutan. This monastery is a must visit in the list of places you are planning to visit when in Bhutan. Most of the tourists who come to Taktsang Monastery, come with an intention to attain some kind of a spiritual belief or to meditate hence there are a lot of meditation centers around which you can visit.
5. Dochula Pass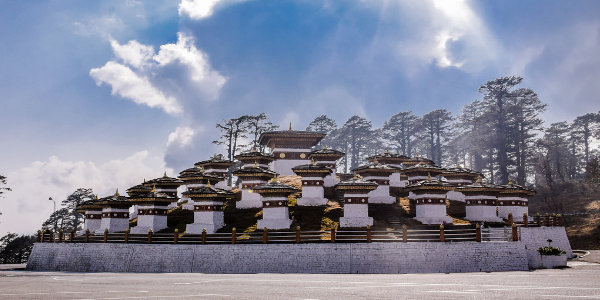 Dochu La Pass is a mountain pass which is covered with snow in the Himalayas. This is the same pass wherein you would find 108 memorial chortens or stupas that have been built by the Eldest Queen Mother. Located at a height of 3100 metres, the weather here remains most chilly and foggy, making it as one of the most scenic pass you can ever be at.
6. Cuisine Of Bhutan
The cuisine of Bhutan is as unique as it gets. The traditional Bhutanese food is something which is surely going to be appreciated by you as local cuisine of Bhutan is what makes it as a USP for most of the tourists who love to explore the culinary delights of Bhutan. Indulge into a wide range of momos, thukpa, laphing etc and drool over the best food you would ever have in your entire lifetime. Red Rice too, is one of the best delicacies you would love to have in Bhutan.
7. Art and Craft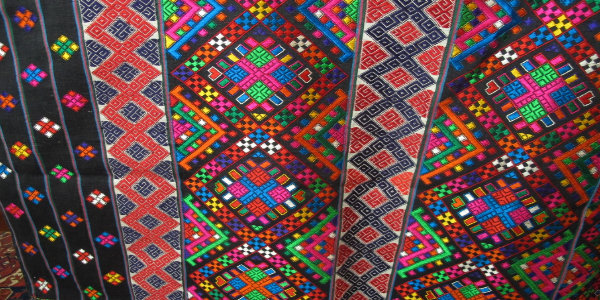 The art and craft of Bhutan is an idealistic representation of the spirit and identity of the Himalayan Kingdom. Since Bhutanese Art is pretty similar to the Tibetan Art, you are surely going to find similarities in the art forms. There are many exhibition centers that you would find in Bhutan selling various forms of art and crafts that depict a true history of the art forms that have been pre-dominant in Bhutan.
Make your way down to Bhutan in February via Bhutan tour packages and you would surely fall in love with this place.