Splendid Sakura: the handy guide to the 2020 Japan Cherry Blossom Season
Japan: The land of the rising sun and unending fun
A timeless place with an amazing amalgamation of ancient traditions and modern life, Japan is a traveler's delight. Be it a night in a traditional Japanese inn called ryokan or meditation with monks followed by powdered green tea, there is so much to this country. Japan has something to enthrall everyone. When it comes to the cuisine, there is so much to relish, more so because Japanese are sticklers for perfection. They pay a lot of attention to sourcing the freshest of produces and presenting a dish in its most attractive form. Japan is also known for its excellent public transport system, an example of which is the shinkansen (bullet train) network. Most of the major cities have subway networks too. What is more, is that Japan is different at various times of the year and has something new for everyone who visits. One major attraction is the cherry blossoms season and the flowers are famously known in Japanese as Sakura. Here is a brief guide to cherry blossom season in Japan. Take a deep dive into the Sakura celebrations, learn the best time and places to experience the cherry blossoms at its best.
What are cherry blossoms?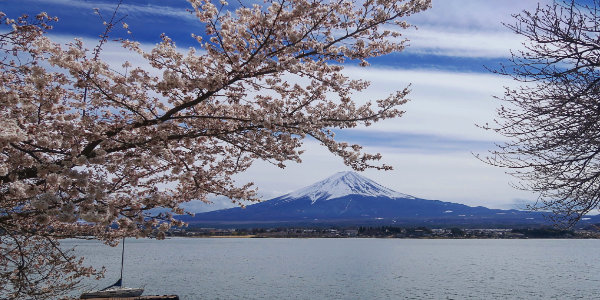 Cherry blossoms are Japan's national flower and a cultural icon. They are small, delicate pink flowers and Spring is the Sakura season in Japan. Cherry blossoms are highly cherished in Japan and are widely featured across Japanese paintings, film, and poetry. In April every year, families gather in large numbers ceremoniously for what is called Hanami (or the cherry blossom festival in Japan) and elaborate feasts are organized along with the music. What accompanies is giant, feathery canopies of soft pink cherry blossom flowers.
When do cherry blossom bloom?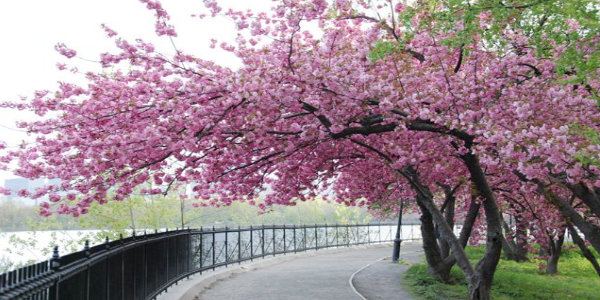 Although traditionally, cherry blossoms bloom in the spring, there are some best cherry blossom spots in Japan you should know about. For instance, the subtropical islands of Okinawa where they bloom as early as January; or the Hokkaido where they bloom a little later in May. The other cities include Tokyo, Kyoto, and Osaka. Furthermore, the blooming time of cherry differs from year to year depending on the weather. A full cherry blossom is called mankai and the first blossom is called kaika. 
What is the significance of cherry blossoms?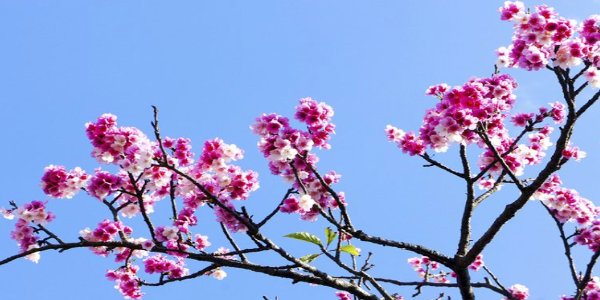 There is a spiritual angle to cherry blossoms and why their blooming is celebrated in Japan. Just like human existence, cherry blossoms also last only for a short span of time. They are a reminder to marvel at our lives for whatever duration it lasts and be thankful for all the things we have. Sakura is also an embodiment of beauty and grace in Japan. They indicate the arrival of spring which also signifies renewal and optimism.
In ancient times, the sakura trees were believed to enshrine deities. For this reason, farmers made offerings to these trees and prayed for an abundant harvest. With time, the tradition changed meanings and the way it was celebrated also changed. Another story is that during the Heian era (794 – 1185), there were aristocrats who composed poems about the sakura trees. Hanami or cherry blossom festival in Japan is thus celebrated with gratitude and glasses filled with sake, boxes of bento, and sweet mochi. You must also read the following mention of cherry blossoms in Japanese literature.
The Sound of Water – a selection of 200 haiku translated by Sam Hamill, including bite-sized poems by masters such as Basho, Isso and Buson.
Cherry Blossoms by James T Ulak and Howard S Kaplan – an illustrated hardback book devoted to cherry blossoms in Japanese art and culture, in all their pink glory.
It is also interesting to note that no part of the cherry blossom tree is wasted in Japan. While the leaves are preserved and used as edible mochi wrappers, several snacks use sakura as one of their key ingredients. There are also Kit Kats in sakura flavor, sakura sake and even sakura matcha!
Best spots to see cherry blossoms in Japan
Japan is home to hundreds of cherry blossom varieties. Some also bear fruits and the flowers of some trees change color from dark to light pink to even white throughout various stages. A special variety called Kanzan has been bred to have double blossoms. It can have up to 28 petals on each flower.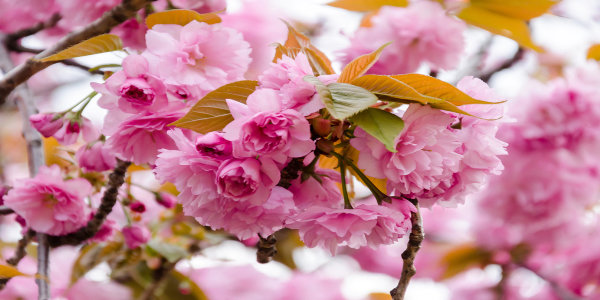 One of the most prominent species of cherry blossoms is Somei Yoshino and forms about 80% of all the sakura trees in Japan. Another well-known variety is the Shidare-zakura which has dangling branches and bright color. In the Shizuoka Prefecture, there is what you call the wild Kawazu-zakura which has big beautiful petals and deep pink color. The best part is that it is there for an extended period of about a month.
While there are over 1000 spots where you can find cherry blossoms, here is the lowdown on some of the best places where you can marvel at the cherry blossoms in Japan. However, since the nature of blossoms is unpredictable, it is good to keep an eye on the local forecasts to know the exact spots.
Yoshino This is the most famous of all destinations. One can witness a carpet of cherry blooms carpeting the mountains.
Maruyama Park There is a huge tree in the park where the branches bow down to the ground in a marvelous display of the cherry blossoms. The area is illuminated till dusk. You should also visit Mount Yishino, which is a pilgrimage.
Himeji Castle If you wish to see striking white wooden walls provide the perfect backdrop for cherry blossom trees, this is the place you should be.
Fuji Five Lakes Witness the beauty of cherry blossom trees with the backdrop of Mount Fuji. You can even visit the volcanic island of Honshu.
Hirosaki Castle This is one of the prettiest places for viewing the cherry blossoms in full bloom. The area is illuminated in the evening, making it one of the best spots ever.
Ueno Park Although this is Japan's cosmo capital, there are beautiful parks and gardens that become home to the cherry blossom festivals.
Maruyama Park Kyoto is deep-rooted in tradition and there are temples and other attractions in this city. You won't be able to take your eyes off the tall shidarezakura, the weeping cherry tree illuminated at night.
Matsumae Park This park's swaying cherry blossom trees maintain the serenity of the Buddhist artifacts. There are over 250 varieties of cherry blossom trees that are illuminated beautifully at dusk.
Hanamiyama Park, Fukushima This place is situated on the slopes surrounding a rural farming community in Fukushima Prefecture. Local farmers started the park and planted ornamental plants and trees in the area. There is a wide variety of cherry blossom trees here and this in combination with lovely views of the Azuma Mountains can leave you awestruck.
Takato Castle Ruins, Nagano The Takato Castle Ruins Park is located in Nagano Prefecture. The park is at a distance of 60 km from Matsumoto and a visit here during April will take you right to the middle of the annual cherry blossom festival. The place is illuminated beautifully from sunset until 10 pm. This is one of the busiest destinations, so you may want to book prior to your visit.
Philosopher's Path, Kyoto A lovely stone walkway in the Higashiyama district, this place is named after the philosopher Nishida Kitaro. The 2-km path has several restaurants, cafes, and shops and is lined with many cherry blossom trees that bloom in April and is one of the most famous hanami spots in the city.
Kenrokuen Garden, Kanazawa This place is one of the top three landscape gardens in Japan and beautiful for a visit any time of the year. It is a large garden and viewers may lose track of time as they wander through admiring the beautiful cherry blossoms.
Himeji Castle, Hyogo Prefecture This place is Japan's largest and most impressive castle and a UNESCO World Heritage Site. There have been several fires, wars, earthquakes, and the Meiji Restoration as well. This place is surrounded by sakura trees and is undoubtedly at its best in the spring season.
On another note, all Japanese castles are some of the best hanami spots and full of sakura trees.
How can you enjoy Sakura like the locals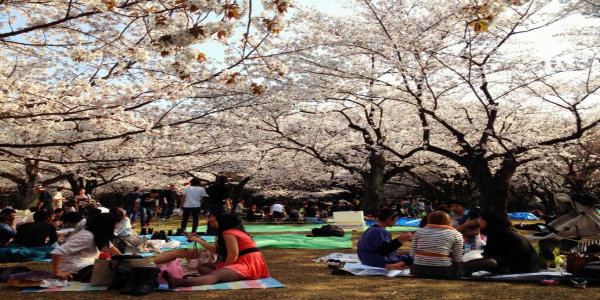 The best way to enjoy Sakura like a traditional Japanese is as follows. Get some food, perhaps the seasonal bento box. You can find these at the local supermarket or the food floor of a departmental store. The next step is to buy some drinks and disposable cups. Finally, find some empty space beneath a cherry blossom tree, spread your tarpaulin, and enjoy Hanami.
Tips for first time travelers to Japan
No matter whether you are going to visit Japan in its entirety or to witness the cherry blossom season, here are some tips for first time travelers to Japan.
Get a JR pass
For about $250, you can get a JR pass which will allow you access to any JR line in Japan. This will last for about seven days. Tokyo subway fares are also very cheap and are easy to get from the electronic ticket machines. A JR pass for seven days will be as much as a round trip ticket to Kyoto.
Do keep cash handy
Japan is cash-based and many places including those like McDonald's or even stores do not accept credit cards. Anything up to five dollars is coins, so make sure you get a coin purse with you. Even in many of the souvenir shops, a coin purse is the most common item.
Find your convenience store
These are your best bet since you can a filling and semi-nutritious meal for as little as five dollars. Be it the ambient music or the easy-to-operate ATMs, the staff will go all the way to comfortable.
Do not forget a hand sanitizer and a plastic bag
Many places in Japan do not have a soap dispenser, even in public restrooms. To avoid this situation, it is a good idea to carry a hand sanitizer with you always. There are also not many trash cans in public spaces, an anti-terrorism measure taken in 1995, and so make sure you carry a plastic bag with you.
Best places to see cherry blossoms in Japan in 2020
Here is a handy guide on the five best spots where you can witness the beauty of cherry blossoms in Japan in 2020.
Sapporo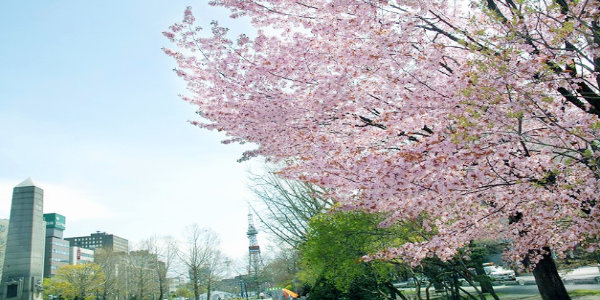 This is the capital of Hokkaido and was once home to the Ainu people called "Ezo." Some of the famous dishes such as Sapporo Ramen and Genghis Khan originate here. You can visit the Sapporo Clock Tower here and in winter marvel at the Sapporo Snow Festival. While summer is highly refreshing in this place, in winter you can relish snow. For those who wish to see cherry blossoms in Sapporo, the best time is around the first week of May for full bloom.
Hakodate
This place is Hokkaido's first international trading port and there are some great sights to behold including old churches and western-style buildings. At night, some of the places you can visit include Mt. Hakodate Observation Deck and the Goryokaku Park where cherry blossoms will greet you. If you are a foodie, you should try out the fresh seafood rice bowls, squid dishes, or shio ramen. This is also a good place to enjoy shopping. You can visit this place around the first week of May to relish in the magnificent beauty of the full bloom cherry blossoms.
Furano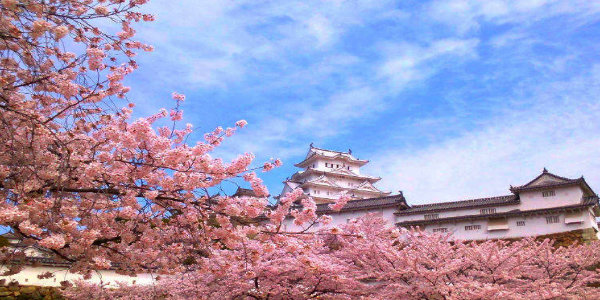 This is an area right in the middle of Hokkaido with lovely hills and the very well-known lavender farms. Enjoy some picture-perfect scenery along with fresh vegetables and Furano's wine and cheese. This place is also about 2 to 3 hours from Sapporo. One of the major attractions here is Sounkyo which is a hot spring destination.
Otaru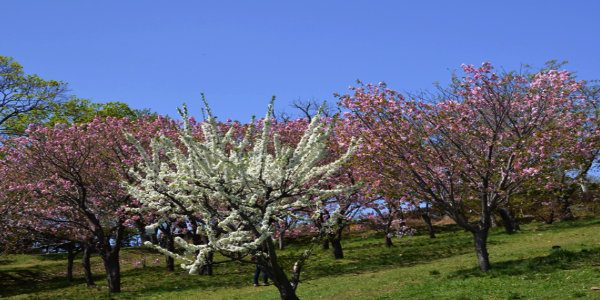 This is a port town that is also Hokkaido's commerce center. There are several sightseeing places to visit here including old storehouses at Otaru Canal or the Sakaimachi Street where you get to shop to your heart's content. Also visit this place for its sweets, sushi, and the best rice bowls.
Asahikawa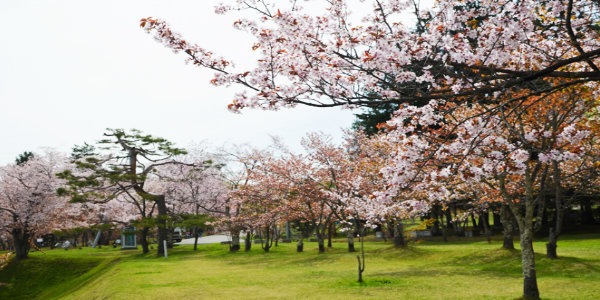 Hokkaido's second most populous city, this place has many attractions including Asahiyama Zoo, gardens, cycling routes, campgrounds, and horse-riding. If you are here, do not forget to try the Asahikawa Ramen. As you enjoy the cherry blossoms in full bloom, you can later indulge in culinary delicacies Shinko-yaki charcoal-grilled chicken dish, and local sake.
The best time to witness the cherry blossoms in eastern Japan (Kanto-Koshin region) is around the 3rd and 4th week of May. Tokyo, Yokohama, Kofu, and Nagano are some of the must-visit places to watch the cherry blossoms.
Some of the unarguably ultimate spots in Tokyo to witness the cherry blooms are Shinjuku Gyoen National Garden, Ueno park, Chidorigafuchi, Sumida Park in Taito-ku, Inokashira Park, Meguro River (Megurogawa), Yoyogi Park, Koishikawa Korakuen Gardens, Rikugien Gardens, and Asukayama Park.
Ueno park has been a sakura destination since the 16th century; be there in the evening to watch the cherry blooms at its glory being lit by lanterns. Chidorigafuchi is one of the most scenic spots to watch the cherry blooming with the stone walls of the Edo castle being the stunning backdrop. You can even stroll through the Sakura tunnel, a 700m-long footpath adorned with the cherry blossoms.
Kanazawa (Ishikawa Prefecture) and Nagoya (Aichi Prefecture) in central Japan, Kyoto, Osaka, Kobe, and Nara in western central Japan, Hiroshima and Matsuyama in south-western Japan and Fukuoka and Kumamoto in west Japan experience an early cherry blossoms around the first week of April.
Tips to keep in mind during Hanami
In some places, it is not allowed to consume food and drinks, so it is good to check beforehand.
Understand that there will be many people wanting to sit under the cherry blossoms. Occupy only as much space as is needed.
Avoid touching the trees or breaking branches, plucking leaves, etc.
Avoid getting overdrunk as this can amount to a breach of etiquette
Leave the place clean and do not throw litter anywhere in the open. If you do not find dustbins, make sure to carry a bag with you to put the wrappers, etc.
Lastly, do remember to take a camera, a selfie stick, some reasonably warm clothes, and a flask if you want some hot drinks. The cherry blossom season in Japan is one of the busiest times in the entire year, and you must remember this if you are heading to any popular places like Kyoto or Tokyo. Although there are several last-minute japan tour packages available, booking as early as possible can help you avoid many travel- and boarding-related hassles and make your cherry blossom experience worth the while.