Top 7 Most Popular Destinations For A Beautiful Pre-Wedding Shoot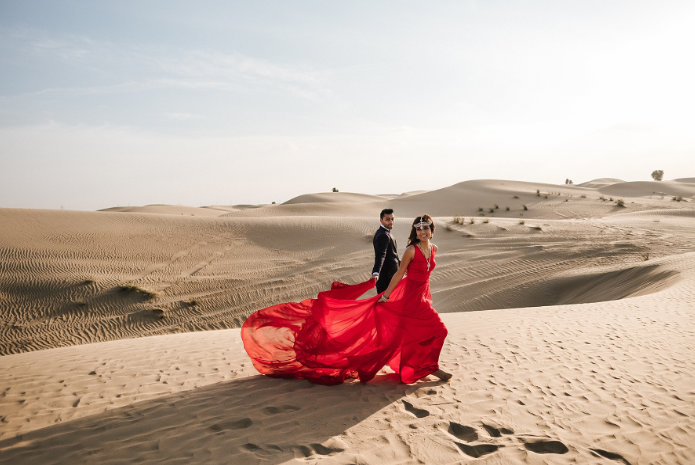 The wedding season is right here, with all its colors, jazz, traditions and so many beautiful memories. If you are one of those couples who are obsessed about making your D-day a perfect one by ensuring the apt wedding hashtags, to perfect wedding day look, to your entry song, decorations, photographer, etc. – then you are certainly going to go all out for your pre-wedding photo shoot too.
Fret not! We got you covered – as in this blog we list down the top 7 most popular places for a pre-wedding shoot suiting different budgets:
1. Goa, India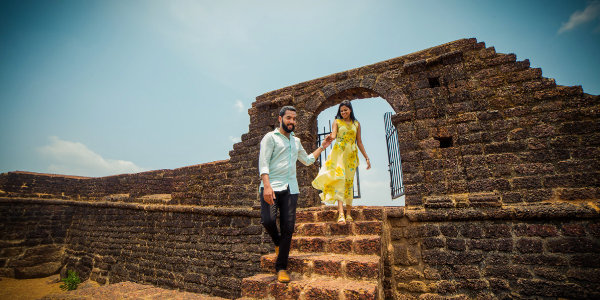 Goa is a one of the most convenient and trendy destination in India to get a pre-wedding photo shoot. Goa needs no introduction it promises best of everything. You can pick locations like Benaulim Beach, Sinquirim, Ruins of St Augustine Church, Corjuem Fort, Parra Road or Morjim beach where you can get pictures done while riding your bike on the streets of Goa or you can book a villa in Goa if you want to shoot indoors or rent a yacht to get a drone shot in between the sea. Goa has multiple photographers; shoot locations and the vibe of this place scream chill and party at the same time.
2. Bali, Indonesia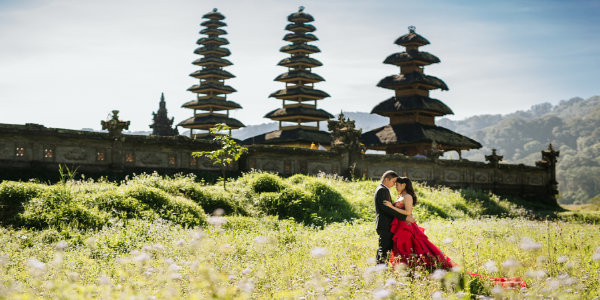 Bali is beautiful, peaceful, relaxed and very soft on pockets for an international pre-wedding shoot. In terms of landscapes it provides you beaches, rain forest, mountains, temples, clubs that never sleep and such colorful streets. Explore all of these with our Bali Holiday Tour Packages
There are so many locations that you could use for a pre-wedding shoot such as the Mangrove Forest- a picture under the canopy of trees, AYANA Resorts and Spa – easier to stay and shoot at the same location to save time and energy and staying in one of the best resorts of Bali doesn't harm either. Mount and Lake Batur in Kintamani- against the backdrop of stiff mountains and happy waters on a pier.
Couples are also fond of places like Tanah Lot Temple, Tamblingan Lake and Nusa Dua beach. We feel Bali pre-wedding shoot coupled with Bali Tour Package can become a combo for a weekend get-away is an ultimate place for pre-wedding shoot as it has enough sunlight, clean locations, and well who doesn't like to party in Bali with his/her fianceè?
3. Udaipur, India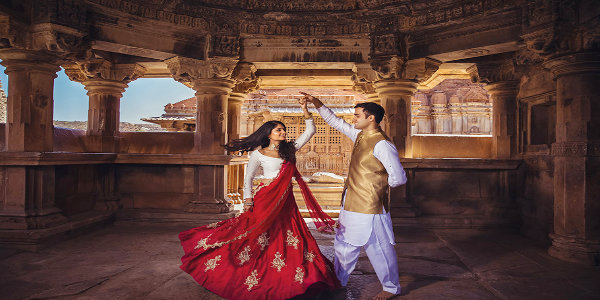 If the theme of your pre-wedding shoot is 'Royal' then there is no better place than the hub of actual palaces, forts and heritage sites majority of which are now converted into a hotel thereby giving you a good chance to use the location for your photo shoot. The charm of the yesteryear, the Rajasthani color of love, fragrance, culture and traditions all blended well with perfect shots under the sky or against the intricate designed walls of a palace is the ultimate royal romance that you would want to capture forever. Location like Chunda Palace, Hotel Fateh Garh, The Lalit Laxmi Vilas Palace Udaipur, Ghats of Udaipur and Gulab Bagh are some wonderful options to consider.
 4. Santorini, Greece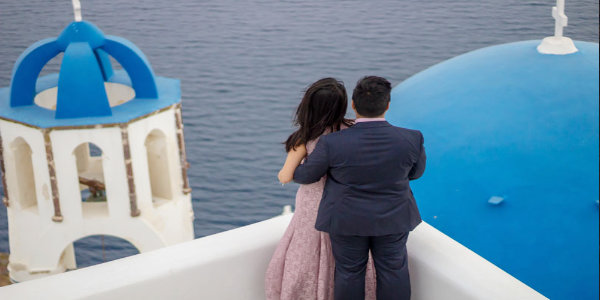 Maybe romance was born somewhere in the whitewashed buildings of Santorini, grew up on its colorful maze streets, ran and slipped in the turquoise waters spread like emerald trees. Santorini photographers offer photoshoots for different occasions like pre-wedding, engagement, proposals, honeymoon and many more. The best pre-wedding photoshoot is from the caldera region to the villages of Oia to Imerovigli – we vouch for the best pre-wedding pictures here! Santorini, if your budget allows, is your chance at having your celebrity style photo shoot with stunning gown dresses and stylish poses and needless to say the sunshine and blue domes add to the charm. The best time to get the pre-wedding photo shoot in Santorini would be July, August and September. Explore the best of Greece with Greece packages
5. Dubai, UAE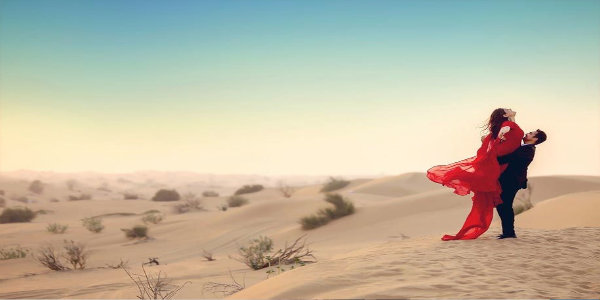 You say lavish we say Dubai, you say extraordinary we say Dubai, you say rich, modern and stylish we say Dubai. Captivate your ever growing love with your partner, your modern sense of outlook towards the concept of love in Dubai. From deserts, to skyscrapers, Madinat Jumeirah, to diamond clean beaches and never halting fountains, Dubai is your answer to capture a photo shoot that sings love, style, fashion and adventure in the same tune.
6. Paris, France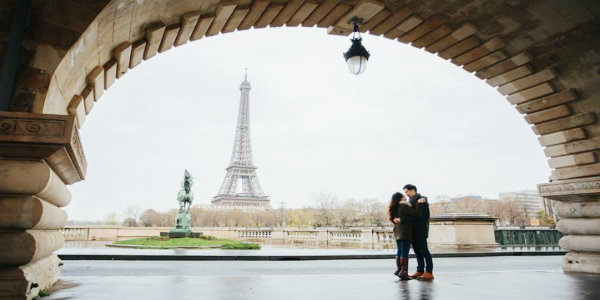 Love and Eiffel tower are almost synonymous, pictures near this magnificent tower will look pretty even after you get old, besides this you can consider locations such as Trocadero during sunrise, Louvre Courtyard, Bir Hakeim Bridge during afternoon, Tuilleries Gardenthe along with the ever so colorful graffiti walls.
 7. Pondicherry, India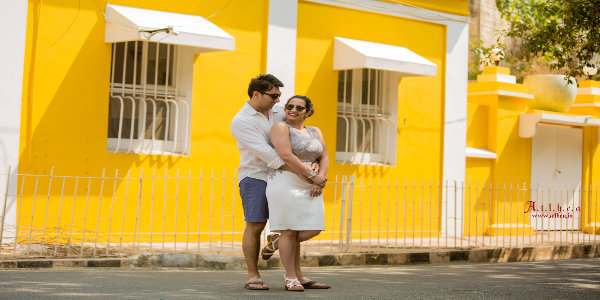 If you want an international setting location within India which may hardly require any filters or Photoshop work and not really stress your pockets then Pondicherry is a wonderful option to consider for your pre-wedding shoot. With cleaner beaches, colorful walls, and French influenced architecture, Pondicherry is picturesque, relaxed and without a doubt beautiful just like love, water and laughter. Catch a sunset at Pondicherry Rock Beach, click some cute pictures near carved wooden doors and French buildings, a must picture against those bright colored yellow walls will add the right amount of quirkiness to your photo album.
We can assure you a pre-wedding shoot at any of the above destinations will be a dreamiest affair ever before the wedding for the couple.