Experience the Royalness: Top Resorts in Rajasthan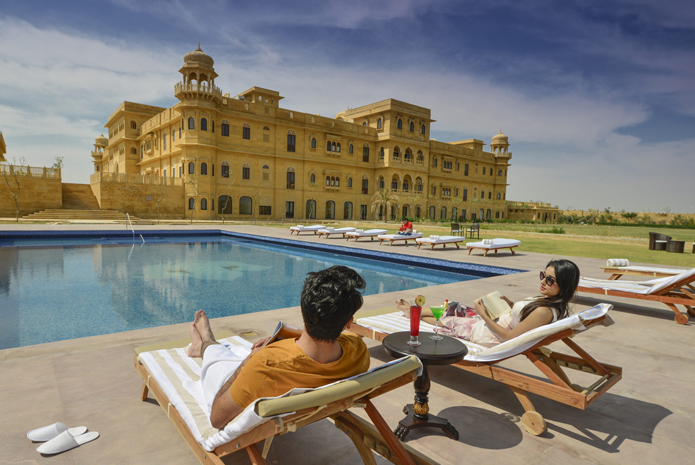 Rajasthan is known as the royal state of India offering warmth, unmatched luxury, royalty and great hospitality to its visitors be it locals or international. And because of these features every year this state attracts lakhs and lakhs of international visitors to explore their royalty. A trip to Rajasthan is full of heritage and royal palaces, spectacular forts, & lip-smacking food. These forts and palaces were built and the residences of the Maharajas in the earlier era. Many of these have been restored to marvellous resorts and hotels, they still have hang on to exhibit the glory of the hospitality and architecture of the Rajputanas.
It goes without saying that the resorts in Rajasthan, put all the efforts to offer a royal and luxurious stay which you can only imagine in your fairy tales dreams.
So don't wait and plan your Rajasthan holiday tour package to enjoy the generous hospitality, experience the princely services like welcoming of guests with Band Bajas and garlands, a red carpet welcome, luxurious rooms with modern amenities, a stylish arrival in a vintage car and much more to make your stay more memorable, lavish and pleasurable.
Do check some of the luxurious heritage resorts in different cities of Rajasthan known for ultimate comfort and hospitality, suitable for both family and couples, take the feel of the times of Maharajas.

Hotel deals like never before!
You Travel We Care!
Udaipur
This city is known as the most romantic city with series of artificial lakes and in turn also known as "City of Lakes". This city is the home to many lavish resorts with also keeping in mind the heritage and culture of the state. So let's find some of the resorts below providing an unforgettable holiday experience.
1. Taj Lake Palace: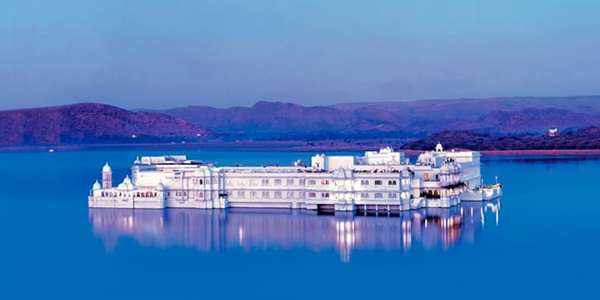 Image Source: https://images.thrillophilia.com
Taj Lake Palace is located in the heart of Lake Pichola, and is a complete example of the luxurious resorts in Udaipur. With 66 elegant & luxurious rooms and 17 grand suites, get pampered with the world class amenities and hospitality. The rooms offer the picturesque views of the surrounding mountains and the Lake Pichola. Guests can enjoy some never-ending list of amenities here like fitness centre, swimming pool, spa treatments, business and shopping centre and much more. This resort can be a perfect stay for couples. If you want to learn more about the history of palace, can opt for the guided walking tours of the palace, organized by the hotel staff.
2. The Oberoi Udaivilas, Udaipur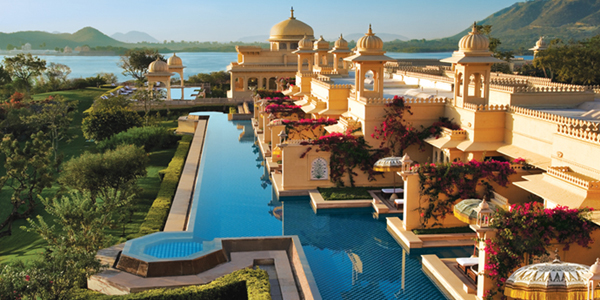 Image Source: https://www.greavesindia.co.uk/
Oberoi Udaivilas is located at the banks of Lake Pichola with lush green lawns of over 30 acres approximately. It is said that the architecture of the hotel reflects the mirror image of the city of Udaipur. With luxury rooms, personalised spa services and treatments, warm and friendly hospitality and the world-class amenities, this resort will make you fall in love with this property and the city. You can indulge into the private yoga classes offered, opt for a sunset boat ride, or take a dip into the swimming pool making your stay more enjoyable, memorable and unforgettable.
 3. The Leela Palace, Udaipur: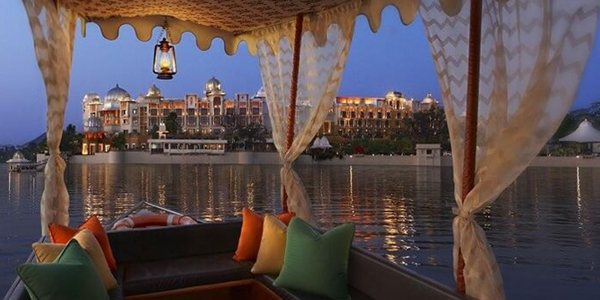 Image Source: https://img.traveltriangle.com/
A complete feel of Rajasthan culture and traditions is bestowed by The Leela Palace, Udaipur. From the mirror work on the walls to the colourful interiors and exteriors, from the sunrise and sunset yoga sessions to the world class spa, from the traditional Rajasthan food to the warm and welcoming members of the resort, you name it and the resort will offer you. When you arrive at first here, you are welcomed with playing traditional folk music of the state, smearing red teeka on forehand, and showers with red rose petals- a lifetime cherishing moment for your holiday. During free time, you can go for private boat rides, opt for history sessions, and enjoy folk dances or some private dining scenes with your loved ones.
4. Fateh Prakash Palace, Udaipur: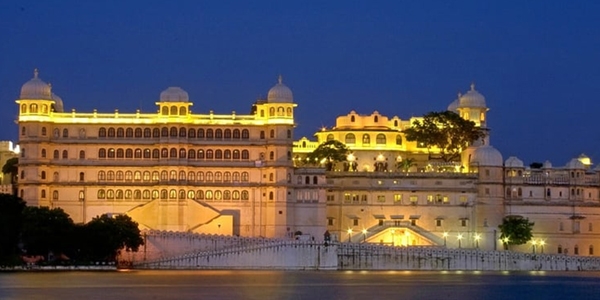 Image Source: https://images.thrillophilia.com/
Fateh Prakash Palace is located on the banks of Lake Pichola, and this goes without saying that all the rooms offer breathtaking views of the lake. This property is from the era of Maharana Fateh Singh and was constructed at that period. This hotel is managed and own by the Maharana of Udaipur.The beauty of the hotel is enhanced by the usage of the beautiful vintage artifacts. The hotel houses an outdoor swimming pool and the rooms and suites are designed in a classy way with original paintings, large length windows, vintage furniture and many other small things to make your stay memorable and pleasant.
The highlight of this hotel is the restaurant where you can enjoy the local delicacies and also enjoy the views of the best sunset of the city.
 5. Taj Aravalli Resort: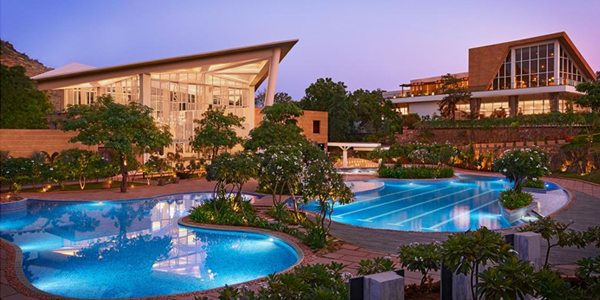 Image Source: cf.bstatic.com
Taj Aravalli Resort & Spa stretches over 27 acres with Aravalli ranges bordering the resort all over. The resort is near to the city main attractions. The architectural design of the resort is motivated from the local culture and traditions of Rajasthan. The guests staying here can also enjoy the facilities of swimming pool and fitness centre. You can also enjoy playing games like badminton, tennis, squash, table tennis, or for an exclusive rejuvenating spa sessions. Come and have a pleasant stay at this resort for a delightful family break.
Kumbhalgarh:
This place is for the ones who loves history, admires nature and wildlife, and for someone who is looking for a city break, go to Kumbhalgarh. The experience of the hospitality and lavishness of the hotels/resorts, witnessing rarest wildlife species and visiting Kumbhalgarh Fort add toppings to your trip. Check out some of the splendid resorts with their applauding services.
1. The Kumbha Bagh: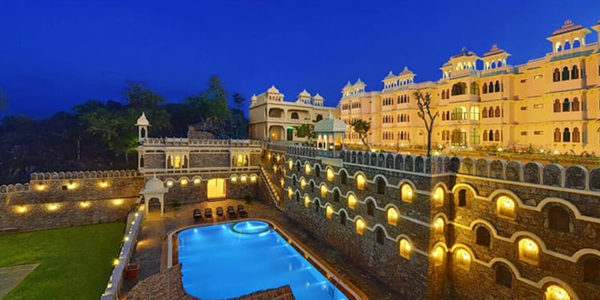 Image Source: https://images.thrillophilia.com/
The Kumbha Bagh is the top most luxurious resort in Kumbalgarh, located at 3,500 feet above sea level and is very close to the famous fort- Kumbalgarh fort. This is hill top resort surrounded by the Aravalli hills. All the rooms here are suite rooms with each suite being so large with around 1000 sq.ft. size and each suite has the facility of private Jacuzzis, decks and balconies. With the touch of Rajasthan culture everywhere, this makes the resort one of the most romantic places ever in Rajasthan. Private campfire, indoor games & spa services forces us to provide additional rating to this resort.
2. The Aodhi Resort: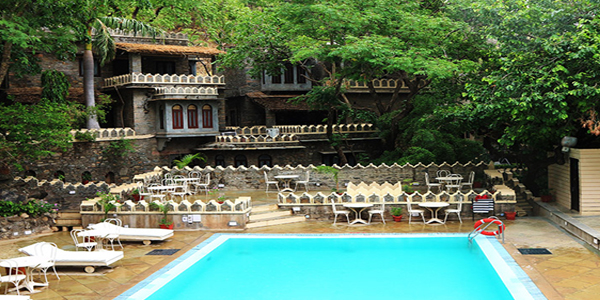 Image Source: https://hrhhotels.com/
The locals term this resort as the "Sanctuary Resort". The Aodhi Resort is located just a few steps away from the Kumbalgarh Fort, this lavishing property is shrouded by trees all over and Aravalli Hills. This resort takes you back to the Mewar culture during your stay because of its old-times architecture making the property a complete heritage resort. You can go for nature walks, explore forts and temples during your stay. Also don't miss out the dramatic Mewar light and sound show at the stunning Manek Chowk in the City Palace.
3. Mahua Bagh Kumbhalgarh: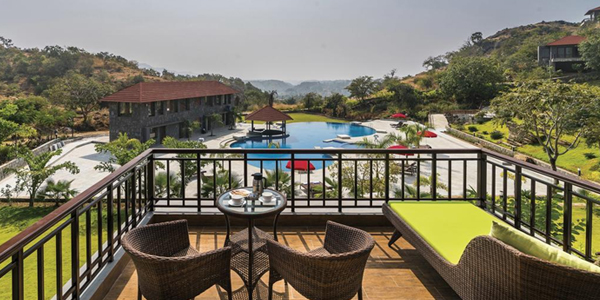 Image Source: https://cf.bstatic.com
How about staying in a mini castle of your own with cute balconies overlooking the hills and private swimming pool to dip in with your prince/princess. The Mahua Bagh Resort gives you the same sense of feeling. Located at just 4km from Kumbhalgarh Fort, this resort gives the ultimate tenderness of luxury. This property is famous for hiring bike and exploring nearby places, cycling, and also car hire is available for the visitors. Being close even to the Kumbhalgarh Wildlife Sanctuary, you can take the option of trekking in the jungle trails or for a jungle safari.
Jaisalmer
This desert city of Rajasthan doesn't fail to surprise you every time you plan to spend your holiday here. Right from the dry deserts to the heritage & traditional culture and hospitality, everything offered by this state is gratifying. But what holds your heart and pleases you are the luxurious Jaisalmer resorts where you are spoiled with immense royalty just like it's a fairy tale dream. The resorts are referred for the modern amenities with keeping intact the Rajasthan heritage and traditions, warm & friendly staff's hospitality and large rooms with old vintage architecture, which will force you to visit Jaisalmer very often. So let's have a look at handpicked resorts known for their lavishness. Checkout some of the best Rajasthan tour packages.
1. Jaisalmer Marriott Resort and Spa: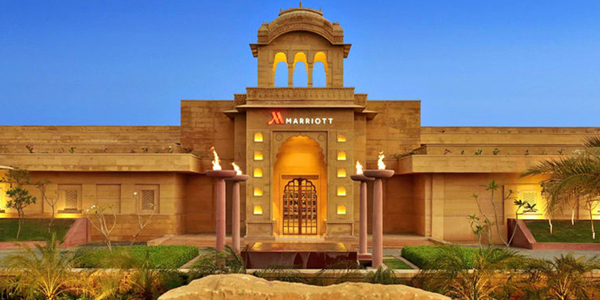 Image Source: https://images.thrillophilia.com/
Jaisalmer Marriot Resort and Spa is a 5-star luxurious resort is located in the heart of the city and one of the preferred resort to spend your holiday when it comes to having a royal stay. This property is built with yellow stone architecture and is just few kilometres away from the Jaisalmer Fort. With all modern amenities like temperature controlled swimming pool for chilling, three different dining options for tummy-filling and fitness and spa centre for pampering, this resort won't let you down in anyway. Come and have the feel of royalty here, and it's a promise you won't be upset.
2. Suryagarh Palace: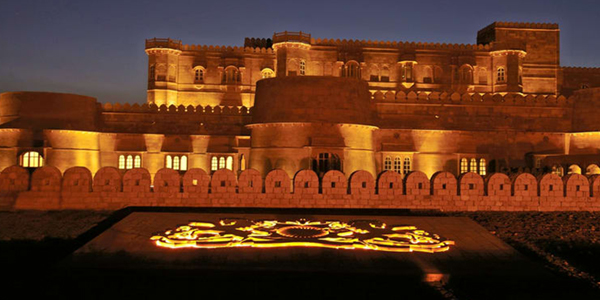 Image Source: https://images.thrillophilia.com
Imagine to stay in a palace and being treated like a prince. Yes, it's true a stay in Suryagarh is no less than staying in an elegant palace. This resort is Jaisalmer is one of the finest example of lavishness with different options of suites and each suite is decorated with the local architecture in a very royal manner. The exteriors are very showy and made of the very stunning blocks of sandstone.
You can enjoy some lovely private moments at the rooftop pool, also enjoying and witnessing the beautiful sunset with the skyline of this Golden city. This is one of the best luxurious resort here with modern amenities but a twist of vintage looks, warm hospitality and much more.
3. Gorbandh Palace Resort: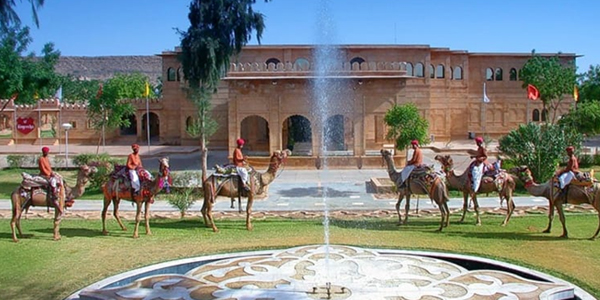 Image Source: https://images.thrillophilia.com
Many of us also wish to experience royalty and lavishness at pocket friendly prices, & Gorbandh Palace Resort is one of that kind. Located in the warmth of the city, this resort is known for providing incredible experience at pennyworth rates. The interiors, exteriors or the beautifully decorated balconies, everything here gives you the presence of grandness here. Also you have your personal butler at your service, what else one needs! Located at the Sand dunes road & being just few kilometres away from the airport and railway station, this resort is definitely worth a visit, once in your lifetime.
4. Fort Rajwada Resort: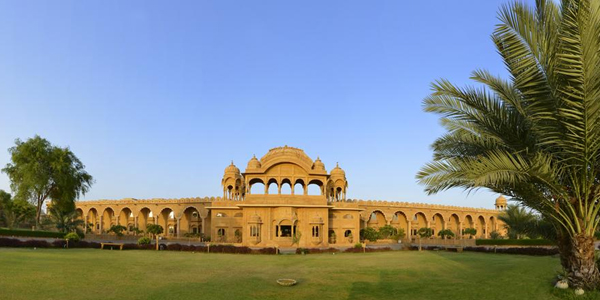 Image Source: https://cf.bstatic.com
Fort Rajwada is the heritage grandeur resort in Jaisalmer. With 90 rooms and many options of suites, this resort is a blend of traditional architecture with a twist of modernisation. A 5-star resort known for its unbeatable hospitality in whole of the Jaisalmer city. Enjoy barbeques on the pool side, calm & pleasing environment, and witnessing sunset and sipping drinks at the rooftop bars here, making the resort a famous one.
Jodhpur
Lapped in with cute little beautiful blue houses and some of the known sightseeing of Rajasthan, Jodhpur is one of the favourite destination for local and international visitors. And so every year this city's resorts and hotels are loaded with visitors. Jodhpur hosts some of the state's great luxurious resorts providing extreme comfort level, luxury and royalty with a pinch of style and lets the visitors immersed in true quintessence of the city. To make your stay an easy affair, we have screened some of the best resorts in this blue city, please go through the below.
1. Taj Umaid Bhawan Palace: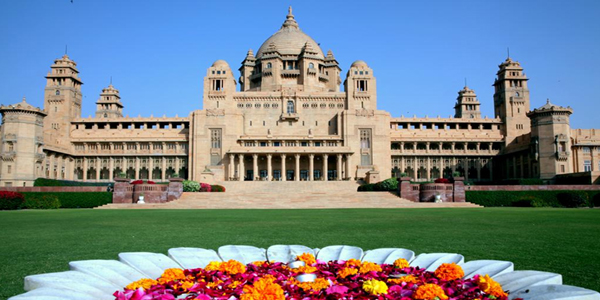 Image Source: https://www.orientrailjourneys.com
A Taj group of hotel, Umaid Bhawan Palace is literally a palace converted into a resort and is still owned by the royal highness of Jodhpur. This resort is constructed at a height from where you can witness the views of the Blue city. The Maharaja Umaid Singh used to live here, and today houses 64 fancy rooms, striking interiors and grandeur architecture. Explore the ultimate Maharaja & Maharani suite which is the perfect example of splendid luxury. The highlight of this property is that the hotel organizes a city tour of Jodhpur for their guests in a royal vintage car along with a private butler. You can also enjoy playing many indoor and outdoor games like squash, badminton, tennis, polo, golf with also horse riding being included.
2. The Ajit Bhawan Palace: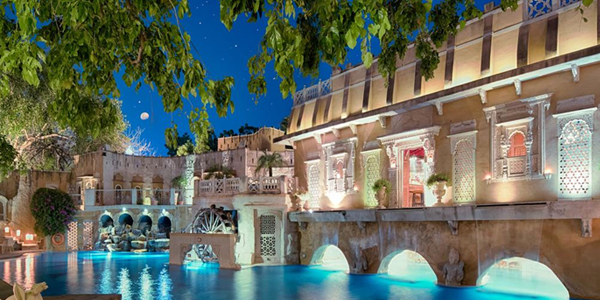 Image Source: https://cf.bstatic.com
This palace was built in the year 1927, is a heritage hotel of Jodhpur. The Ajit Bhawan Palace is a perfect combination of lavishness, princely lifestyle, warm hospitality and distinctive heritage and is considered as one of the most preferred destination for a big fat Indian wedding because of its romantic feel, extraordinary location and unique style. Some of the forward-looking amenities include restaurant, pool, bar, airport transfers, spa and fitness centre, business centre and banquet hall. Also the location of this palace is in close proximity with major important sightseeing places of Jodhpur and many shopping markets. Check out some of the best Rajasthan hotel deals.
3. Indana Palace: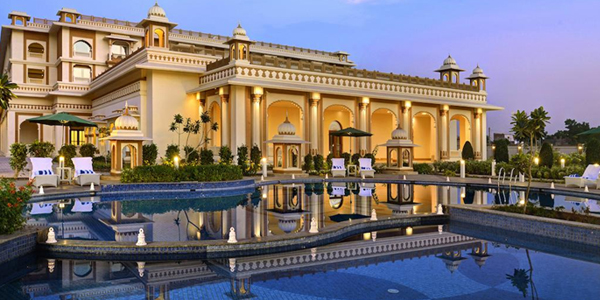 Image Source: https://www.orientrailjourneys.com
The Indana Palace throw backs the true traditions and colours of Rajasthan heritage, with being only 10 kms away from the Mehrangarh Fort and also close to the railway station and the airport. The hotel is known for offering warm hospitality with modern amenities. Guests can also indulge into many recreational amenities offered like beauty salon, swimming pool, Jacuzzi, spa and fitness centre and billiards room. If you have big pockets, book a presidential suite for your holiday offering the best views of the lush green lawns and courtyards.
4. Mihir Garh Palace: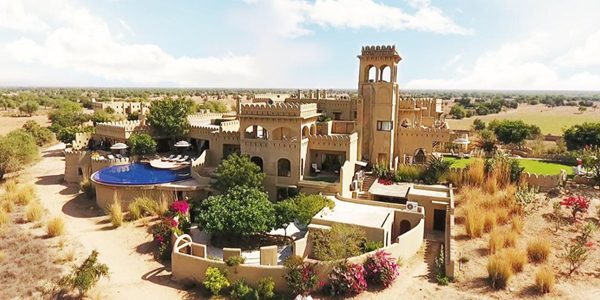 Image Source: https://www.orientrailjourneys.com
Need a feel of celebrity treatment? Then what are you waiting for, book the Mihir Garh Palace. Many suites here have private terraces with gives some amazing views of the desert region of the state. Also many suites have open bath areas giving it a complete romantic feel. To give a traditional feel, the rooms have hand-crafted fire blocks created by the ladies from the local villages. The guests can enjoy services like hiring bikes and car, complimentary jeep safaris and horse riding for which this area is famous for. And to add a cherry on the top, enjoy moonlit dinner in the Thar Dinner with your valentine.
Jaipur
The resorts in Jaipur oozes royalty. Most of the resorts in Jaipur are the restored palaces of the Maharajas times. The resorts here will make you feel at cloud nine with palatial interiors, stunning locations and modern amenities with a touch of traditions of Rajasthan. These resorts are a true example of rich traditions of India and world-class hospitality. Please check some of the best options for a spellbound luxury.
1. ITC Rajputana: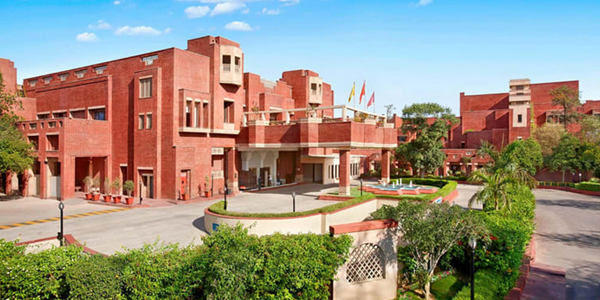 Image Source: https://images.thrillophilia.com
As the names says "Rajputana", this is one of the lavish resort in Jaipur. ITC Rajputana is finely curated to give the mirror image of the traditional havelis of Rajasthan, beautifully decorated courtyards, long corridors and mind refreshing spa treatments and recreational activities like water polo, table tennis and croquet. For an extraordinary living experience of Rajput, book the Thikana Suite which also provides a private butler during your stay.
2. Shiv Vilas Resort: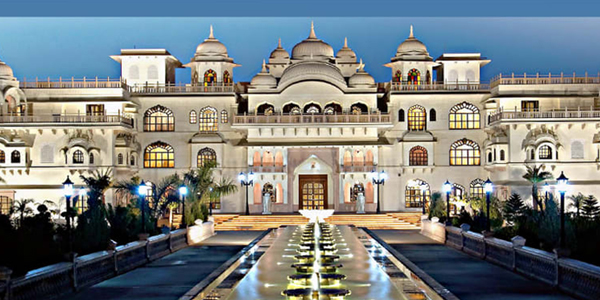 Image Source: https://images.thrillophilia.com
After an in-depth research and development regarding the Rajasthan heritage and traditions, this resort was constructed. This resort is famous for organizing lavish events and weddings. With a wide spread of 32 acres of land, this resort is surrounded with tropical birds, aromatic flowers and dense and thick trees offering some of the magnificent views from many of the suites. The hotel also offers luxurious spa services for its guests. It goes without any doubt that Shiv Villas is one of the most luxurious resorts of Jaipur.
3. Jai Mahal Palace, Jaipur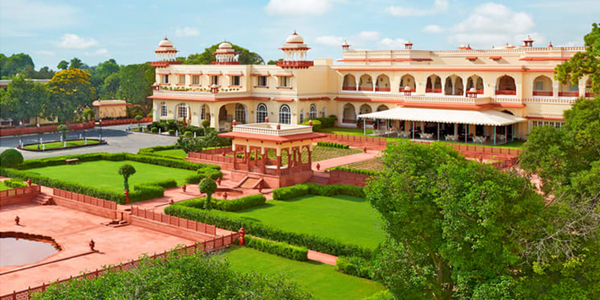 Image Source: https://images.thrillophilia.com
Jai Mahal Palace is a true master piece constructed in the middle of 18 acres of Mughal gardens with 100 luxurious rooms. The style of the architecture reflects the Indo-Saracenic style, it houses spa and fitness centres, swimming pool, fine dining experience at the multi cuisine restaurant and many indoor games. This palace is located in the vicinity of the city and is the perfect combination of culture and heritage. The Taj Jai Mahal Palace is just 7 km away from the Hawa Mahal and City Palace.
4. Taj Rambagh Palace: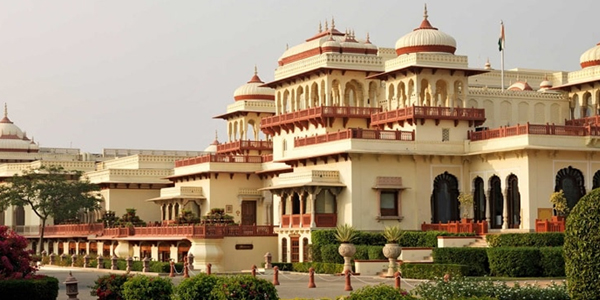 Image Source: https://cvrj.b-cdn.net
Officially now a 5-star luxurious hotel, Taj Rambagh Palace was built in 1835 AD and was the resident palace for Maharaja Sawai Man Singh II and his queen, Maharani Gayatri Devi. Today this luxurious residential is converted into a hotel with 78 rooms and suites. Till date, the palace has retained its vintage architecture with sandstone handrails, lush green Mughal gardens, decorated extraordinary windows and jaalis, marble floorings and much more. Have a spa massage during your stay, or practice yoga. If you wish, you can also organize a private vintage horse cart rides every evening, you can ask palace butlers. What else one needs? No wonder why Rambagh is known as the 'Jewel of Jaipur'.
5. Oberoi Rajvilas Resort: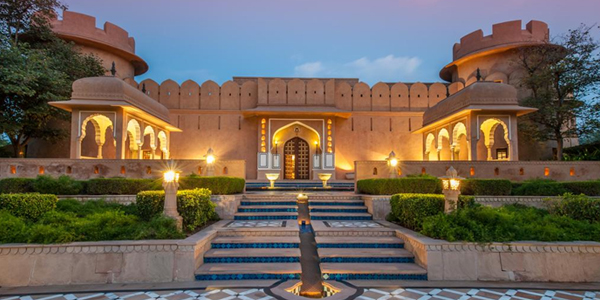 Image Source: https://cf.bstatic.com
Impressive is the one word that describes this spectacular resort, and symbolizes the princely value of Rajasthan. Oberoi Rajvilas Resort is spread across 32 acres of land with green lawns, located in mid of the sand desert and is one of the most popular resort among the international tourists. The resort houses garden view rooms, private pool villas, and lavish tents with AC, gives you the resemblance of Maharajas times. The resort is much famous for traditional activities astrology, Indian wine tasting, meditation and yoga, and bangle making. Come and get the feel of luxury at this resort with your loved ones.
6. Choki Dhani Resort: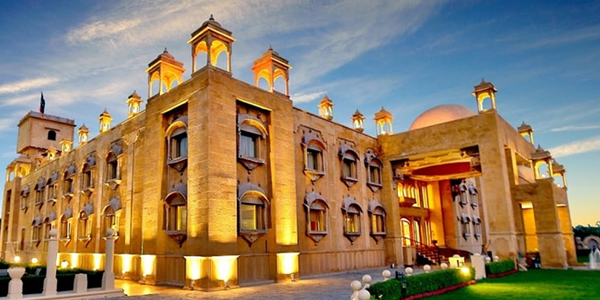 Image Source: https://cvrj.b-cdn.net
Do you wish to experience the culture and traditions of Rajasthan in the most jam-packed way? Then just plan your trip to Jaipur and make a booking at Choki Dani Resort. And if you have big pockets, do book Haveli Suite, to have your own private residence with private balconies and interiors crafted with a touch of royalty. The resort houses a museum, a traditional photo studio and gallery, and handloom art and craft market. Every evening, the resort gets jovial post sunset, with traditional music and dance performances, puppet shows, magic shows, Rajasthani dance forms, and much more. There are other activities here like camel riding, horse riding, elephant riding and boating, which can be enjoyed during your stay.
Ranthambore
One of the most prominent wildlife reserves of the state is here in Ranthambore and is one of the largest national parks. This place attracts number of tourists from all over India and world and since it is one of the most visited places in Rajasthan, this place has many luxurious resorts for the families, couples and amazing stay for a wonderful experience.
1. The Oberoi Vanyavilas, Ranthambhore: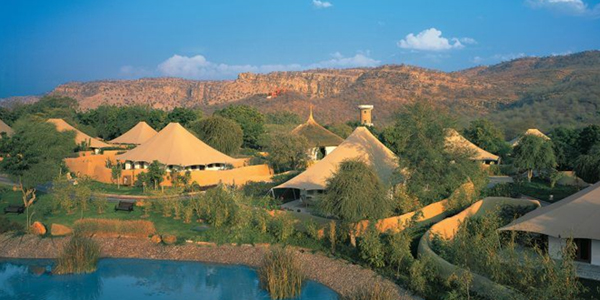 Image Source: https://ihplb.b-cdn.net
This resort is located amidst the Ranthambore National Park and is the most exotic wildlife resort here till date. You can go for a jungle safari and witness the tigers in the surrounding natural areas. This wildlife resort offers stay in luxury accommodation. They also feature a fine dining restaurant serving International & Rajasthani cuisines, spa treatments for a complete relaxation accompanied a warm and friendly hospitality.
Rajasthan is referred as the "Land of Kings" and is a regal state known for its vast forts, stunning sand dunes, tasty and delicious food and rich cultural heritage. So don't wait and plan a trip to Rajasthan and make you holiday unforgettable with your loved ones. You can come across some of the most lavish resorts who are waiting to greet you with their friendly hospitality. Check some of the best hotel deals of Rajasthan.
1. Which are the top 4 best luxury resorts in Rajasthan?
The Oberoi Amarvilas, The Oberoi Vanyavilas, Taj Rambagh Palace, Taj Lake Palace, Taj Umaid Bhawan Palace are some of the best luxury resorts in Rajasthan.
2. Which are the best resorts for families in Rajasthan?
Some of the best family resorts in Rajasthan are The Oberoi Vanyavilas, The Oberoi Udaivillas, Taj Lake Palace, Suryagarh, Umaid Bhawan Palace, Taj Rambagh Palace, Taj Jai Mahal Palace.
3. Which are the best resorts for couples in Rajasthan?
The Oberoi Rajvilas, The Oberoi Vanyavilas, Mihir Garh Palace, The Leela Palace are some of the romantic resorts for couples in Rajasthan.
4. Are resorts in Rajasthan safe?
As such the state is completely safe for tourists but sometime safety precaution is must from our side also.
5. Which are the best wildlife resorts in Rajasthan?
Chokhi Dhani Resort, Ranthambore National Park, The Oberoi Vanyavilas Wildlife Resort are some of the best wildlife resorts in Rajasthan.