Top Romantic Things To Do In Maldives!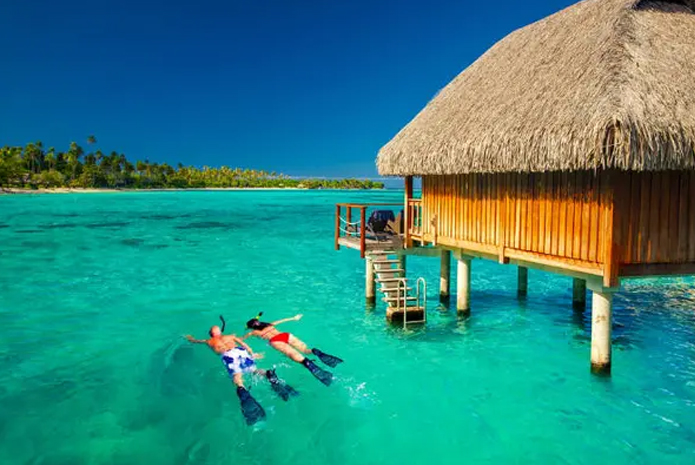 Every individual loves to make his/her partner feel special or romantic in some or the other way. Some love to walk on a pristine beach during the sunset hand in hand with their spouse, others may just like to spend time in the luxurious resorts situated on a private beach; & to fulfil this dreams of being romantic with your partner, a visit to this tiny island- Maldives is a must.
This island will not just be a romantic getaway with your partner but also a wonderful experience as there are many refreshing things to do in Maldives, which definitely should be tried for sure during your visit to Maldives.
Yes, it is true, that many of us have stereotyped Maldives as a destination with only beaches & higher end resort & bungalows, but that's not the thing! This destination is way beyond one's imagination, because it has everything a couple needs for a perfect honeymoon. If a couple is an adventurous one- then go for some thrill water sports, if any couple loves luxury- book a higher end villa & enjoy a spa overlooking some beautiful views & if any couple is more interested in the city life & history, they can even go for some of the best island hopping tours.
Let's check some of the most interesting & at the same time romantic things to do in Maldives. Reading this, make sure to include the mentioned list while planning your Maldives honeymoon tour package. And this list is meant for all kinds of tourists as well who wish to enjoy the vacation with multiple experiences. So let's not wait and bump into list of things to enjoy and not to be missed when in Maldives.
Paddle boarding
Private Yacht
City tour
Treasure Hunting
Diving
Pampered with couple spa therapies
Submarine Ride
Fishing
Windsurfing
Maldives Glowing Beach
Helicopter ride
Underwater Snooze
Outdoor Movie
Island Hopping
Romantic Candlelight Dinner on the beach
Stay in a Water Bungalow
Party on the beach- LUX South Ari
Underwater Couple Spa Date
Dolphin Watching near Dhiggaru
Go on an early morning walk
Kayaking
Go for Luxury Dhoni Boat Ride

Get the cheapest flight rates online with Flamingo
Fly with Flamingo!
1.Paddle Boarding: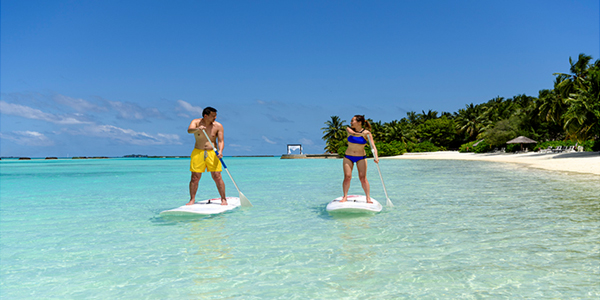 Image Source: https://extrememaldives.com
One of the most interesting and upcoming activity to surely do in Maldives is the Paddle Boarding or you can simply Stand up Paddle Surfing (SUP), & this is one of the perfect ways to enjoy the Maldives blue waters. This activity of paddling and surfing can be little more difficult when you start but slowly & easily you will pick up the grip and start enjoying with your partner. Don't miss this exciting activity while in Maldives on your honeymoon.
2. Private Yacht: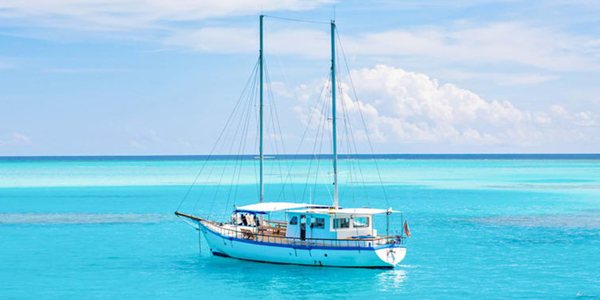 Image Source: https://images.thrillophilia.com
Spending aloof time with your partner in mid of the turquoise ocean of Maldives is one of the best romantic activity here. If you want to be away from the hustle & bustle of the island alone with your partner, then book a lovely private yacht for your partner and enjoy the beauty of Maldives in a complete different manner.
Location – From Male Atoll to Alifu Atoll, start your journey from any of these beaches of Atoll.
3. City tour of Maldives: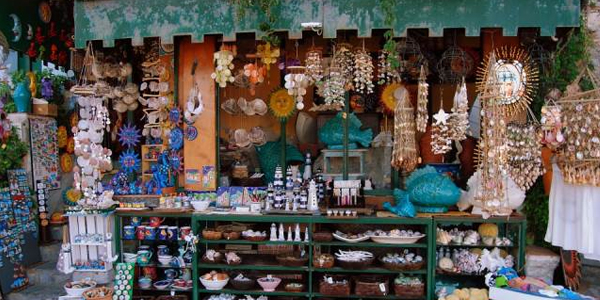 Image Source: https://pickyourtrail.com/blog/wp-content/uploads/2020/04/male.jpg
Many of us love exploring & knowing our city during our travel to the new city and can also be considered one of the best enjoyable things to do with your partner. Explore the capital city 'Male', walk on the colourful streets, checkout the tiny houses on the streets with also tasting the local food and shopping from the local markets. The Male city is one of the most fantastic cities.Some of the must to do attractions here are Friday Mosque, Sultan Park Presidents Park, Optional Museum.
4. Treasure Hunting: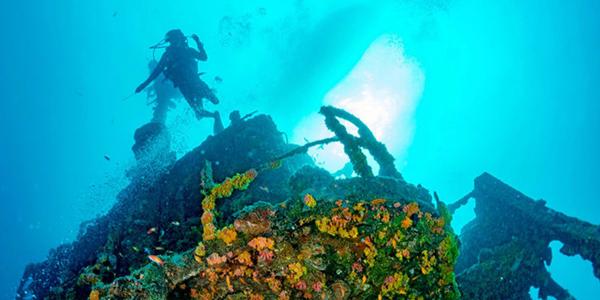 Image Source: https://www.thrillophilia.com/
If you are an adventurous couple, then it is must to go for this exhilarating activity. Many resorts offer this treasure hunting activity wherein you are given clues to find the treasure by diving into the waters. This activity is quite adventurous and gives u lots of surprises as you come close to finish it off. If you want to consume your time, this activity is a must experience. For a better vision, opt to go for this activity in the afternoon.

Hotel deals like never before!
You Travel We Care!
5. Diving: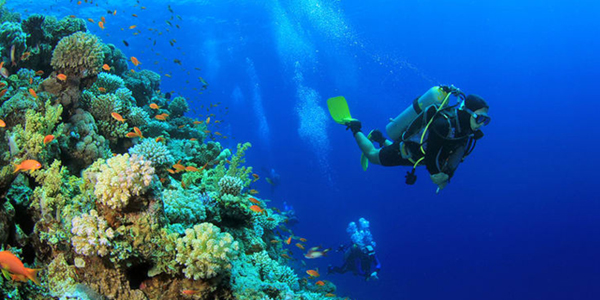 Image Source: https://images.thrillophilia.com
If you and your partner are adventure junkies, then this place has one of the best adventurous sports to offer to you. Many resorts here have their own diving centres, wherein one can get training from the experienced trainers and go for their first diving. Diving is one of the most romantic things to be enjoyed by the couple, underneath the waters among the colourful coral reefs and marine animals.
6. Pampered with couple spa therapies: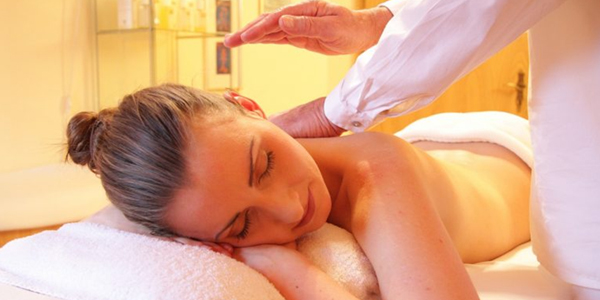 Image Source: https://pickyourtrail.com/
After having quite an adventurous day with your partner in Maldives, one needs to get relaxed with both their mind and soul, and this destination even fulfils this need of the travellers. Maldives is known for its authentic spa therapies and massages with the virgin coconut oil and this spa becomes more pleasing when done with your partner facing a beautiful scenery or on the beach. Here the couples are also offered to enjoy steam bath, showers & pedicures together. Some of the best couple spas that you must try are:
One and Only Reethi Rah
Six Senses Laamu
7. Submarine Ride: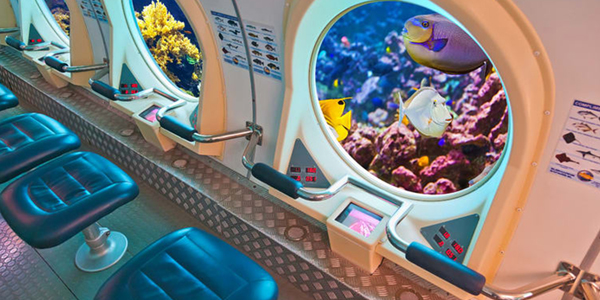 Image Source: https://images.thrillophilia.com/
If you are not too sure about diving & still want to enjoy the underwater life, then go for the submarine ride with your partner without any chance of missing it. This is a 45-minute ride wherein the submarine descends down to 100 metres, and you can enjoy the sights of colourful corals, reef sharks, fishes and many other marine animals. This is one of the safe, yet romantic activity to be enjoyed in Maldives.
8. Fishing: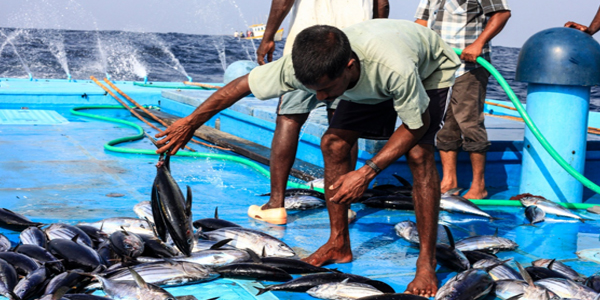 Image Source: https://www.themaldivesexpert.com
Going for fishing and witnessing the magical sunsets is one of the go-to romantic ways of spending time with your partner. Maldives has many fishing spots with also many hotels offering to opt for this activity. This fishing activity can be done in the morning and even in the nights depending on your preferences. This fun activity can be arranged by your hotels at your request. Maldives has some of the best sunset viewing points and islands that can be selected for one of the romantic days.
9. Windsurfing: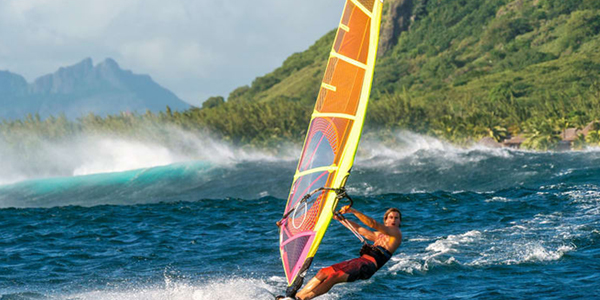 Image Source: https://images.thrillophilia.com
Want to give an adventurous kick to your honeymoon? Then take this thrilling activity with your partner. Sail in the wind and enjoy the magic of the Indian ocean. This is one of the best & fun water sport activities to opt for in Maldives. Generally, its suggested to enjoy this activity during the day time.
10. Maldives Glowing Beach: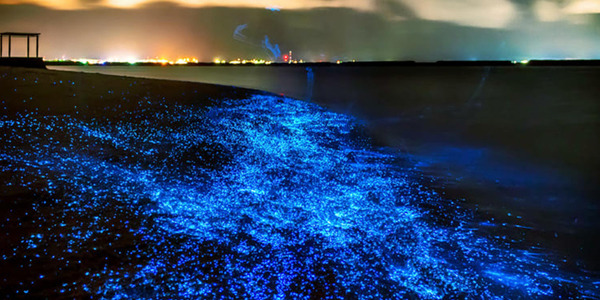 Image Source: https://images.thrillophilia.com
If you are night lover and also enjoy beaches at the same time, then the Glowing Beach is one of the superb things to do in Maldives. Going with its name, the beach glows much more at the night and this glowing effect can be seen because of the bioluminescent plankton than can be seen in the warm beach waters. Enjoy the green-blue glowing colours of the beach and click some of the best pictures of your vacation.
11. Helicopter ride: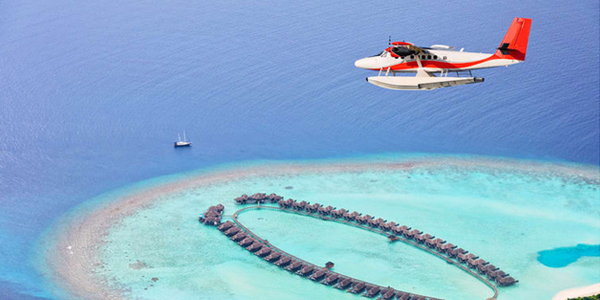 Image Source: https://images.thrillophilia.com/
Enjoy the panoramic views of the islands of Maldives from a height. Though bit expensive but a very luxurious scenic ride to do in Maldives. Enjoy the scenic beauty of the different islands of Maldives & spot unique spots with sometimes if lucky can also see the colourful coral reefs.
12. Underwater Snooze: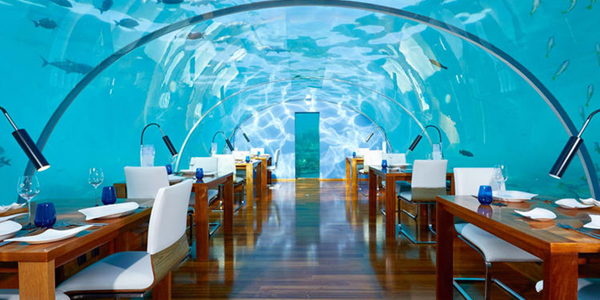 Image Source: https://images.thrillophilia.com
With only 7 double sitting tables & being one of the most beautiful place to dine in the world, this underground restaurant is located 16 feet below the sea level and one of the most romantic ways of enjoying your honeymoon tour. Enjoy dining with viewing the sting rays, fishes and turtles and with the presence of your soulmate. Truly one of the great dining option in Maldives.
13. Outdoor Movie: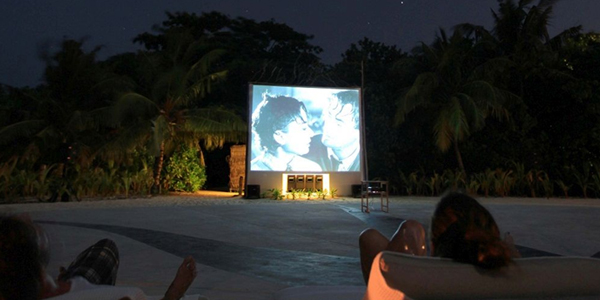 Image Source: https://mk0travelawayrru2xew.kinstacdn.com
Just sit back in the comfy & cushioned bean bags or the beach lounger and enjoy one of the romantic movies with a drink under the stars in the night. There are many options of movies under the stars in Maldives, offered by many resorts, few give the feel of watching movies in the lush green & dense forests & other may have the option of watching moving on the beach with the pleasing sound of waves & chilling night, along with the company of your spouse. This can be one of the favourite option to surely opt while in Maldives.
14. Island Hopping: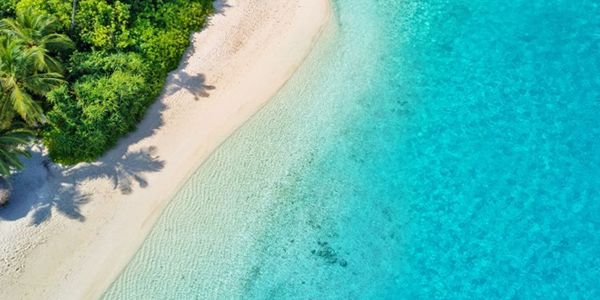 Image Source: https://pickyourtrail.com/
If you want to explore the other beautiful sides of Maldives, then do opt for the island hopping tour. Your own resort is surrounded by many such small & pristine islands. Each time you visit a new time, and you are going to fall in love with every passing island. Keep hopping with your partner from one island to another, soak up the beauty of each island, enjoy the views & the stunning bars and carry memories along your way back.
15. Romantic Candlelight Dinner on the beach: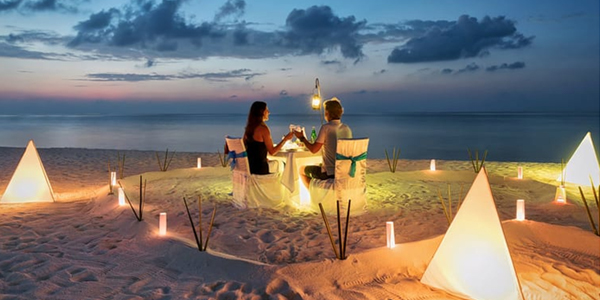 Image Source: https://images.thrillophilia.com
Does your partner enjoy surprises? Then, don't wait & book now your Maldives honeymoon tour package and plan a romantic candle light dinner on the beach for your partner. There are many resorts in Maldives, which helps you in planning for a private & a romantic dinner. Enjoy the barbeque dinner under the twinkling stars with calm sound of the waves and the quality time with your soulmate. This is one of the most amazing & lovely things to do in Maldives.
16. Stay in a Water Bungalow:
Image Source: https://images.thrillophilia.com
Every one of us love to wake up in the morning with scenic views which in turn builds up the early morning positive energy within us & contributes to one more lovely day and the best part is to wake up to this view in the arms of your partner. You will get infinite number of lovely options of staying in a water bungalow in Maldives with pristine waters surrounding you. Enjoy the views, the beauty of sunset during the evening and much more. Make sure you spend a night in these water bungalows. Some of the best ones are: Cheval Blanc Randheli, Adaaran Prestige Water Villas & the list goes on.
17. Beach Party at LUX South Ari: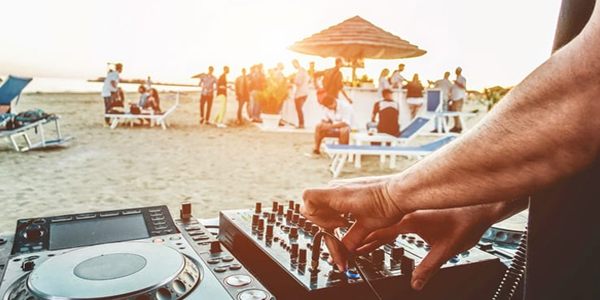 Image Source: https://images.thrillophilia.com
Enjoy a rocking party on the beach under the light of the sky with you loved one in Maldives. This is one of the most popular beach party which ends up giving a memorable experience. Sing, dance to the songs played by the DJ, & make the best memories.
Location: LUX South Ari Atoll, Maldives.
18. Underwater Couple Spa Date: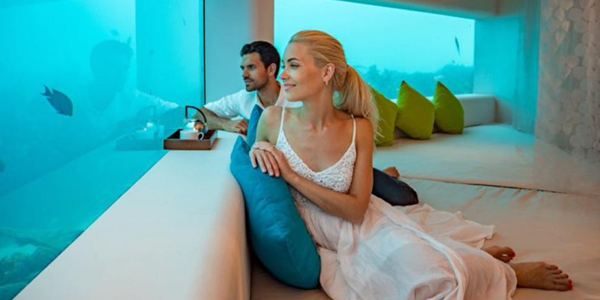 Image Source: https://pickyourtrail.com
Mesmerise the beauty of the underneath world by opting for the underwater couple spa. Enjoy the couple massage with your partner for 180 minutes with colourful coral reefs, turtles and fishes playing in the water and scenic views. What a mind-blowing experience it is!
Location: underwater sanctuary of Huvafen Fushi Spa
19. Dolphin Watching near Dhiggaru: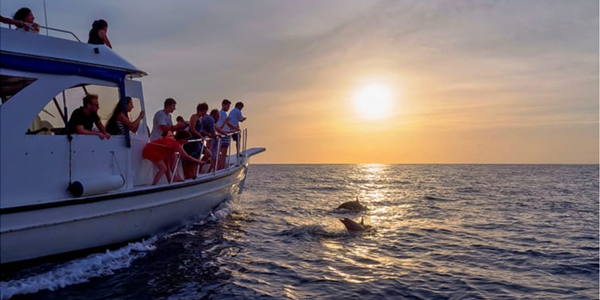 Image Source: https://images.thrillophilia.com
Dolphin is said to be one of the cutest mammal on the earth. And here at Maldives, you get an opportunity to opt for this activity to spot the dolphins. This is said to be one of the mind-blowing experiences. Spot out these playful creatures and observe them twirling and flipping in these scenic blue waters.
20. Go on an early morning walk: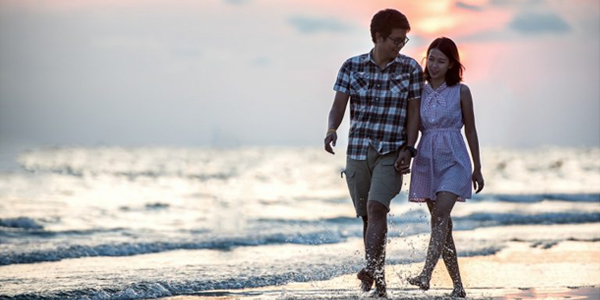 Image Source: https://pickyourtrail.com
If you are early riser, then you should definitely not miss the wonderful sunrise at the white beaches of Maldives. Select to go for an early morning scenic walk with your partner on the white beaches of Maldives, also play in the sand, build castles, and witness the sunrise with the gentle waves flowing in & out.
21. Go for Luxury Dhoni Boat Ride: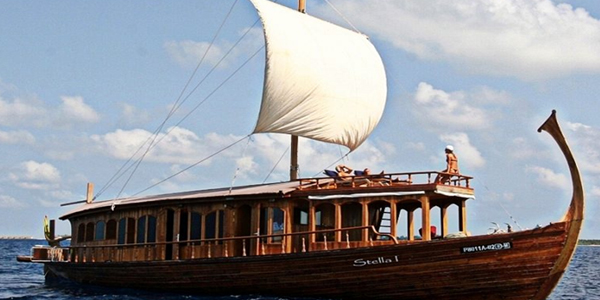 Image Source: https://pickyourtrail.com/
Explore the islands of Maldives by sailing on a cruise and make sure to select to explore on a Dhoni Cruise. The speciality of this cruise is that it is hand-made & handcrafted by the local people to roam around Maldives. This cruise is a multi-purpose one wherein you can the stunning views of the island with a sunset. Do make sure to go sailing on this boat when you are there for your honeymoon.
Maldives is one of the most preferred & a refreshing destination which everyone will enjoy to the fullest. And it will definitely make your itinerary easier with the above listed things to do in Maldives especially for the ones who are there for making some love. A honeymoon in Maldives will definitely a one to be cherished throughout your life.
Some frequently asked questions related to Maldives tour:
What are some of the best resorts to stay in Maldives?
Few of the best resorts for a memorable stay in Maldives are: W Maldives, AYADA Maldives, Baaros Maldives and the list continues.
What is the best time to visit Maldives?
December to March are the peakiest months with the best time to enjoy in the preferred climate is from November to April.
What are the best adventurous things to do in Maldives?
The most famous adventurous activities to be enjoyed here are surfing, paddle boarding, kite-boarding or kite surfing, scuba diving, snorkelling and many more.
What are the best attractions to explore in Maldives?
Maldives destination is not only about beaches & relaxation, there many extractions also to enjoy like island hopping tours, city tours, walking tours, National Museum of Maldives, artificial beach, different water sport activities, and much more.