Types of textile worth buying on your Gujarat tour!
Located in the western zone of India, the state of Gujarat is the 5th largest state in India & is known for religious sites, great topography, amazing lip-smacking food, diversified culture, & a great spot for shopping. The capital city of Gujarat is Gandhinagar with Ahmedabad being the largest city & Rajkot, Surat, Vadodara following the league of the next great cities. All these cities are rapidly developing and are a must explore on any Gujarat holiday tour package.  
Going a bit into depth, the locals here speak the Gujarati language & most of the population residing here in Gujjus. In terms, of population, Gujarat comes at the 9th position. When it comes to Gujarat Tourism – Kutch, Saputara, Gir National Park form important places to visit in this state. Sardar Vallabhbhai Patel International Airport is one of the largest city of Gujarat- Ahmedabad is the only international airport in Gujarat with well-connected flights to many major cities.
Culture of Gujarat
History and culture of Gujarat is widely known especially for many different arts like dance, music, handicrafts & others. Also, the festival of dance & music, Navratri is one of the greatest festivals celebrated in almost all the cities & villages of Gujarat for 9 days. During your visit here, you can involve in some local handicrafts shopping like mirror work, metalwork, embroidery clothes, jewellery, furnishing items like table mats, bedsheets, cushion & pillow covers & more.
To add to the diversified culture & art, there are many festivals celebrated in Gujarat which shows you the truly vibrant Gujarat like Kite Festival, Rann Utsav, Rathyatra, Navratri, Diwali.
Shopping in Gujarat
Shopping in this state is one of the most interesting things to do during your visit. You will come across some of the best selling products & items which is difficult to find anywhere else & even if found, it would be expensive than here. Gujarat Tourism gets a little more highlighted with these shopping items & the snacks & food flavors along with places to visit in Gujarat. 
Gujarat engages in producing a wide variety of textiles that are connected to the history & past generations & legacy of the state. The quality is something which will surely surprise you & leave you awestruck & you are going to end up filling up your many bags.
Let's take a tour of some of the popular textiles production in Gujarat:
The textile regarding which are going to brief about is something which everyone should have in their wardrobe & these fashion will never go off-track ever.

Get the cheapest flight rates online with Flamingo
Fly with Flamingo!
1. Bandhani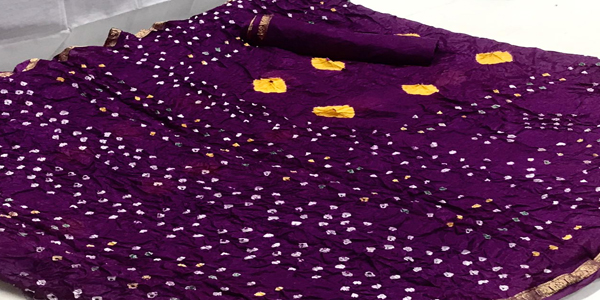 Image Source: www.shivkrupaenterprise.com
This is one of the oldest selling textiles which is in trend since our grandmother's childhood period. This is the tie & dye technique at the fabrication stage. This process is done of the soft mulmul cloth & to make it bit heavier, traditional motif work & gold checks are done.
The process is to tie small & tiny knots on the whole cloth by following a pattern & once this is done, it is dipped into a base color& then this process is repeated that is, tie & dye. Till you don't get the best result, that is, the color& pattern, this process is repeated. The more time consuming & complex the pattern is, the price of the bandhani material is decided.
In Gujarat, there are 4 main centers where this textile is made most traditionally- Bhuj, Jamnagar, Rajkot, & Kutch but you can also buy this from everywhere. You will get bright & vibrant colors for this textile.The fiber used for this textile is fine silk, fine cotton & also now you can also buy crepe silk, chiffon, & georgette. You can buy saris, dress materials, scarves, bedsheets, blouses & ties.
Designs – Swastik, Kalash, Elephant, Floral Dancing doll, and Geometrical designs.
There are 2 types of Bandhani's you will love to buy:
Chunnadi: You can use bright colors with white dots as a design & a golden border in the middle. There is a beautiful diamond shape in the middle which is done by folding the fabric 3-4 times.
Gharchola: This is generally red or green as used for weddings. 
2. Patola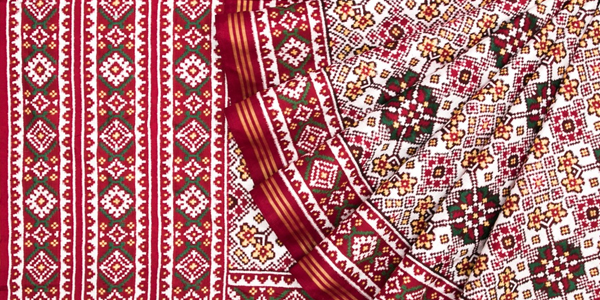 Image Source: https://textilevaluechain.in/
Since 1342AD, Patola is called "PATTA" in the Sanskrit language.
Going a bit into history, this textile was originated from the 'Patan' place in Gujarat & was initiated by the Salvi family. Initially, only this family used to manufacture this. The Salvi family were originally from Maharashtra & migrated to Karnataka & later to Gujarat when Kumar Pal was the king at the time of the Solanki dynasty. In total, 100 weavers from this family migrated to Gujarat.
Countries like Sumatra, Basra, Malaysia, Rome& Indonesia also use this textile & sell it at a very higher price. The fabric used for this is pure gold zari& pure mulberry spun silk. Majorly bright colors like yellow, green, blue, red, black & white colors are used for this textile & saris & dress materials of this textile is manufactured.
These dress materials & sarees are made with traditional patterns & are handwoven. The patterns used are flowers, parrots, leaves & dancing girls. These sarees are majorly used in weddings in Gujarat & now trending in other states also. For weaving traditional looms are used & with the use of natural colors& vegetable extracts. These colors are too strong & don't fade easily.
Motifs used are as below (known as bhat):
Parrot & Peacock
Parrot & Elephant
Elephant
Parrot & Peacock
Flowers
Leaves
Walnut
Elephant & Tiger
Kite/Diamond
Krishna &Gopi
3. Dhamadka and Ajrakh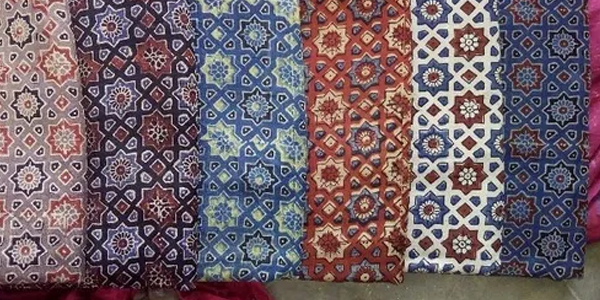 Image Source: http://travelsintextiles.com
This fabric is designed with wooden blocks. The thickness of the wooden blocks is around 1.5 to 3" inches. The design is firstly pricked on the wooden block & then a shape is given with the help of chisel. And then just dip the blocks into different colors& stamp on the fabric, you will get a beautiful design. Later once the stamping is done, the fabric is allowed to dry in the nearby river.
This process is widely carried out in towns like Gondal, Jetpur& Junagadh. It is said that the river water helps to enlighten the colors in a big way of the fabric. You will come across many mix & match colors like yellow, maroon, and red, blue, green with tiny white or contrasting dots as patterns.
In Gujarat, even Kutch is known for manufacturing this fabric & this fabric is still in demand & fashion & loved by teenagers to the old aged group.
4. Mashru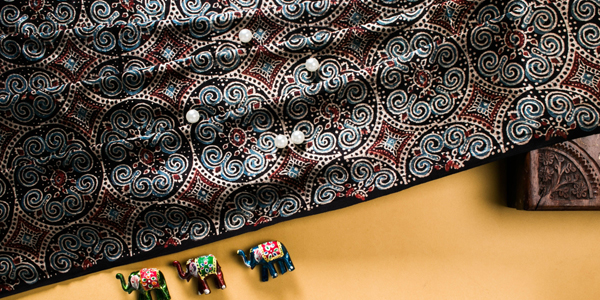 Image Source: https://dlior9lx1k7r2.cloudfront.net
This is a mixed fabric & is a combination of silk & cotton. Originally, this fabric was manufactured in the whole of India but now it's confined to Gujarat state only & majorly Patan district is one of the main areas where you will come across manufacturing of Mashru in huge numbers. This is used majorly by the Muslim crowd as they are not allowed to wear pure silk material.
Before many years, this technique of weaving was prevalent for a long time, in Arab countries & Iraq. The colors used for this technique are quite bold & different styles are used using extra warp threads, ikkat patterns in stripes, depression on the pit loom & warp threads.  
5. Dhurries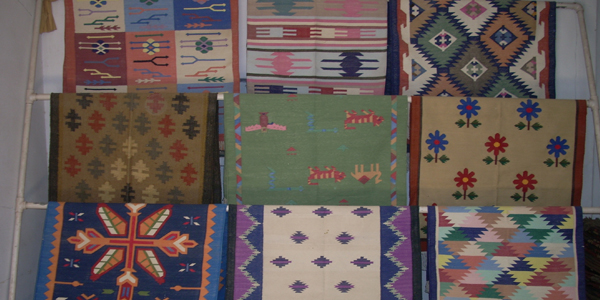 Image Source: https://upload.wikimedia.org
Dhurries are the traditional weaving done by the villagers residing in Gujarat. They make blankets, carpets & rugs. These dhurries are very much famous on many continents. These are hand-woven with the old styled ways on the pit looms. This is one of the unique handcrafting techniques & requires lots of hard work. The colors & designs of these rugs & blankets are designed & woven in a very beautiful way.
Kambals- These are mostly in black or dark grey & also known as fine dhablas. On both sides, fringes are done with red or green color small checks woven.
Dhablo- These are quite thick & the colors used are usually light grey or white color. These dhablos are made from woollen yarns which are a little bit coarser. Floor coverings, carpets & blankets are the main uses of this. You can use many colors like yellow, green, blue or pink for the checks.
6. Lehariya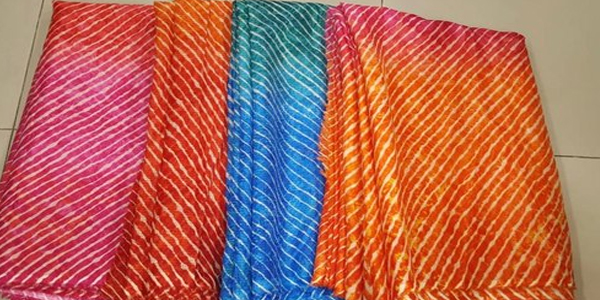 Image Source: https://i.pinimg.com/
This kind of design is also a tie & dye technique. Here the designs are made of diamond strips & the fabric used is one of the best & fine fabrics. Uneven width strips are designs throughout the length of the fabric. So if you come across even width strips throughout, & that means these are fake print designs.
You will get beautiful colored fabrics & clothes like dress materials, sarees or turbans. The materials used for Lehariya pattern are silk & cotton respectively. The colors used are generally bright colors like yellow, green, red, blue, purple & much more respectively. To judge a real lehariya is quite simple. The real ones have broader strips towards the outside & the inside has thinner strips. Mostly it has two colors only.
You can easily shop this from all the major places of Gujarat & even in Rajasthan. Surely this design is going to awe you.
Gujarat state is henceforth, truly known for its rich handicraft culture & art. Apart from all this, there are many handicrafts that you can enjoy while strolling around the major cities of Gujarat states. It might also happen that you would again plan to visit Gujarat only for shopping purposes. Also, you can buy many other shopping items during your visit here like:
Woodcraft
Clay items
Paintings
Iron & Brass items
Jewellery and accessories
Different types of embroidery work items
A Gujarat tour is not only about the places to visit but much more beyond this like try some local food dishes, shopping the unique craft, art & artisans. Make sure you have a heavy pocket when you visit any city of Gujarat & make your wardrobe rich & classy. And guys make sure to #flamingotravels when you go to some of the famous shopping places of the cities in Gujarat.