Traveling to the Maldives in 2021? Here are some tips for you
After a challenging year, as the vaccines begin to roll out, the world is slowly reopening, and each one is looking ahead to take a break and go for a holiday that is completely different from our past one-year experience. The best option to have a quintessential holiday that provides the right kind of safety, relaxation, adventure, and rejuvenation is the Maldives. A trip to the Maldives in 2021 is the best option in recent times. The Maldives, a pearl in the Indian Ocean, is very close to India, with a visa-on-arrival facility for Indian tourists. 
The moment the Maldives is mentioned; our mind conjures images of turquoise sea, white sandy beaches, palm trees, beach villas, overwater villas, and a bright colorful underwater world. The country consists of 100 islands, wherein almost every resort in the Maldives has its private island. Each resort offers tasty cuisine, friendly staff, and loads of relaxation opportunities to have an experience or a holiday of a lifetime. The whole vibe of this place is irresistible, to be in sync with the amazing landscape. Along with the beautiful landscape of this tropical paradise, there are a plethora of options to explore at the resort as well. 
Understandably, traveling during this pandemic is a contentious topic, yes there is risk involved even if we take precautions. Maldives tourism has taken all necessary safety protocols and strictly adheres to all the WHO guidelines, especially focuses on the Covid-19 travel guide for the Maldives that ensures that all passengers arriving have an RT-PCR negative test report. 
Travelers shouldn't be reckless and should follow all the guidelines to ensure the safety of themselves and others around us as well. Reach out to Flamingo Transworld Pvt Ltd, and choose any of our Maldives tour packages to ensure that you have a safe yet relishing holiday. 
List of Tips for Your Maldives Trip in 2021
Follow our Maldives Travel Tips, once you reach this dream destination. These tips will be quite handy to explore across the islands. 
Explore local life of Maldives: To get an insight into the local life of Maldives, do visit the inhabited islands, as a day trip to experience the way of life of the locals and wander through the local villages. 

Remember that you are not allowed to drink outside the resorts, as the country follows Islam, and there are strict rules related to alcohol consumption. Travelers are not allowed to bring liquor into this country. 

Tourists should act and dress modestly once outside the resorts. Men and women both should avoid wearing shorts that are above the knees. Public Display of Affection is strictly prohibited as well. 

Pack lightweight outfits. Most island resorts have a laid back easygoing vibe, wherein you can opt for relaxed and smart casual summer clothes.  

Get attuned to the Island Time. Generally, the time difference between India and Maldives is around 30 minutes, wherein the Maldives is half an hour behind India. But many resorts on the island have their own island time to utilize the maximum sunlight hours. 
Get in touch with one of our travel consultants who will guide and share all the vital travel tips while booking your Maldives Tour package.
RT-PCR Test for the Maldives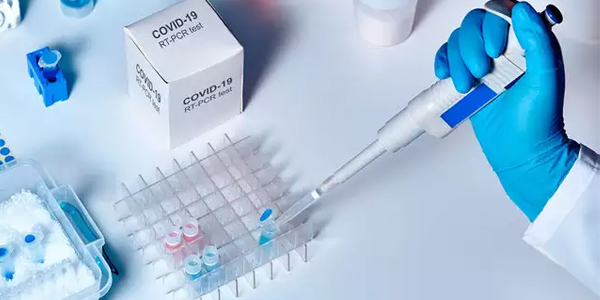 Image Source:https://img.etimg.com/t
Tourists traveling to the Maldives must ensure to undergo a COVID-19 RT-PCR test for the Maldives. This test should be taken 96 hours before departing for the Maldives. The negative test result of Covid-19 should be attached with the online Traveler Health Declaration Form. This form has to be submitted online by all the passengers 24 hours before they arrive in the country. Passengers are also recommended to follow the regular safety protocols like wearing a mask, maintain hygiene, social distance, and passengers should download the contact tracing app TraceE lee before traveling to the Maldives. On arrival at Maldives airport, Passengers do not have to undergo an RT-PCR test in the Maldives. Only those tourists who have symptoms such as temperature, coughing, etc shall be tested for Covid-19 on their arrival in the country. All passengers arriving in the Maldives will undergo screening and non-intrusive temperature checks. Tourists who have a history of contact with a confirmed or a suspected Covid-19 case in the past 14 days, or if any tourist had a fever or sore throat, cough, and shortness of breathing in the past 14 days, he or she should not travel to the Maldives. 
Book your Hotels and Flights Online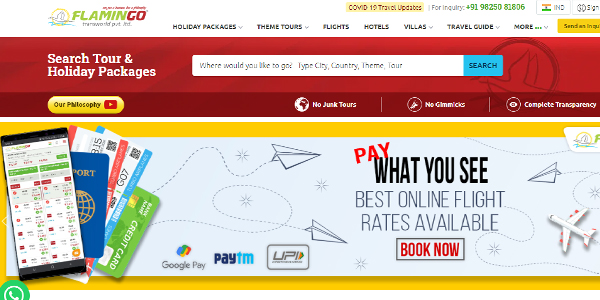 One of the important factors while traveling to any destination is to book your flight and stay. While planning your Maldives trip, the first and foremost thing to do is to check available options of flights as per your preference, booking a flight ticket much before your actual departure date will display tickets at much cheaper costs, and then opt for an online flight booking for the Maldives. This applies to hotels and resorts too. While booking your hotels in the Maldives, do note that the rates of these hotels shall be high during the peak season; hence you need to book well in advance. While booking, check out different options of the islands, along with the duration of the stay and the type of accommodation at any of the Maldives resorts. While booking your Maldives tour package, do compare the flight and hotel prices, and then opt for the cheapest option, only after you have verified the authenticity of it. Alternatively, you can rest assured of all this while booking our Maldives tour packages with the help of our expert travel consultants
Respect Religion of Maldives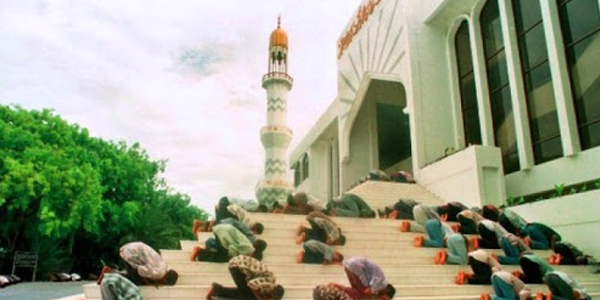 Image Source: https://lh3.googleusercontent.com/
The Maldives is a country that has an amalgamation of numerous religions and cultures, and so it is also known as the melting cultural pot. People from different races live in harmony in this country. The culture of Maldives brings together all the essential aspects of several religious beliefs of the country. The Maldives is majorly an Islamic country, wherein 97% of the population follows Islam. The main religion of Maldives is Islam. People following Islam are given citizenship of Maldives and have the right to vote, can attain leading positions in public offices, and much more rights. Apart from Islam, other minority religions are Hinduism and Christianity. 
Choose the Best time to Visit Maldives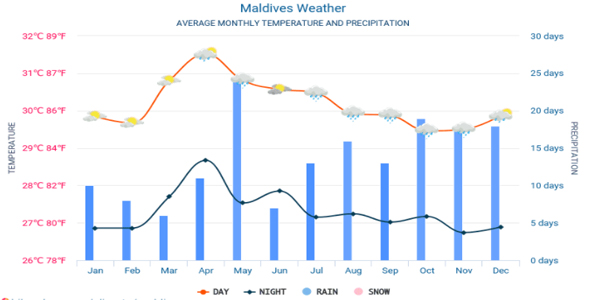 Image Source: https://wikimaldives.com/
While planning your Maldives tour package, it's crucial to know the best time to visit the Maldives. The Maldives is a round-the-year destination; still, there are some best periods to visit the country. The Maldives is close to the equator; hence the temperature here is mostly around 29°C to 31°C. The best time to travel to the Maldives is from November to April. During these months, the Maldives weather is dry with little or no rain. November to April is also the peak season being the most expensive compared to other seasons. May to September has rain spells making it a wetter period, also one of the shoulder seasons for the Maldives. From January to April is the best season for watersports enthusiasts, especially divers and snorkelers.
Take care of Taxes and other costs in the Maldives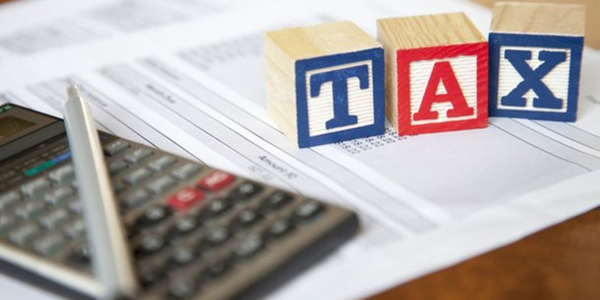 Image Source: https://ichef.bbci.co.uk/
While analyzing the total cost of a Maldives budget trip or a luxury trip, apart from the accommodation, meals, and transport costs, do keep an eye on the other costs in the Maldives such as the services tax and green tax applicable to all tourists arriving in the country. Generally, the Maldivian taxes such as 12% VAT along with the green tax which is around 6 USD per person per day is mandatory to pay by all travelers. A service tax of around 10% also has to be paid at resorts. Do note that most of the online booking sites do not include such kinds of taxes in the total price, so do double-check the same while booking or be ready to pay these taxes once you arrive at your hotel. 
Choose your Clothes wisely for Maldives Trip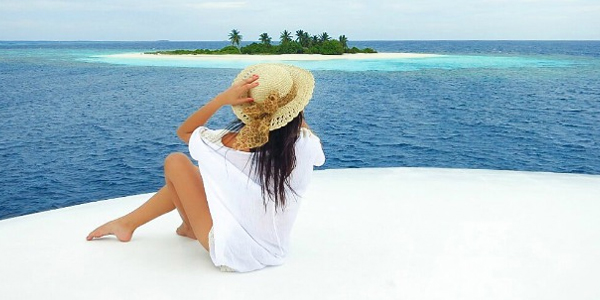 Image Source: https://www.travelfashiongirl.com/
While deciding on the clothes to wear in the Maldives, do take note of the weather. The weather in the Maldives is generally around 25°C to 30°C. The climate is humid; hence it is better to opt for linen or cotton materials. It is advisable to carry loose-fitting and lightweight clothes and no winter wears or coats needed. The dress code at most resorts is quite casual, but be modest while traveling to any inhabited islands. During the day, most of the tourists wear beachwear, wherein women are allowed to wear swimsuits; however, skimpy swimsuits should be avoided as it may be culturally offensive. So do ensure to carry some layers, or wrap-around or a sarong to cover while entering any restaurants. Ditch the shoes and carry sandals or flip-flops during your Maldivian holidays. Women's clothing in the Maldives is overall based to respect and follow the norms of Islamic beliefs. Hence women must cover their shoulders. Men can wear shirts and knee-length shorts. Maldives traditional dress includes headscarves this is out of religious respect, they also wear burqas as per the etiquette. Do note that nudity is not allowed, so going topless while sunbathing is prohibited, and is a punishable offense. 
Must Explore Maldives Beautiful Islands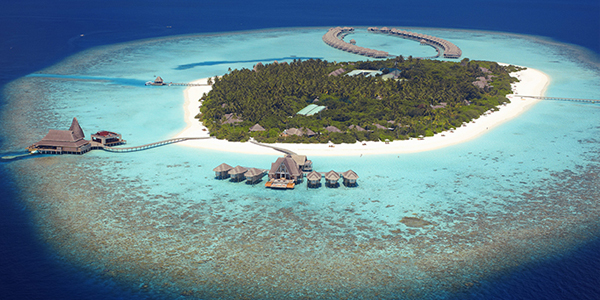 Image Source: https://hoteliermaldives.com/
Maldives Islands are quite spectacular and each has its charm which should not be missed to explore. Some of the best islands of the country are Kanuhura islands, Baros, Reethi Rah, Vaadhoo Island, Dhigurah Island, Mirihi, Olhuveli. and many more. Along with the beautiful islands, there are numerous luxurious beaches of the Maldives, which one needs to explore and enjoy. Some of the best beaches are Fihalhohi Island Beach – wherein one can get an Exotic Experience of Reef, Bikini Beach, wherein one can flaunt their bodies without any inhibition, Bioluminescent beach – wherein you will get a magical experience to see the glow in the dark sand, popular among honeymooners is the Kurumba Beach, Dhigurah beach famous for diving with whales and sharks, and many more beaches to have fun and relaxation as well. Design your customized Maldives luxury tour packages including these luxurious beaches. 
Don't Bring Banned Items on your Maldives Trip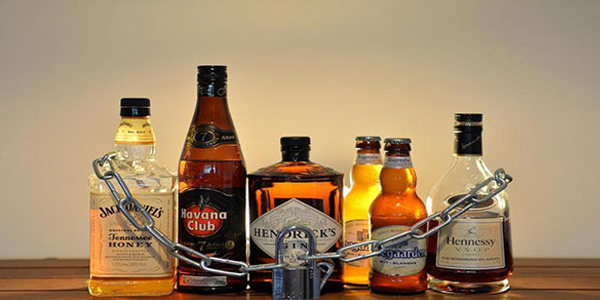 Image Source: https://www.siliconindia.com/
The Maldives is a perfect getaway for all those who wish to enjoy the sun, sand, and sea. Each resort in the country has quite lenient rules compared to the inhabited islands, as the country is very conservative. While traveling to the Maldives, be cautious to avoid any kind of faux pas to enjoy a trouble-free holiday. Do note and strictly follow all the Do's and Don'ts in the Maldives. Maldives country follows Islamic religion and culture. Do not engage in any kind of public display of affection on inhabited islands, do not touch pink corals while enjoying the underwater world. Remember to dress modestly while visiting the inhabited islands; do remember to remove your footwear while entering any mosque or house. Alcohol in the Maldives may be imported only if you have an official license. Some of the banned items in the Maldives are liquor, dogs, pigs, pornography, drugs, liquor, and pork products. Some of the items that can't be exported in any form such as pearl oysters, lobsters, turtle shells, turtles, black corals, and stony corals. Personal pets apart from dogs can be brought to the Maldives after having special permission along with a vet certificate. 
Take good care of your skin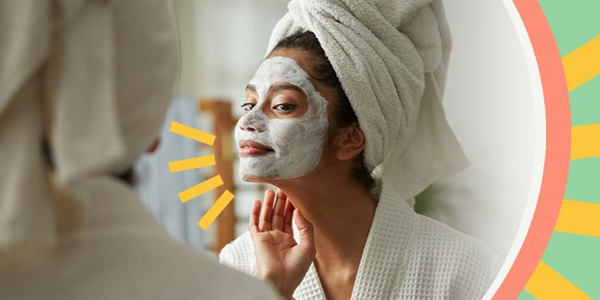 Image Source: https://images.everydayhealth.com/
The way you are looking forward to having a fun-filled holiday in the Maldives, you should equally consider remembering sun care tips for the Maldives. Do note that the all-year-round weather in the Maldives is humid. Whether there is sunshine or grey sky in the Maldives, it is vital to wear an SPF on daily basis. It is recommended to apply SPF at least around 30 minutes before exposing yourself to the sun. The general rule related to sunscreen is the higher the SPF of the sunscreen, the longer it protects your skin from sun exposure. One more fun thing can be tried, in these tech-savvy times, download an app or a sun tanning timer. This app will help you to monitor your exposure in sun. As most of the SPF protects for around 30 minutes or so and while you are having fun, it is quite obvious to keep track to reapply it, wherein this app will help you to do so. Do not forget wide-brim hats, an important factor amongst the other skincare tips. These hats not only protect you from the sun but are also a great prop for your Instagram shots. 
Try Water Sports in the Maldives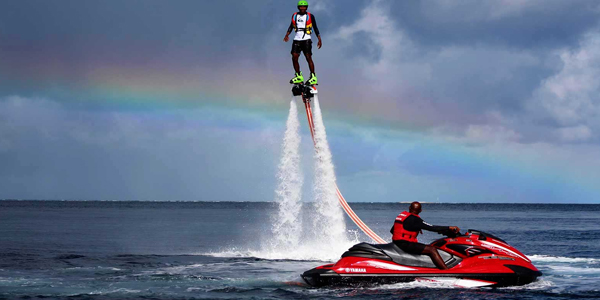 image Source: https://images.squarespace-cdn.com/
The Maldives is a fantastic destination for all age groups of tourists, be it couples, solo travelers, and families. A vacation to a beach destination would be incomplete if you do not experience the myriad options of watersports. The Maldives is a great option for you to indulge in water sports. 
Some of the tourist favorite ones in the Maldives are as below: 
Flyboarding – This latest ride has a board that propels in the air, enabling you to enjoy hydro-fly. Experience soaring above the ocean and watch the whole world from a top view. 

Fun Tub- This crazy water sport can be enjoyed with your squad. It consists of a bed-like tube wherein you can sit with your group and zoom through the serene waters. This ride is a classic combination of the thrill of speed and laid-back fun. 

Jet Skiing – This activity is a faster version of water skiing, sit on the Jet Ski and enjoy a speedy ride on the ocean. 

Parasailing

– One of the best water sports that enables you to enjoy both ocean and wind. This ride allows you to have a bird's eye view of the beautiful island and have an experience of a lifetime while being up in the air. This ride consists of a person being lifted in the air with a parachute that is towed by a motorboat. 

Snorkeling

– Non-swimmers shouldn't dampen their mood, they too will get a chance to explore the underwater world of Maldives. Try snorkeling with fins and masks. Snorkeling is a water sport activity that is completely different from other water sport activities, yet a memorable experience. 
While being excited to enjoy the water sports do not forget that people having any kind of health issues like hypothermia, hypoventilation, heart issues, BP issues, and asthma should be very cautious before going for the activity. Another important point is to wear a lifejacket before you go for the water sport, especially if you do not know how to swim. Last but not the least, do note that water sports in the Maldives are weather dependent, and may get canceled due to unfavorable weather. 
Frequently Asked Questions about Maldives Trip 2021
1. Is the RT-PCR test compulsory for the Maldives trip?
Yes, for your Maldives trip, it is a mandatory requirement to present a Negative result of the RT-PCR test for the Maldives for Covid-19 on arrival. The sample for this test must be taken not more than 96 hours before the scheduled departure time from the first port of getting on board to the Maldives
2. What do I need to know before going to the Maldives?
Before jet setting to the Maldives, take into account one of the important Maldives travel tips, that as soon as you receive your test results, you will have to submit this result on the traveler health declaration form, 24 hours before departure. This form also includes some other basic information such as your health details, flight details, the countries you would have traveled in the past 15 days. After completing this process you will receive a QR code. Save this screenshot and keep it handy to present this at Male airport on arrival. The same type of declaration form, an Air Suvidha form should be filled while returning to India as well.
3. Is a Passport required for the Maldives?
Yes, a valid passport for the Maldives is required along with sufficient funds and a return ticket to enter the Maldives. A visitor visa for 30 days shall be issued upon arrival without any cost. 
4. What is illegal in the Maldives?
The Maldives is a quite conservative Islamic country. So be careful and adhere to all the rules and regulations while traveling to the Maldives. Some of the banned items in the Maldives are firearms, drugs, pornography, and alcohol. Do note that it is illegal to promote any other religion than Islam. Any non-Islamic religious materials found may be confiscated and offenders may have to pay heavy fines and deportation as well. Be careful and discreet in what you wear and respect the local religion and culture to not offend any local sensitivities.
5. Which are the best places to visit in the Maldives for a honeymoon?
All the islands in the Maldives are unique in their sense, each island has its magic, but to name a few islands which may be quite lucrative for honeymooners or rather the best honeymoon places in the Maldives are Vaadhoo Island, this island is popular for the glowing beach, this beach lights up at night due to the glowing tides that create a magnificent view which is quite memorable and Instagram notable pic. Another popular island is Milaidhoo Island if you wish to be close to nature. The island is located at the center of the UNESCO Biosphere Reserve. Visitors to this island seek tranquillity and peace at this place. One more on the list is the Hulhumale Beach, it has a long stretch of white sandy beach, though do note that bikinis and alcohol are not allowed on this beach. Check out multiple options of Maldives Honeymoon tour packages on our website. 
6. What are Do and don'ts in the Maldives?
Visiting any place, or a country, it's imperative to note and follow the Dos and Donts in the Maldives while traveling to that place. 
Don'ts
Don't go topless – remember that public nudity is strictly prohibited in the country and wearing bikinis in the inhabited islands is restricted as well. You are allowed to wear it at your resort, but it is better to confirm this with your accommodation provider.

Don't sell or purchase black corals and turtle shells, they are protected species in the Maldives.

Don't kiss or hug in public – remember that the Maldives is a conservative country and does not encourage physical displays of affection.

Don't bring alcoholic products or liquor into the Maldives
Do's
Do remember to remove your footwear before entering any mosque or Maldivian home.

Do ensure to dress properly when visiting a Mosque or religious site. The length of the bottoms should be knee-length and the shoulders should be covered.

Do buy authentic Maldivian souvenirs