Handy Guide: Travel to Udaipur Post Covid-19!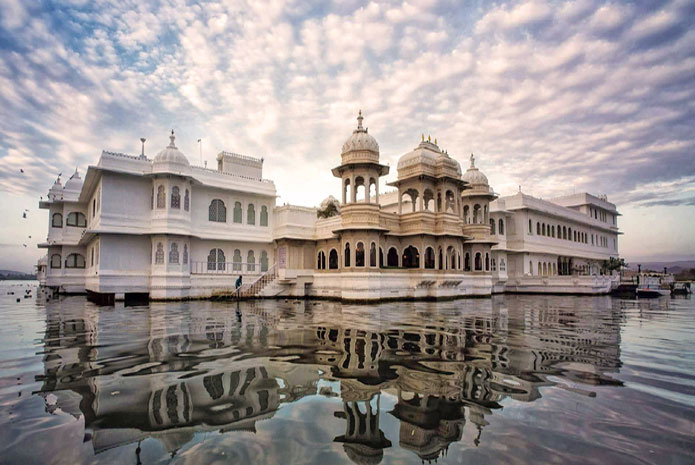 A Complete Handy Guide of Udaipur
Your trip to Rajasthan isn't complete until you've tried some of the exciting things to do in Udaipur, popularly known as the city of lakes. When you are planning to travel to Udaipur, you should take care of Udaipur travel tips. Udaipur is well-known for its majestic palaces and pure lakes, which retain the glory of the past and provide visitors with a unique opportunity to delve into and discover the majesty of a bygone period. Forts, palaces, enormous public gardens, shady alleyways between residences, residents dressed in bright colors, camels strolling by… Every traveler will find Udaipur to be a true treasure trove of experiences. Udaipur tourism provides a variety of sightseeing and entertainment options for all types of tourists.
If you're wondering what to do in Udaipur, the answer is to go on a sunset boat tour on Lake Pichola to see spectacular panoramic vistas and indulge in nature photography at Saheliyon ki Bari and many more. Plan your Udaipur holiday 2021 with Flamingo transworld Pvt. Ltd. to enjoy the beautiful city.  You can visit the Flamingo website for the Udaipur tour package.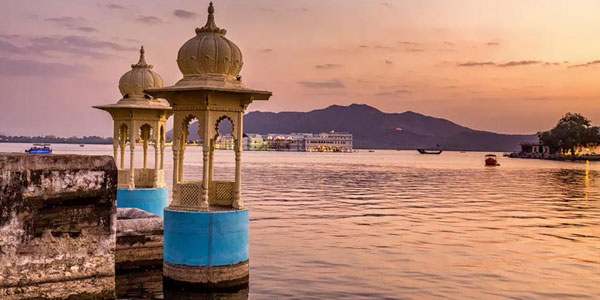 Image Source: https://udaipurtourism.co.in/
Below information is exactly what you need for your Udaipur holiday package:
Planning for a trip to Udaipur post-covid-19?
Things to Keep in Mind while visiting Udaipur during COVID-19
Bring Necessary documents while traveling During COVID – 19
Best Time To Visit Udaipur Post COVID-19
Places to Visit during post Covid Udaipur Trip
Things to do in Udaipur
Food You Must Try on your Udaipur Trip
Travel Tips For Udaipur
Frequently Asked Questions about Post – COVID Trip to Udaipur
Planning for a Trip to Udaipur Post-Covid-19?
Udaipur, one of Rajasthan's most prominent tourist sites, has just enacted a new restriction for visitors. Udaipur's district government has issued new directives to several tourism partners, including hotels, airport authorities, and airlines. If you plan to travel to Udaipur, you should follow COVID-19 travel tips for Udaipur.
Travelers from Gujarat, Punjab, Madhya Pradesh, Maharashtra, Kerala, and Haryana are needed to take an RT-PCR test and present negative results that are no more than 72 hours old from the time of arrival in Udaipur. Make sure you don't eat at any roadside dhabas. There may be less traffic on the road, but it served as a stark reminder of how bad things have been since the outbreak began.
Things to Keep in Mind while visiting Udaipur during COVID-19
When you are planning to visit Udaipur few things you should keep in your mind first thing follow Udaipur travel advisory. This post-covid Udaipur travel guide will provide you with a list of items to bring with you when visiting Rajasthan:
Bring your negative report of the COVID Test for Udaipur.
Book the Udaipur tour package before you go there.
When queuing for admittance and as much as possible inside the hotel, travelers must maintain a personal distance.
Carry suitable clothing according to the season you are traveling to Udaipur.
Carry comfortable shoes on the Udaipur trip.
Don't forget to carry batteries and also a portable charger.
Carry masks, gloves, and hand sanitizers on the Udaipur trip.
Carry sunglasses and hats for sightseeing in Udaipur.
Documents to Carry while traveling During COVID – 19
Documents for covid 19 have an RT-PCR test performed and demonstrate negative results that are no more than 72 hours old from the time of your Udaipur trip.
At the time of check-in, all members must show proof of an original photo ID card
A hard copy or e-voucher of hotel confirmation with the required details
A hard copy or e-voucher of Sightseeing's confirmation with the required details
It is compulsory to wear a mask while traveling
Best Time To Visit Udaipur Post COVID-19
The location of Udaipur near the southern extremity of the Aravalli Range protects it from the Thar Desert, resulting in a moderately arid local steppe climate. The best time to visit Udaipur is all around the year but say the best month to visit Udaipur is October through February is the most comfortable and draws the most visitors since they are cool, dry, and sunny. The nights can be chilly in the middle of winter, but the days can be scorching hot, with temperatures reaching 26 degrees Celsius. If you prefer a more tranquil atmosphere, the September shoulder season following the monsoon may be ideal. If you don't mind temperatures reaching 38 degrees Celsius or higher, visit Udaipur in April and May. Learn more about Udaipur's weather and climate, as well as the ideal time to visit.
Places to Visit during post covid Udaipur Trip
Udaipur has much too much to offer vacationers, ranging from colorful city streets to towering forts and palaces. You have the option of staying in one of the elite resorts or venturing out to see some of the sites to visit in Udaipur during the cooler months. There are many places to visit in Udaipur but you can add some places in your Udaipur itinerary as below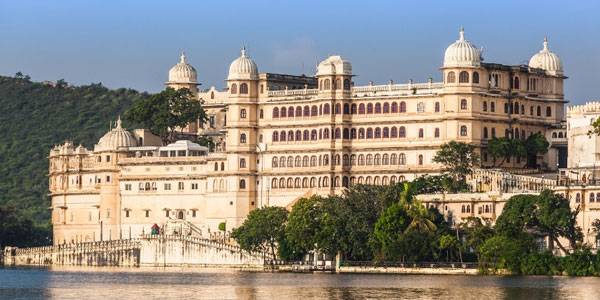 Image Source: https://www.traveloaces.com/
City palace of Udaipur, set calmly on the sides of Lake Pichola, is one of Rajasthan's architectural masterpieces. This magnificent City Palace is Udaipur's most popular tourist destination. It took over 400 years to construct, with contributions from numerous monarchs of the Mewar dynasty. There are many Udaipur attractions but the city is the famous place to visit in Udaipur. The essential part of the palace is now a museum with a valuable and different collection of antiques. The palace's chambers are lavishly furnished with mirrors, tiles, and paintings. The City Palace Museum has developed tremendously and continues to fascinate travelers from all around the globe. You can travel or Self-drive from Ahmedabad to Udaipur. And soon we can use the Udaipur metro to roam around the town.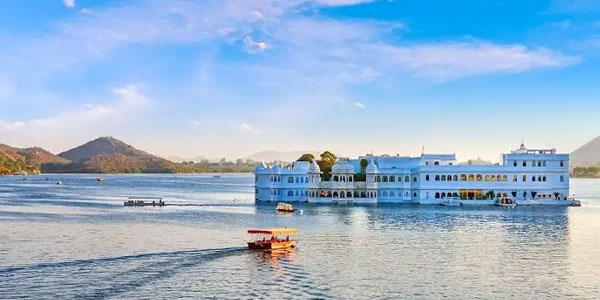 Image Source: https://img.traveltriangle.com/
The heritage hotel, which is located on the quiet island of Bramhapuri on the banks of Pichola Lake in Udaipur, is equipped with modern amenities, skilled staff, and offers excellent value for money. All year long, Lake Pichola provides breathtaking scenery for you to enjoy. Lake Pichola, established in the year 1362 AD, is one such artificial lake that sits right in the heart of Udaipur city. The famous Lake Pichola tourist attractions are sunset boat rides and dine-in best restaurants.
Lake Pichola is one of Udaipur's most well-known tourist attractions, named after the nearby village of Picholi. Lake Pichola, surrounded by islands, castles, temples, residences, ghats, and restaurants, has something for everyone. Sunrise and sunset views from the lake are awesome and should not be missed by anyone visiting the area. There are numerous things to see in Udaipur, but you may go boating on Lake Pichola. The city palace is also located on the eastern shore of Pichola Lake.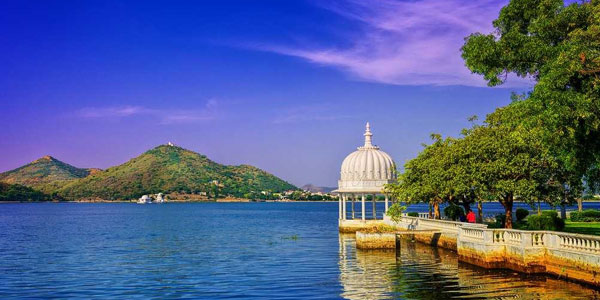 Image Source: http://www.palaceonwheelsindia.org/
Lake Fatehsagar lake is in a breathtaking location that offers three separate world experiences: hills, water, and flora. Lake Fatehsagar, located north of Lake Pichola and across the Moti Magri Hill, is India's 2nd biggest artificial lake. The Fateh Sagar Lake in Udaipur is considered the pride of Udaipur, as it is surrounded on three sides by the towering Aravalli hills and the north side by the Pratap Memorial. Three little islands dot the lake, offering a variety of fascinating activities. The vegetation and wildlife of the lake are diverse.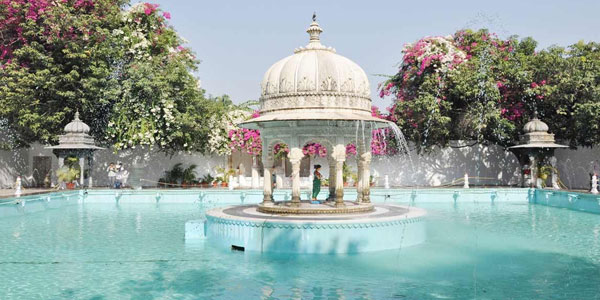 Image Source: https://udaipurtourism.co.in/
The Saheliyon Ki Bari is adorned with many fountains in each of the four water pools, as well as sculpted kiosks and marble elephants. Flowerbeds, beautiful green grass, and marble pavilions greet you as you enter the park, creating a relaxing atmosphere. The Saheliyon Ki Bari is open from 9 a.m. to 7 p.m. seven days a week. This is an inexpensive tourist spot. For Indians, the entrance charge at Saheliyon Ki Bari is Rs. 10. For nature lovers and photographers, Saheliyon Ki Bari is an ideal place. The garden has an abundance of lovely things to photograph. You can spend hours walking and observing the natural treasures that have been maintained over time. There is also a museum to explore in the garden.
Things to do in Udaipur
Udaipur features a small yet interesting museum collection that highlights the region's culture and heritage. One of the most delightful things to do in Udaipur simply explores the streets and takes in the atmosphere. Cycling around the city, hiking in the hills, or even horseback riding are all options for those who are feeling active. Cooking classes are popular among foreign visitors. Udaipur is known for its one-of-a-kind miniature paintings, which make excellent gifts. You can even do your painting. Because of the number of tempting handicrafts, many tourists enjoy shopping in Udaipur. Allow time for a day trip or two into the surrounding countryside—there are some fascinating possibilities, such as historic forts and temples or many Udaipur tourist attractions. 
Lake Pichola – Sunset Boat Cruise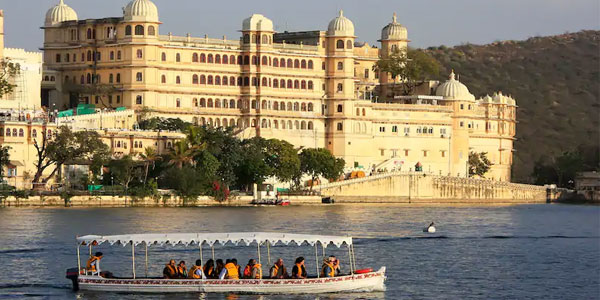 Image Source: https://imgcld.yatra.com/
A journey to Lake Pichola isn't complete without a Udaipur lake boat cruise on the tranquil lake, particularly around sunset. Tickets for Lake Pichola boating are available at City Palace for Rs. 400 to 600 for adults and Rs. 200 for youngsters. Tickets for the Lake Pichola sunset boat cruise cost Rs.700 for adults and Rs.400 for youngsters. The shifting colors of the lake from blue in the morning to golden in the noon and orange at sunset are very amazing to see from the boat. The reflection of palace lights on the river at night is another sight that is likely to enchant visitors. There are lots of things to do in Udaipur but you have listed them down before you travel.
Sound and Light Show at City Palace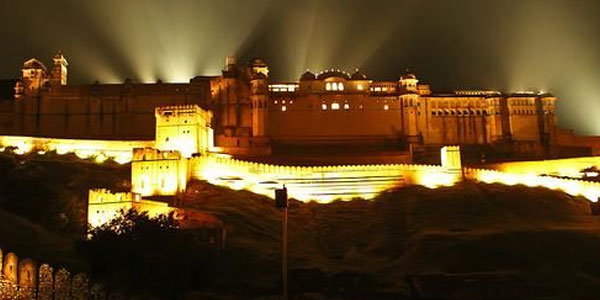 Image Source: https://i.pinimg.com/
The famed Sound and Light Show at the City Palace in Udaipur. During the show of 'The Legacy of Honor,' learn about Mewar's history. It takes a lot of effort to put together the Mewar Light and Sound extravaganza. This extravaganza, all night in the City Palace at Manek Chowk, spectacularly condenses the Mewar kingdom's history into one exhilarating hour and 12 breathtaking events. Magic displays, puppet dances, folk dances, tribal dances, and more will be performed! The concert, which is performed in Hindu and English, is open to tourists. Sound and Light Show at City Palace tickets price would be INR 100 to 300 per person.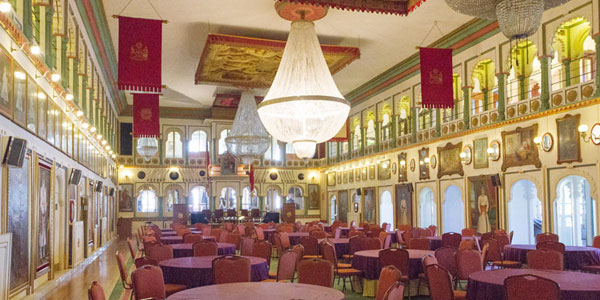 Image Source: https://udaipurtourism.co.in/
The world-famous Crystal Gallery Udaipur is housed in the Fateh Prakash Palace, and it spans the upper gallery of the gleaming The Durbar Hall Sabhagaar. The Crystal Gallery is widely regarded as having the world's greatest private collection of crystals. Tourists have an entry to one of the most prestigious and finest crystal collections in the world. Dinner sets, perfume bottles, decanters, glasses, washing basins, and even furniture are among the objects in the collection. The crystal gallery in Udaipur has a bed in the world. The Crest of Mewar has been beautifully carved on the crystal, adding another stunning facet to the collection. The Crystal Gallery Udaipur is one of the best Udaipur tourist attractions.
 Food You Must Try on your Udaipur Trip
When it comes to Udaipur cuisine, you can taste the land's legacy in every bite. Dining in a quality hotel in Udaipur is the perfect option if you want a simple yet romantic evening. The flavorful and fascinating foods in Udaipur are enhanced by the distinct spices available in the area. You can taste traditional Rajasthani food during your stay in Udaipur.
Dinner at Upre Restaurant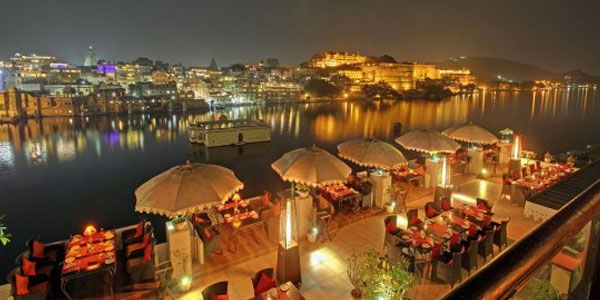 Image Source: https://media-cdn.tripadvisor.com/
This is a one-of-a-kind location. Upre Restaurant, which overlooks the majestic City Palace, Lake Palace, temples, bathing ghats, and embankments, serves outstanding world cuisines and authentic Rajasthani flavors. Don't miss out on Dinner at Upré By 1559 AD and while eating, take in the sights of Udaipur's medieval skyline. It is open from 6 p.m. until 11 p.m. An open-air bar with cabanas and a terrace restaurant set the tone with a menu of foreign and regional cuisines, cocktails, and wines.
Dine-In the Royalty of Sheesh Mahal / Leela Palace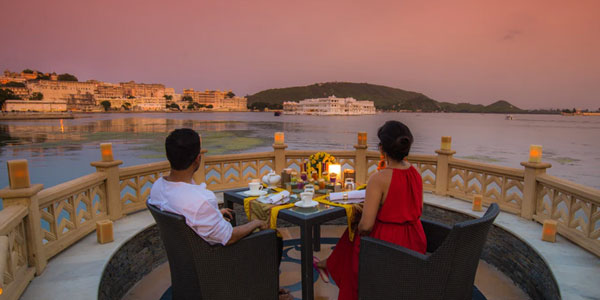 Image Source: https://afar-production.imgix.net/
Sheesh Mahal is a two-story open-air fine dining restaurant with a view of the lake. They invite you to feel like royalty and savor the best Rajasthani cuisine has to offer. The restaurant's complete atmosphere is set under a clear sky full of stars, which will undoubtedly give a unique beauty to your evening. It features a wide range of classic Indian meals that will take you on a delicious culinary adventure. The restaurant is tranquil, making it ideal for a romantic evening under the stars. It also has wonderful panoramic views of the Aravali Mountains due to its location on the banks of Lake Pichola. The Indian flavors and contemporary ambiance will make you feel like royalty. On your journey to Udaipur, enjoy your famous food in Udaipur in the evening at Sheesh Mahal.
Aravali Lakeview by Radisson Blu Udaipur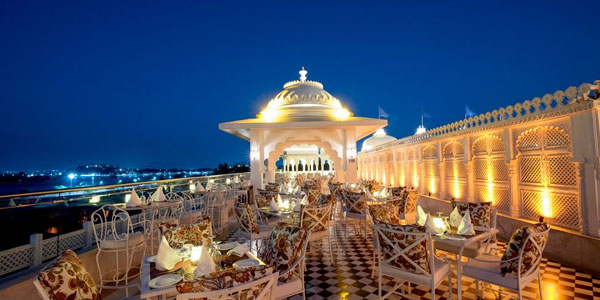 Image Source: https://i.pinimg.com/
When you book a table at Aravali Lakeview restaurant, you'll be treated to contemporary cuisine, the best food in Udaipur, and a stunning view of Fateh Sagar Lake. At Aravali, they will make your evening special by serving delectable foods as you enjoy a bird's-eye view of the neighborhood. Hours of operation: Lunch timing daily from 12:30 p.m. to 3:30 p.m., and dinner timing daily from 7 p.m. to 11 p.m.
Places to Stay in Udaipur
The majority of Udaipur's lodgings are located on the east side of Lake Pichola, in the Lal Ghat, Gangaur Ghat, and Chandpole neighborhoods abutting the lake. This hotel is located on the same side of the lake as the City Palace and in the heart of the city's historic district, giving you convenient access to the city's main attractions. Boutique heritage hotels, guesthouses, and backpacker hostels are just a few of the options. Many have views of the lake. Learn more about Udaipur's numerous neighborhoods. The Taj Fateh Prakash Palace Hotel and Shiv Niwas Palace Hotel are both true palace hotels located within the City Palace Complex. However, the Taj Aravalli Hotel, which appears to float in the center of Lake Pichola, is the best option. You can choose to stay in Fatehgarh, Justa Sajjangarh, Leela Udaipur, these are the best hotels in Udaipur. If you are wanting to choose a Luxurious option, then you can choose it from the Udaipur Luxury hotel deals from Flamingo website.
Travel Tips For Udaipur
Here are some helpful travel tips for Udaipur
Check the quality of your things before you make the final buy; bargaining is usual in Local marketplaces.
Carry your medical kit with you from home.
Carry your all required documents
Bring the essentials, such as a phone and camera charger, comfy shoes, goggles, sunscreen, and so on.
Some Safety tips for Udaipur follow Government guidelines and advisory, keep distance in a public place, use your face mask, etc.
Shopping in Udaipur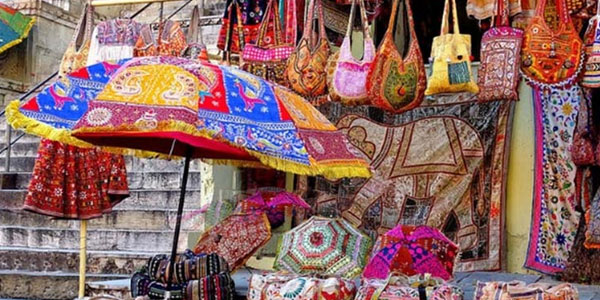 Haathi pol is a well-known commercial area in Udaipur. If you enjoy shopping, Udaipur has a variety of possibilities for you. In Udaipur's traditional, local markets, gorgeous Bandhani prints, jewelry, textiles, and local trinkets are a must-buy. Always remember to haggle at these marketplaces to get the best deals. When visiting these markets, make sure to inspect the quality of your purchases before making a final purchase, and keep your cash and possessions safe.
Conclusion:
Udaipur is a holiday haven for family members, friends, or heritage lovers. Udaipur has Forts, palaces, and lakes beyond the beauty. You can experience 5-star heritage hotels and their amenities in Udaipur. Check out the various options of Udaipur travel packages or take the assistance of expert destination specialists at Flamingo Transworld Private Limited, to have a holiday filled with fun and excitement.
Frequently Asked Questions About Post – COVID Trip to Udaipur
1. Do I need to take a COVID test before entering Udaipur?
Passengers coming from other states are required to have a COVID negative result from an ICMR accredited lab within 72 hours of their arrival in Rajasthan. Passengers who have completed 28 days after receiving the second dosage and have a final vaccination certificate (2 doses completed).
2. Is there testing done at Udaipur airport?
We recommend bringing a Negative RTPCR report from a certified lab within 72 hours of arriving in Rajasthan.
3. What are the must things to do on a Udaipur Trip?
Boat Cruise on Lake Pichola.
Click photographs at Saheliyo Ki Bari.
Discover the Old-world Charm of Bagore Ki Haveli.
Visit the Mansapurna Karni Mata Ropeway.
Shopping at Hathi Pol Bazaar.
Explore the Vintage and Classic Car Museum
Enjoy a Tour of the City Palace. 
4. What should I avoid in Udaipur?
Avoid wearing short clothes or sleeveless clothes when you are visiting religious places in Udaipur.
5. Which is the best restaurant in Udaipur?
Upre
Jagat Niwas Rooftop Restaurant
the Royalty of Sheesh Mahal
Café Ambrai
Jheel Café
Sun & Moon Café
Shamiana at Hotel Sarovar
Jaiwana Haveli
Rainbow Restaurant: Rainbow Restaurant is a good place for a sundowner
Tribute Restaurant