My First Trekking Experience to The Beas Kund Trek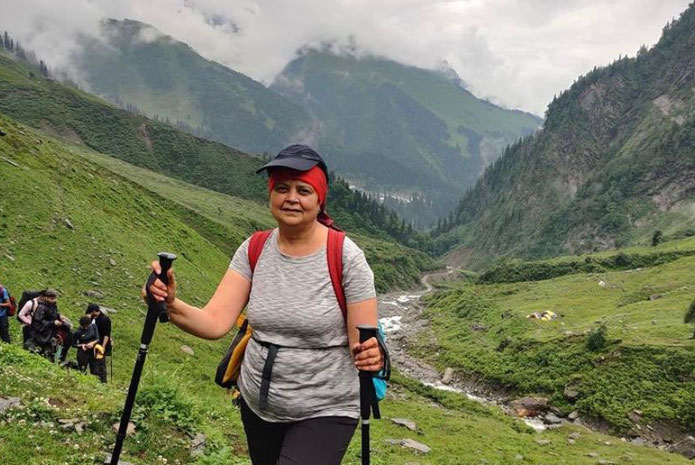 After having visited 40 odd countries and 1000s of attractions around the world I am glad to accept that I was never more excited as I was to go on My First Trekking Trip In The Himalayas For The Beas Kund Trek  on 10 July.
It was a monsoon trek where the challenges were many and therefore the excitement and adventure even more.
The planning started with my nephew vidit 1/3 my age who prompted me to consider the Beas trek, as I was always very curious to know about his earlier ventures of treks.
I have always longed to go on a Himalayan trek so post-Covid considering how thirsty we have all been to travel, I jumped at this opportunity. Rounds of convincing were done as my age was against me and looking at the remoteness of where we were going and other safety factors, finally got our permission.
When we put up our plans in our family group, four more with the mountain torch within them also joined. So we were six of us, from age 18 to 58 were all fixed up with flights and transport.
With due guidance for fitness from our Guru Vidit and India hikes videos, we started competing for our fitness regime which should be ideally at least 4 weeks before. We started posting fitness updates on our WhatsApp group "Monsoon Trekkers". Everything was allowed Yoga, Gym, cycling, running, walking, climbing stairs, lunges, etc… but updating the group was compulsory.
Our round of Decathlon or hiring equipment was done in every other consultation and we were soon packed and bundled up to meet at Chandigarh airport. It was perfect timing from Ahmedabad, Bombay, and Bangalore.
Before taking you through my trekking experience, let us dive into the details of the trek and what you need to know before embarking on it.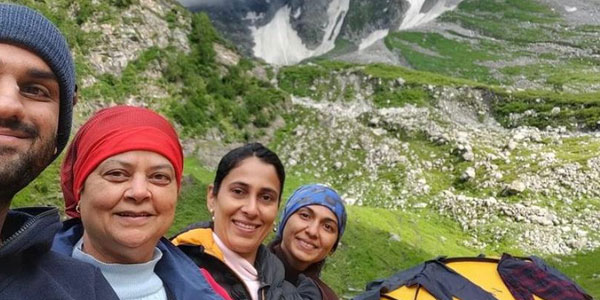 Location of Beas Kund Trek
– Beas Kund is located at 12,140 ft. above sea level in Kullu valley. The starting point of the trek is Dhundi (21kms away from Manali). You need to drive to Dhundi and start your trek.
Why should select Beas Kund Trek?
– It is one of the shortest and easy treks around Manali, and you can explore majestic views of the PirPanjal range;
– If you are a beginner then it will be great if you start your trekking experience with this trek;
– And, its altogether a different experience to trace the source of a river, an unusual activity to do;
Best time to plan hiking at Beas Kund Trek
– The best time to plan trekking here is from mid-May to mid-July, the snow starts to melt, and the trail is clear enough for trekking.
– Avoid hiking in August and September due to heavy monsoons.
– It starts to snow in October, so if you are a pro-trekker, you can attempt to go hiking here.
– The trek is for 2-3 days, so you can easily plan it during a long weekend. We finished our trek in four days, and these four days to date give us Goosebumps.
The Real Journey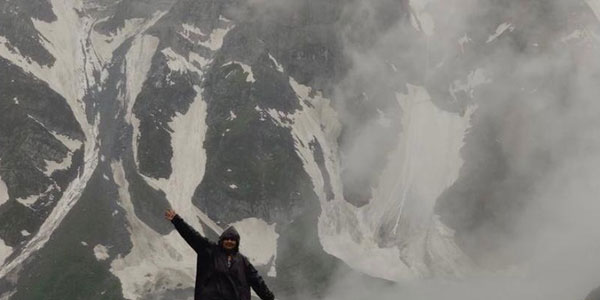 With all enthusiasm, we kick-started our trekking trip. Those 4 days of our trek were the best I have spent in many years. Because the scenic beauty around us was just so charming. No words could do justice. At all times of the day, We just spend hours looking at mountains clouds play, valleys with some snow still in its lap, tree lines, hanging snow, sunrise sunsets, peaks, waterfalls, river flow, wildflowers, and its play around us.
The tents where we slept were as comfortable as possible in the wilderness. Sleeping in there added that adventure as on 1st night the floor was gradient and we kept slipping downward in our tents. The sleeping bags were just so much more comfortable and kept us warm and padded.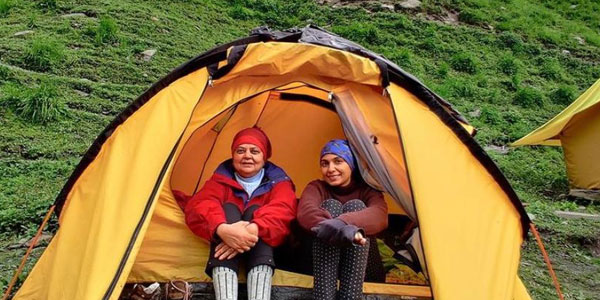 The food was healthy and tasty served hot with Jalebis for dessert and Honey chilly potatoes for snacks. Our challenges came on our peak trek days. Due to rains, moving forward was called off as it was risky. At 8 after breakfast was our scheduled time.
It was only after lunch that we could depart. In 30 minutes of a call from our captain, we had packed our bags, tents, and were ready to depart. It was more challenging terrain as we were donned in our ponchos and the rain had turned the terrain very slippery. Every step put forward was a challenge.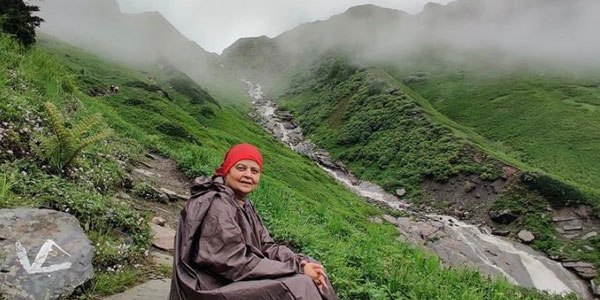 Slowly steadily in line we 14 trekkers with the captain and 3 local boys for help we went ahead and reached our 2nd campsite after 3 hours going up and down on the ridge. It was a very interesting climb and completed with 2 rivers crossing before we reached the night halt place.
This schedule we had to face on our next day too which was the summit day. Summit days are generally long and this day to we left at 1 pm. We were told to take our torch as it might get dark before we reached back. We had 6 hours of summit climb and return journey before us.
It was the best day of our trek. The river Beas by our side was in a different form with a beautiful mountain backdrop and lush green hills. It was just picture-perfect. Our young and energetic team ascended fast and we reached the summit by 4 pm. It was still raining and at 12500 meters we found the mountain air quite chilling. Some members went higher up to see the Beas Kund Lake while some of us stayed behind as it was very foggy and we were not sure about what they would see.
There were only glaciers and mountains all around us it was like a plateau where we were. Within 1/2 hour they were back and we started descending. When we were climbing it seemed tough but going down in the mud and slush created by the rain was treacherous. We reached back well before dark thanks to everyone's effort and especially the helpers who were by our sides always to assist us.
They were like mountain goats and comfortable in all situations. Guess what? We were surprised with Gulab Jamuns for a successful summit climb.
We all felt good and proud to have made this record time comeback from the summit without a single fall even on a rainy day.
Returning to City Life
On the last day, we were ready to go back to the known world. Within 3 hours we were back at the base of 7000 ft from 9700 ft.
When we could get network we came to know about the heavy rain cloud burst in some areas and realized how lucky we have been to complete our mission. We all called up our family to inform them of our well-being.
We bid goodbye to our newly formed friends. We had enjoyed playing dumb charades, eye contact, and Mafia with the group members in our dining den which was our hangout place in the mountains. We had a long session of games here especially as we waited for the weather to clear up each morning.
I miss all the times spent in nature, my family members who accompanied me on this trek, my new friends our trek leader, and the local boys who assisted us, and can't forget our chef Tanni. Trust me, after every trek; you will turn into a stronger and more mature person- mentally & physically. You will learn to survive with the minimums and develop patience and calmness when it comes to handling any unpredictable situations.
I hope to make many dreams like mine to trek the Himalayas successful for others. There is no comparison or place comparable to our Himalayas. So make the most of it.
Learning & Take Home
A different feeling of being confident enough that I can plan one more trekking tour;
A feeling of self-accomplishment that I could complete this trek against all odds of the rain;
Opportunity to meet completely new people, know them well, and make new friends;
Inhaling and exhaling fresh air from climbing up and down the mountainside;
I came back home with a bag of memories filled with natural beauty with mountains, rivers, snow clouds, Greenhill's, sunrise, sunsets, a riot of mountains, wildflowers, and local people;
Variety of trees;
Become a minimal person in daily life like the life we had in trek with minimum needs but at the end of the day we were happy;
Learning to change my discipline. To respect nature's cycle of seasons and how it changes from the land submerged in snow for six months and its rejuvenation to life once the snow melts and tall green grass growing, and spring flowers coming to life;
If you have the will, you can do it under the guidance and some fitness regime. It is easy and, I wish to encourage all to do it;
We, as, Indians have the beauty of the gigantic mountains of earth. I want to spread this chain of happiness to as many as possible. Appreciate it;
I want to dedicate my next few years to make a world greener; less polluted, and spread consciousness of it.
Happy Trekking!!