10 Best Adventure Destinations in India you must visit in 2021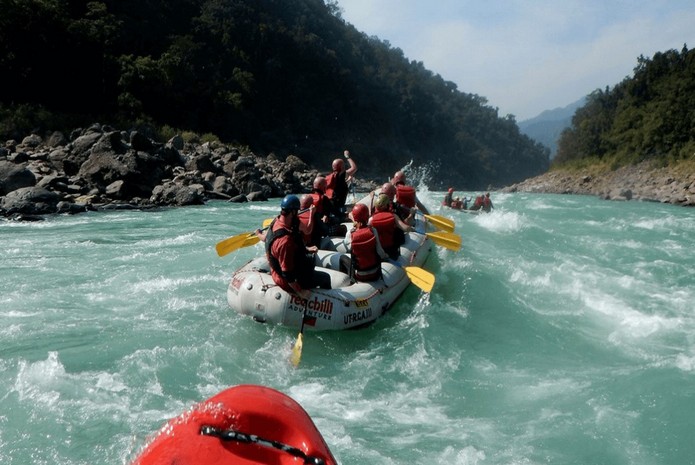 Introduction
Craving for a break or a holiday is an instinct of human beings. But, this craving would have amplified in the last one and a half years. I am sure all of us would want to flee away from the lockdown blues. We would have had enough peace and solitude at our abode, but now all of us would be yearning to switch the adventure mode-on. Most of us yearn for a head rush to feel the blood rushing through the veins. Challenging rivers, high mountains, and peaks getting up close with wildlife, trekking, and numerous other heart-thumping activities are what one yearns for, then pack your bags and get set to go. Most destinations are opening up for tourism. One can go for the thrilling adventure trip, but bearing in mind and following all the necessary safety measures at each location.
To enjoy such adventurous holidays, we won't even have to wait for international borders to open as well. There are myriad options of best adventure destinations in India. Our country is a rainbow nation, having all the colors or attributes of a perfect holiday. Indian tourism has actively been promoting all the big or small, yet precious holiday locations across India. The Top holiday destinations for 2021 in India are all geared up as per the new-normal protocols and are ready to welcome one and all. It's time to tick a few to-do things off your bucket list and check out the adventure tour packages by Flamingo Transworld Private Limited. Share your dreams and wishes for the adventure with the destination experts who will guide and create a package for you.
 10 Best Adventure Destinations in India
To help you enlist, filter, and screen the Best Adventure Destinations in India, we have jotted down the ten best places to experience a different adventure at each spot.
Best Adventure Destinations In India
Roopkund Trek in Uttarakhand
Motorcycle Touring in Leh
Flyboarding in Goa
Scuba Diving in Andaman
Mountain Biking in Sikkim
Skiing in Gulmarg
Microlight Flying in Bangalore
Camping in Coorg
Wildlife Safari in Gir National Park
White River Rafting in Rishikesh
1. Roopkund Trek in Uttarakhand


Image Source : https://www.adventurenation.com
The famous Roopkund is a glacial lake in the Uttarakhand state in India. The lake is in the Himalayas. Roopkund Trek in Uttarakhand is amongst the well-renowned treks in India. It is a must-do- of its kind among all other adventure destinations in India. Roopkund trek is an adrenaline-pumping trek that begins from Lohajung, situated around 16,500 feet above sea level in the Garhwal region. The lake is shallow, with a depth of approx 2 meters.
Apart from the adventurous streak of this place, it also carries an element of mystery to it. The lake contains around 300 human skeletons at such an altitude that have fascinated scientists, anthropologists, and historians. Explore the Roopkund trek with the local guides who are great storytellers that narrate fascinating tales about the trail and the lake. The adventure trail includes a group of slippery and steep climbs. This trek surpasses a roller thrill, thus giving you an adrenaline rush while walking on an exposed sharp ridge while holding a rope. Roopkund trek adventure has got everything for it. Breathtaking campsites, deep forests, gurgling brooks, miles of ice and snow, meadows, and great climb from 8000 ft to 16000 ft. To avail an inclusive experience of an adventure in Uttarakhand tour packages, connect with Flamingo Transworld Private Limited. 
Best time to go for Roopkund Trek in Uttarakhand
Do remember that Roopkund Trek is accessible for just a few months in a year. The trek changes its beauty during pre and post-monsoon. If you like a slightly difficult trek and love snow then, traveling from May to June would be the best time. But if you want to discover the mystery of the skeletons in the lake with an easy trek, then one should travel during September, October months.
Things to Keep in Mind
A few things to consider while planning your trip to the Roopkund trek is the season, as trekking is not allowed throughout the year. The trek varies from moderate to difficult levels. The weather here changes within minutes and so the trek may be difficult at some levels.
Remember that weather is usually hostile most of the year, so tourists should be well-prepared and fully equipped for such conditions. One of the crucial points to note is that there is a ban on the Roopkund trek. Trekking is allowed, but camping is not allowed in the meadows. The camping in the meadows provides the right acclimatization. Without camping in the meadows, the trek won't be possible, as it may lead to severe health issues.
2. Motorcycle Touring in Leh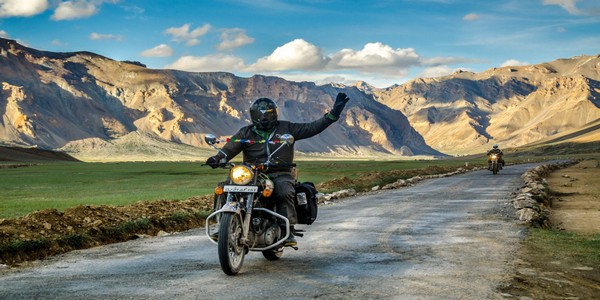 Image Source: https://driveznridez.com
A motorcycle tour to Leh is a fantasy of every biker. A bike trip to the Himalayas offers a great adrenaline rush. More than just being an action-packed experience, a road trip to Leh is going to be the most cherishable experience. It's ranked amongst the top Adventure Destinations in India. Ladakh is known as the Land of High Passes, as it is one of the most enchanting and unique regions in our country. This landscape is sparsely populated and is a dream destination for adventure lovers across the world.
Motorcycle touring in Leh includes some of the most challenging, awe-inspiring, and breathtaking landscapes in India. Enjoy the highest motorable passes in the world on your classic and stud bikes. But do note that this is not an easy ride as most sections of the road are at an elevation of around 13000 feet above in the Himalayas.
This renowned road trip is two popular optional routes with Delhi as a base Manali to Leh and Srinagar to Leh routes. Both these routes offer the most picturesque views along with the best road conditions. Srinagar to Leh route forms a complete circle, and Manali to Leh route encircles rocky mountainous landscapes that have increased levels of difficulty to it. To plan out the best and personalized itinerary, check out numerous Adventure in Leh Tour Packages offered by Flamingo Transworld, and choose the one that suits you.
Best time to go for Motorcycle Touring in Leh
To enjoy the best of the Ladakh region, prefer to go on a bike trip from June to September. Roads from Manali are open after May and routes from Srinagar are open from Mid-May.
Things to Keep in Mind
Some of the crucial tips to ensure while planning the road trip to Leh is:
The minimum age requirement is 25 years of age, and one should possess a driving license.
Before planning a bike trip to Leh, one should have some long bike rides experience.
You should be reasonably fit to go for the bike trip.
Do ensure to follow all the rules and regulations while driving on motorable roads.
Ensure to carry all the essential medicines, an extra quantity of fuel, and enough cash, as ATM is sparse in this region.
Once you reach Leh, do ensure your ILP or Inner Line Permits.
3. Flyboarding in Goa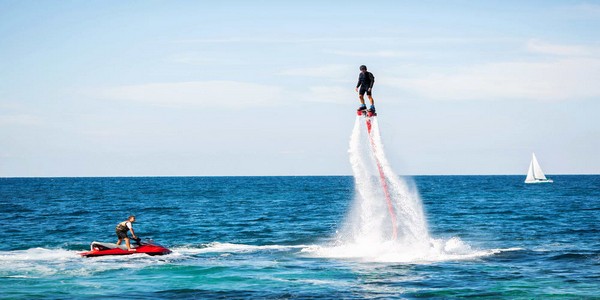 Image Source: https://res.cloudinary.com
Watching superheroes in Marvel makes one dream to fly up in the air and swim like a dolphin. Well, this dream is achievable at one of the best adventure destinations in India – Goa. To experience and enjoy this type of adventure, try Flyboarding in Goa. It is a new adventure added in extreme water sports of the next level.
The sport of Flyboarding uses a flyboard. It includes a pair of boots that are attached to the board. A jet ski is connected to the board through hoses.  Water is forced with high pressure, and the jet nozzles supply thrust to the board, which drives the rider upward around 30 to 35 feet above the water. One does not have to worry about knowing how to swim for this water activity. A non-swimmer too can enjoy Flyboarding with appropriate safety precautions. Floating equipment and life jackets are given to wear for Flyboarding. A trained and qualified professional team will instruct you to enjoy this activity. You will feel the adrenaline rush in your veins while performing this sport. When you soar high up in the air, admire the views from such height, and then dive down deep in the ocean and then soar again in the sky.
Some of the popular locations for Flyboarding are Baina Beach in Goa and Chapora River. The duration of one Flyboarding session may vary from 15 to 30 minutes. The prices for Flyboarding in Goa range from INR 3000 to INR 7000 and may vary depending on the vendor, season, and location of this sport. Goa Tourism emphasizes implementing adventure activities in various Goa tour packages.
Best time to go Flyboarding in Goa
The best time to enjoy Flyboarding in Goa is from October to May. During these months the rainy season is over, and the skies are clear with calm and serene waters.
Things to Keep in Mind
A few things to keep in mind while opting for Flyboarding are as below:
Anyone from the age of 13 years to 50 years can participate
Do carry Swimwear, T-shirts, Beard Shorts, Towels, sunscreen, and sunglasses.
4. Scuba Diving in Andaman
Image Source : https://admin.banbanjara.com
One of the adventure activities that have been gaining momentum for a decade is Scuba Diving in Andaman. But what is Scuba Diving? A Scuba is a short form of Self Contained Underwater Breathing Apparatus that will allow one to breathe underwater. With this sport, one can explore the world underwater with the help of a compressed air-filled tank. The underwater world is quiet and surreal. The only sound that you would hear is that of your breathing and some marine activity. The colorful and bright sea creatures would be swimming around you. One may take a few minutes to absorb the entire feeling and take in as much aquatic life as possible.
One can enjoy this sport even if they do not know how to swim; just a few hours of training would be enough to go for this activity. A person doing this activity for the first time may go till 30 to 40 meters in depth. There are numerous diving schools on the Andaman Islands offering courses to certify one as a scuba diver.
There are myriad options to scuba dive at the Andaman Islands, but the most popular one is at the Havelock Islands. Andaman tourism has always been discovering new sites for scuba diving. Each site has a different marine life, water clarity, and underwater habitat. Based on these factors, some of the best locations to opt for diving in the Andaman Islands would be the Elephant Beach, and the most reasonably priced dive site is Nemo Reef.  The cost of scuba diving in Andaman generally depends on the spot where you wish to dive and the vendor you have opted for. The price of scuba diving includes underwater video, photography, and the rent of diving gear. To have an idea about the price a single dive would cost around INR 5000, and a scuba lite session would cost around INR 4000. While planning your Andaman Tour packages, do ensure to experience scuba dive.
Best time for Scuba Diving in Andaman
The best time for Scuba diving in the Andaman Islands is from January to May. The water during these months has high visibility wherein one can easily see all the beautiful marine underwater life.  The diving generally takes place during the morning hours from 0800 to 1300 hours and from 1500 to 1700 hours.
Things to Keep in Mind
A few things to note before going for scuba diving are as below:
The Age bracket ranges from 10 years to 60 years.
People with heart issues, breathing difficulties, psychological conditions, and pregnant women are not allowed for scuba diving.
5. Mountain Biking in Sikkim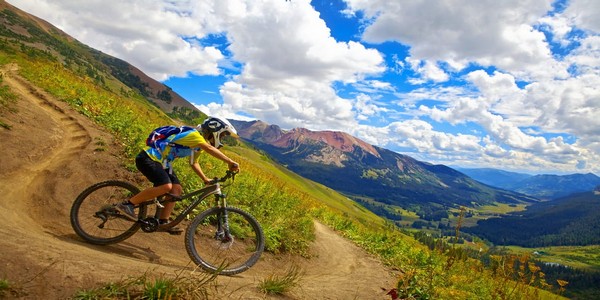 Image Source : https://images.thrillophilia.com
Mountain Biking is one of the oldest forms of adventure and recreation. Mountain Biking in India is quite popular due to its exciting topography and varied landscapes. Sikkim is one of the popular adventure destinations in India, especially mountain biking. The dramatic and rugged terrain of Sikkim presents exciting biking trails to adventure enthusiasts. Explore the flora and fauna, the beauty of the countryside, the lifestyle and culture of Sikkimese people, and much more while mountain biking in Sikkim.
The rugged terrain in this region makes bikes the most viable vehicle to explore the place. Biking is one of the least risky sports. The best way to explore is cycling through the terrain consisting of extreme descents and steep Riding the bicycle through the bumpy roads of Sikkim amidst the peaceful nature will give a thrust to your adrenaline. Sikkim Tourism promotes mountain biking in all seasons. While planning Sikkim tour packages, explore the region with a difference.
Best time to go for Mountain Biking in Sikkim
The best time to venture for Mountain Biking in Sikkim to explore the alpine forest is from March to May and October to December. The weather during these months is quite conducive for adventure activities in Sikkim.
Things to Keep in Mind
To prepare yourself for Mountain biking, you need to keep a few things in mind as below;
A good endurance level is required for this activity.
One should know and be apt to know about the application of brakes while riding downslope or upslope.
One should know the tactics of climbing uphill like leaning forward, shifting to low gear, pedaling continuously, and all other rules while riding a bike on a hill.
It is imperative to know the bike first and how it works.
Always wear a helmet.
Carry a first aid kit and water with you.
6. Skiing in Gulmarg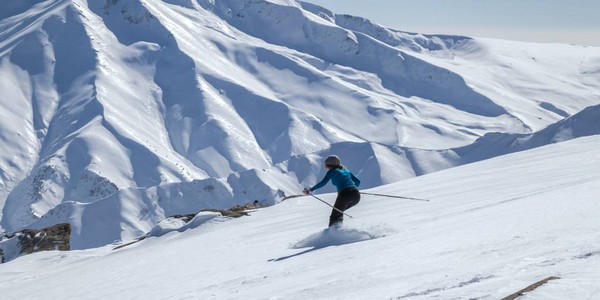 Image Source : https://www.tourmyindia.com
Adventure enthusiasts who love to ski need not always look up to international destinations. They can equally enjoy skiing through the glistening slopes at Gulmarg snow. The world's third-highest ski resort Gulmarg is situated at an elevation of around 3950 meters. Ski resort Gulmarg is renowned for its powdery snow runs. The Apharwat peak having an elevation of 4390 meters is the longest ski slope on the entire continent.
Gulmarg is situated in the Pir Panjal Range of the Himalayas, is a meadow of flowers during the summer season, and changes into a ski destination during the winter months. Gulmarg is popularly known as the crux of winter sports. It has beautiful panoramic landscapes, lofty peaks, and alpine meadows. Do not miss a ride on Gulmarg Gondola. It is the world's second-highest and Asia's highest cable car circuit. It carries you to a height of around 4000 meters. From here, you can ski downhill.
There are six bunny slopes in Gulmarg; they are gentle inclines that are fit for beginners. There are slopes at higher reaches for experienced and trained skiers. Skiing in Gulmarg is an incomparable experience and is one of the not-to-be-missed adventure destinations In India. To avail of such enriching holidays, opt for our Kashmir Corridor with Khyber Tour Packages by Flamingo.
Best time to go Skiing in Gulmarg
Gulmarg receives the heaviest snowfall in the entire region, but the season to ski is very brief – from January till the end of February.  Though due to climate change, the season may sometimes begin from December and last till March.
Things to Keep in Mind
To enjoy and experience Skiing in Gulmarg, one should keep a few things in mind such as;
Hire a local guide
Ski classes may start from 1500 INR a day
Most of the skiing gear that you would require is available at several rental points.
Avalanches are a hazard in any mountain environment. Hence it is advisable to follow the daily update from Gulmarg Snow Safety.
Skiing needs one to be in good physical condition. For this, it is recommended to undergo physical training at least two months before traveling to Gulmarg.
7. Microlight Flying in Bangalore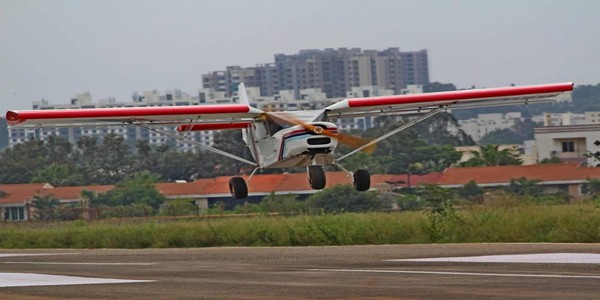 Image Source : http://ihctourism.com
All of us while traveling in an airplane would have for once dreamt of being in the cockpit and flying the airplane. Surprisingly, this dream can be true, though not flying an entire Boeing with hundreds of passengers in it, but you can for sure fly a Microlight.
What is Microlight flying?  A Microlight is a type of aircraft that is designed to carry a take-off weight of around 450 kg and the capacity to accommodate two passengers. These types of aircraft have comparatively shorter landing and take-off capabilities. This makes them suitable for recreational purposes at small airfields. Imagine taxing the plane on the runway, this thought itself would provide an adrenaline kick. Microlight flying is a different experience compared to other aerial sports such as sky diving, paragliding, and others. In this sport, passengers can sit comfortably and steer the aircraft.
To avail of this memorable experience, opt for a Microlight flying in Bangalore. This activity takes place at Jakkur Aerodrome in North Bengaluru. The duration of such flights is around 10 to 15 minutes. The flight duration is weather-dependent. The cost of one session is approx 3000 to 5000 INR depending on the duration of the flight and the vendor. It is one of the latest adventure destinations in India.  Do include this sport in your Short Breaks around Bangalore Tour Packages.
Best time to go for Microlight Flying in Bangalore
The best time to experience this thrilling adventure is from October to March. During these months, the atmosphere is stable and the skies are clear as well.
Things to Keep in Mind
Before going on this adventure, remember few things as below:
To fly solo, you should possess a Microlight pilot license.
To fly with the pilot, the minimum age should be above ten years
There are a few weight restrictions
Pregnant women are not allowed for this activity
The flight is subject to visibility weather conditions, and ATC clearance
There might be restrictions on videography or photography
The most preferred time for this sport is during the morning hours due to the favorable wind conditions.
8. Camping in Coorg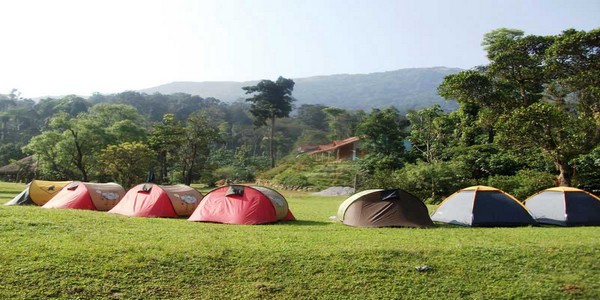 Image Source : http://ihctourism.com
Camping is a recreational adventure sport that is gaining huge popularity with time. Camping in Coorg is the go-to adventure destination in India. Coorg is the most preferred place for all nature lovers, situated amidst the intimidating mountains in Karnataka. It is located around 270 km from Bangalore and around 120 km from Mysore.
Whether you are a nature lover, traveler, or adventure lover, Coorg or Kodagu is the place for you. The hilly terrains of Coorg display scenic vantage points and the colorful lifestyle of locals. Adventure seekers would find several locations for jungle camping in Coorg. Nurture your adrenaline, and stay in one of the campsites to experience the adventure that the surrounding nature offers. Marvel at the picturesque hills and breathe the fresh air all around. Coorg being famous as the hill station of South India has a variety of camping options like Coorg jungle camp, elephant camp Coorg, and many more. The camping tours include unique experiences such as trekking, campfire, treetop adventures, zip-lining, or you can just relax and enjoy board games or walk through the coffee estate. These activities may vary depending on the camp you choose. Seek expert guidance of destination experts at Flamingo Transworld for your Coorg & Wayanad Tour Packages
Best time to go Camping in Coorg
While planning to go camping in Coorg, the best time is during the winter season. From October to March is the best season as the weather is ideal for spending time outdoors.
Things to Keep in Mind
A few things to keep in mind during camping in Coorg are as below:
Carry comfortable clothes, shoes, flashlights, sunscreen, caps, binoculars, and a camera
Ensure to carry first aid including your prescription medicine.
Avoid roaming during nighttime.
9. Wildlife Safari in Gir National Park
Image Source : https://girjeepsafari.com
The only place outside of Africa where you can see lions in the untamed location in the world is in Sasan Gir National Park. It is the only place in the world where you will find Asiatic lions in their natural habitat.  Asiatic lions are stockier and slightly smaller than their African counterparts. They have a thinner mane, scruffier appearance, and thicker hair on their tails.
Gir National Park and Wildlife sanctuary are some of the renowned attractions of the state. This national park was established in 1975. It is situated in Gujarat in the Junagadh district. It is 65 km from Junagadh city. The park is spread across 1412 sq. km. It has around 300 avifauna species, 38 species of mammals, 2000 insect species, and 37 species of reptiles.
One of the age-old and still much in demand adventure sports is Wildlife safaris. One such wildlife safari experience is at Gir National Park. Gir National Park is rated as one of the most reputed adventure destinations in India.  Many tourists prefer the Wildlife and Beaches of Saurashtra Packages to explore this region.
To go on a safari, do follow the Gir Travel Guide. You need to get permits for these safaris. There are three slots during the daytime. Ensure that you book the safari permits online and well in advance. E-permits are issued for each vehicle that can accommodate a maximum of 6 occupants. The cost varies depending on the public holidays and days of the week.
You can spot not only Asiatic lions but Indian Cobras, Indian Leopards, Jungle Cats, Golden Jackals, Nilgai, Antelope, Sambar, Chinkara, Wild boar, and many other animals. Apart from Wildlife spotting, one can explore other activities such as Bird Watching, Crocodile Breeding, Devliya Safari Park, and the Siddhis Tribe Visit. Enjoy and explore all these and much more by customizing your Sasan Gir tour package with Flamingo Transworld. We have excellent Sasan Gir Luxury hotel deals packages as well.
Best time to go for Wildlife Safari in Gir National Park
The Gir National Park annually remains closed from June to October. The best time to visit this national park is during the winter months – November to March. One can visit during April and May, but the weather is quite hot. However, it is ideal for wildlife viewing and photography.
The timings of the game drive in are as below:
06:30 AM to 08:30 AM,
08:30 AM to 10:30 AM and
03:00 PM to 05:30 PM.
Things to Keep in Mind
Early morning safaris are preferred the most as lions are active in the mornings.
Private vehicles are not allowed
Strictly avoid carrying any weapon inside the park
Avoid the park during weekends and public holidays as the park gets crowded and the charges are high.
Be ready with your cameras while on the safari
Wear light-colored clothes for the safari
Do not harm, tease, or hurt any wildlife species.
10. White River Rafting in Rishikesh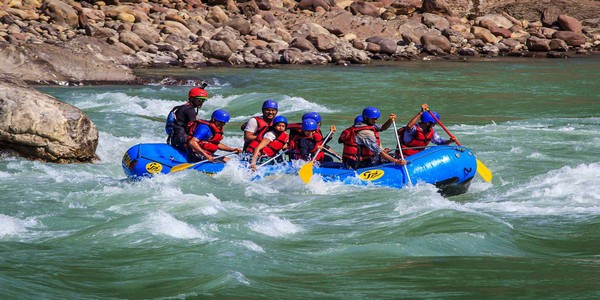 Image Source : https://k6u8v6y8.stackpathcdn.com
Rishikesh is a classic amalgamation of holiness, yoga, and adventure. It is also famous as the adventure capital in the country. It offers myriad options for adventure sports in India. Amongst all the adventure activities, Rishikesh is famous for water rafting
White river rafting in Rishikesh is an unmatched adventure that offers an adrenaline rush. There are many rafting destinations around the world, but Rishikesh is the rafting capital in India.  It is a popular adventure sport practiced by water sports lovers. It includes an inflated raft made up of plastic or rubber and rides across the river. It is operated by using oars or paddles to control the raft and navigate through the river. All the safety instructions should be followed strictly to have a memorable experience.
The white river rafting has four stretches along the river Ganga, Brahmpuri to Rishikesh, Shivpuri to Rishikesh, Marine Drive to Rishikesh, and Kaudiyala to Rishikesh. There are five grades of rapids such as I, II, III, IV, and V. The cost of the river rafting varies on the rafting stretch, the duration, and the level of difficulty. Ensure that you include this memorable experience of rafting in the river Ganga in your Adventure in Rishikesh Tour Packages

Best time to go for White River Rafting in Rishikesh
For River rafting in Rishikesh, one should travel from March to the end of June. River rafting takes place throughout the year in Rishikesh, except during the monsoon season. It also operates during the winter months. The timings during peak season are from 0700 to 1900 hours, and during off-peak season, it's from 0800 to 1700 hours.
Things to Keep in Mind
Some of the crucial things to keep in mind while planning river rafting in Rishikesh are as below:
The minimum age requirement is 14 years
Wear the right clothing
Always follow the instructions given by your rafting guide.
Ensure that you wear complete protective gear such as helmets, life jackets, gloves, etc.
Do not get intoxicated or drink alcohol before or during the rafting session.
You need to be focused and alert during the activity.
Carry waterproof coverings for cameras
FAQs Regarding Best Adventure Destinations in India
1. Which are the best adventure sports in India?
A few of the popular adventure sports in India are
Trekking
Rafting
Scuba Diving
Parasailing
Sky diving
Mountaineering
Bungee Jumping
Flyboarding
2. Which are the best places for adventures in India?
There are a few popular places for adventures in India as below:
Ladakh
Rishikesh
Manali
Andaman
Goa
Sikkim
Auli in Uttarakhand
3. Is sky-diving available in India?
Yes, Sky-diving is available in India at Bir billing – Himachal Pradesh, Aamby Valley – Maharashtra, Deesa – Gujarat, Pondicherry – Tamil Nadu, and Dhana – Madhya Pradesh.
4. Which are the best places for trekking in India?
The best places for trekking in India are Hampta Pass Trek and Chandrakhani Pass Trek in Himachal Pradesh, Markha Valley Trek in Ladakh, Valley of Flowers Trek, and Roopkund trek in Uttarakhand, Dzongri Trek in Sikkim, and Rajmachi Trek in Maharashtra.
5. Which are the best places for river rafting in India?
There are several reputed places for river rafting in India as below;
Ganga River in Rishikesh in Uttarakhand
Indus and Zanskar River in Ladakh
Teesta River in Darjeeling
Barapole River in Coorg in Karnataka
Brahmaputra River in Arunachal Pradesh
Spiti River in Himachal Pradesh