Here's Why You Should Add Russia In Your Bucket-list This Year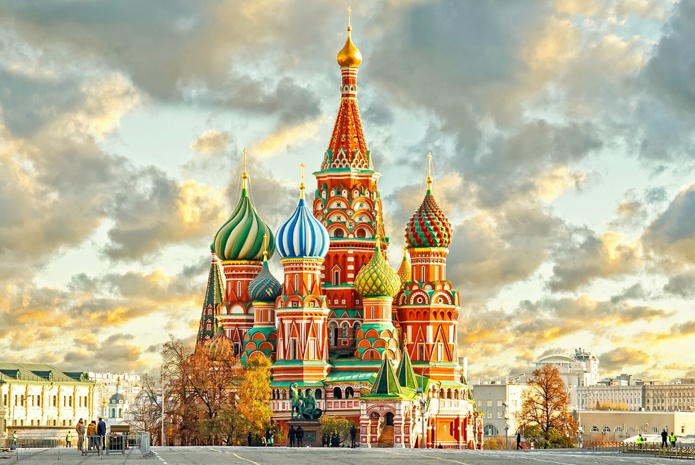 Thinking of planning a trip to Russia? There are many interesting places and experiences offered by Russian Tourism. You will be amazed to see the tourists and locals strolling around this beautiful city and exploring the important landmarks of the city- the river Neva, the historical city center, and the small canals flowing in the city. The city is not only lively during the daytime but also at the night.
Looking into the tourist places of Russia, then this place is all about contemporary cities, serene countryside, and ala-grand palaces. The two main important cities of Russia- Moscow and St. Petersburg are all about the national treasures of the country. And, if you are someone who gets happy with a countryside visit then don't miss out on two of the amazing villages- Novgorod and Veliky.
The most exciting part is the announcement done by the Russian Tourism post-COVID-19 that is the country is now all set to welcome tourists from 24 countries and won't be quarantined. But there are certain rules and regulations to be followed for safe and hassle-free travel such as showing proof of negative COVID-19 proof report, wearing a mask while roaming in crowded places, proper sanitization, and hygiene to be maintained and follow social distancing.
So let's start to get an idea about the places and things to be covered in your Russia tour packages by knowing about the history of the country, enjoying the culture, and gulping the different cuisines of the country.
Top Reasons to Visit Russia in 2021
Still, making plans to choose a country you would visit in 2021? Avail of the Russia Tour Packages and set out for Russia Holiday Post COVID-19 which would welcome you with its rich history, art, and architecture leaving you impressed. That's not all though; here is a list of reasons to visit Russia and why you need to put Russia right on top of your travel plans this year.
The Untouched Nature of Russia
Moscow Metro: The Underground Art of Russia
Famous Religious Sites to Visit in Russia
Russian Music and Dance
Winters in Russia
Food and Drinks in Russia 
1. Art and Museums in Russia
Russia is home to some of the finest museums which house the largest collection of modern and contemporary Russian art. St Hermitage Museum, with its art, would occupy most of your time and still, it would be only one part of the art which you would get to witness here. You can also head down to the Moscow Museum of Modern Arts which is the first Russian state museum featuring artwork from the 20th and 21st century. If you are in Moscow, The Pushkin Museum of Fine Arts would welcome you with collections from ancient to modern times. And, you should not miss out the State Russian Museum in St. Petersburg, opened in the year 1898 and doesn't fails to impress with the extraordinary paintings, sculptures, and portrait from the 18th and 19th century.
2. The Untouched Nature of Russia
The nature of Russia's landscape varies from huge mountains to the desert, freezing coastline to flat mud wetlands. The 3/4th part of Russia is Siberia with tall and huge pine forests, known as taigas. In the 19th century, Russia set up national parks, the first country to come up with this thing. Today, 1% of this land area is protected by Siberia National Reserve, called zapovedniks.
There are around 100,000 rivers in Russia and many lakes too. The famous Baikal Lake in Siberia is known for having more amount of water than any other lake in the whole world.
The country is also home to many species such as snow leopards, black bears, polar bears, small rabbits called pikas. You can find a Siberian tiger here too which can weigh up to 300 kg. Siberia is home to the Altai Mountains which are a complex system of high mountains in the Siberian ridges and separated by deep river valleys and extensive canyons. Wild-life lovers would not shy away from visiting Altai National Reserve and Katunskiy National Reserve to spot snow leopards and Altai Argali.
3. Moscow Metro: The Underground Art of Russia
The Moscow metro was the first metro system that too underground built in Russia. It was opened in 1935 and one of the places to visit in Russia. In the whole of Europe, this metro system is the busiest one. The metro is known for its unique and extraordinary interior design and is also sometimes referred to as the "Palace of the People."
When it was opened it had only 13 stations but today there are 269 stations with 15 lines and expansion is still going on. Some of the must-see stations of Moscow Metro are:
Novoslobodskaya Metro Station
Mayakovskaya Metro Station
Rasskazovka Metro Station
Novokuznetskaya Metro Station
Slavyansky Bulvar Metro Station
Elektrozavodskaya Metro Station
Ploshchad Revolutsii Metro Station
Komsomolskaya Metro Station
So I guess let's not wait and book a flight from Ahmedabad to Moscow and have a glimpse of all the above listed.
4. Famous Religious Sites to Visit in Russia
Russia is known for religious pilgrimages and historic sites, and Russia ranks the list when it comes to pilgrimage sites. The country has a beautiful diverse history relating to religions. Today the major crowd follows the Christianity religion, followed by Buddhism gaining importance now. You will enjoy many Religious Sites in Russia.
Witness the beauty of Moscow in the churches and cathedrals of the city. Some of the most intriguing cathedrals of Russia are:
Kazan Cathedral in St. Petersburg;
Basil's Cathedral in Moscow;
The Cathedral of the Assumption in Moscow;
The Cathedral of the Annunciation, Moscow;
Alexander Nevsky Lavra;
The Cathedral Ring, St. Petersburg
5. Russian Music and Dance
Russia is known for its entertainment and will keep you excited throughout your tour. You can go to watch a play at some grand theatres, book a show of famous Russian ballet dance or tap your feet on classical Russian music composed and performed by the traditional Russian performers.
You would be thoroughly entertained on your trip to Russia when you get to see the world-famous ballet dancers performing in front of you. And, when it comes to nightlife, Russia has a vibrant nightlife, with reputed nightclubs, with being reasonable too. You can enjoy a drink over a free live music session during the weekends.
6. The Russian Winter
Russian winters are no ordinary winters that you experience in other parts of the world. During winters, Russia looks like a dreamy destination straight out of a fairy-tale. Going far away north might also introduce you to the Northern Lights. Many cities like Moscow celebrate a Winter Festival in Russia which begins in December and continues till late January. Many events are performed here like Russian dance and music, crafts, games, food, and more.
The country is very cold during the winters but doesn't get scared and make sure to carry winter warm clothes.
7. Russian Food and Drink
To have some unique experience, try traditional Russian Food during your trip to this gigantic country. It is believed that Russian Food has some unique taste and should be tried once.
Talking about drinks, Russian Beer will leave you spellbound and if you are a vodka lover, try the vodka here in Russia. You are surely going to be surprised.
Try the national dish of Russia- Pelmeni, and is one of the favourite food in Eastern Europe and Russian people. This dish can be served alone, tossed in butter, and garnished with sour cream, or with soup broth. These pastry dumplings are stuffed with minced meat.
With chilling weather, it would be soothing to enjoy a hot Borscht- A beet soup that originated in Ukraine and later adopted by Russia as their speciality. You can enjoy this soup with sour cream.
Now that you've known so much about Russia, perhaps this is the best time to plan a trip to Russia. If you need some travel ideas, you can contact our knowledgeable travel consultants or visit our website Flamingo Transworld Pvt. Ltd.
Frequently Asked Questions About Russia Trip
1. Is Russia Safe to Travel in 2021?
Yes, it is completely safe to plan a trip to Russia in 2021. And, don't worry Russia is now safe for tourists but at the same time, all the necessary precautions should be taken for hassle-free travel.
2. What do I need to know about traveling to Russia?
There are certain things one should keep in mind while travelling to Russia such as:
Check the visa requirements for Russia;
Don't forget to take or download a Phrasebook as Russians are not very good with English;
Pack your clothes appropriately taking into consideration the weather of Russia;
Research well about the public transport of Russia;
Know well about the unfamiliar names of the Russian cuisine;
Tap water is not drinkable;
Follow and obey the local customs and rules;
Beware of pickpocketing on the local streets;
Keep cash in hand to avoid any trouble;
Plan your itinerary;
3. What is the best time to visit Russia?
The best time to visit Russia is between June and August months when the country enjoys the summer season. During this season the days are long and light, with temperatures between 68°F-77°F.
4. Is Russia friendly to tourists?
Russia is a very safe country for tourists, especially when you are planning your itinerary to large cities such as St. Petersburg and Moscow or you are choosing a Trans-Siberian route. Few risky areas in Russia should be avoided: The Ukraine border.
5. What should I wear in Russia?
It is always advisable to dress according to the weather in Russia. Winters in Russia are very chilled and freezing, so it would be best to carry warm clothes, scarves, and comfortable walking shoes. Also, carrying an umbrella is highly recommended as the weather here is quite unpredictable. And, if you plan in the summer months, you can flaunt with a pair of jeans, a breezy top or shirt, and a comfortable pair of shoes.