Traveling to Kenya? Don't miss out on these activities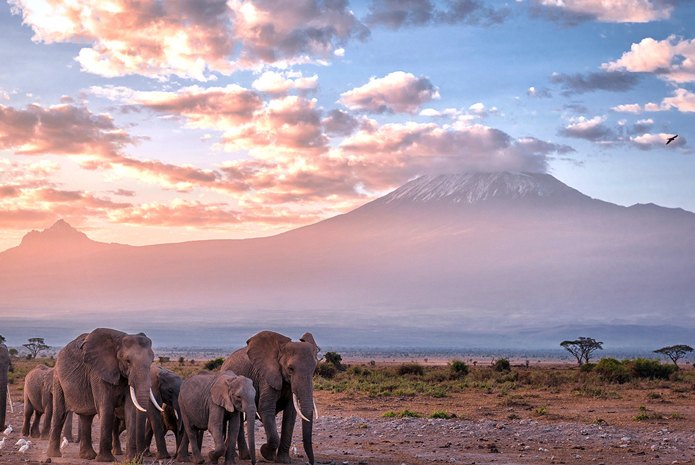 The moment we hear Kenya, the images that float in our mind are those of vast savannas, huge herds of wildlife, traditional tribes, and bright colorful clothes of the Masai tribe, and many more. The moment Africa is mentioned, it is generally considered to be equivalent to Kenya. Africa is known for its huge wilderness and Kenya is the pinnacle for Africa's call of the wild. Kenya is situated on the equator and is on the eastern part of the African continent. The name of this country was derived from Mount Kenya, wherein, the word Kenya originates from the local Kamba and Kikuyu languages. Kenya means God's resting place. There are numerous tourist attractions in Kenya that cover endless plains with wildlife, mighty mountains, rolling hills, and a beautiful coastline. Kenya tourism is actively promoting tourism by following all the safety protocols related to Covid-19, thus encouraging more and more tourists to plan and enjoy their Kenya Holidays 2021. 
Travel to Kenya, engross yourself in the untamed wilderness, learn about the ancient cultures, enjoy safaris, and many more things to do in Kenya.  Travel to Kenya is quite a cherishable and coveted experience. Our Kenya tour packages are the perfect way to get a taste of true African essence. 
Things to do when you travel to Kenya first time
You are wrong if you think, all that Kenya has to offer is a wildlife safari. There is no doubt that a wildlife safari is numero uno in the various things to do in Kenya, there are many fun things to do in this country such as trekking tours, boat safaris, shopping, and many other myriad activities to indulge in, for all those who travel to Kenya. 
Few things that you should experience while visiting Kenya for the first time are: 
Kenya Wildlife Safari

Bungee Jumping 

Hot Air Balloon Ride in Masai Mara

Hike at Mount Kenya National Park

Explore the capital city

Scuba diving

Shopping in Kenya

Try the traditional local Kenyan Foods
While planning your trip to Kenya to experience all these activities, avail of our Kenya tour packages that can be customized as per your preferences. 
1. Bungee Jumping in Kenya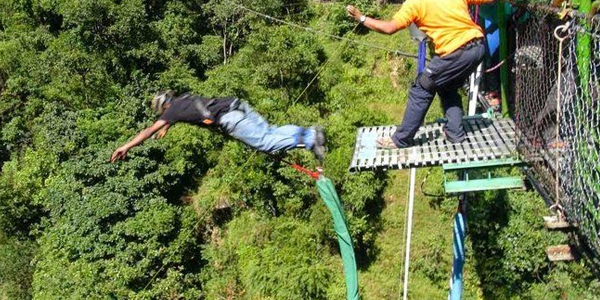 Image Source: https://i.pinimg.com/
One of the most enjoyable adventure sports is Bungee jumping. It is an action-packaged entertaining activity wherein the participant's feet are tied and attached to an elastic cord from a tall structure and have to jump head-on. Bungee jump doesn't require any kind of prior experience, all you need is enough courage to take the leap. One must ensure to follow all the safety precautions, it is not recommended for overweight people, pregnant ladies, and people having high blood pressure and other heart problems. While visiting the country, do not miss this lifetime experience of bungee jumping in Kenya. Along with the thrill of this sport, enjoy the energetic vibes and beautiful picturesque landscapes. This activity can easily be clubbed with your Kenya tour packages. 
Places for bungee jumping in Kenya
One of the best places to experience Bungee Jumping in Kenya is at Sagana, on the banks of the River Tana. 
Cost for bungee jumping in Kenya
The cost of Bungee jumping in Kenya is approximately around INR 4000 to INR 5000 per person. 
2. Experience Kenya Wildlife Safari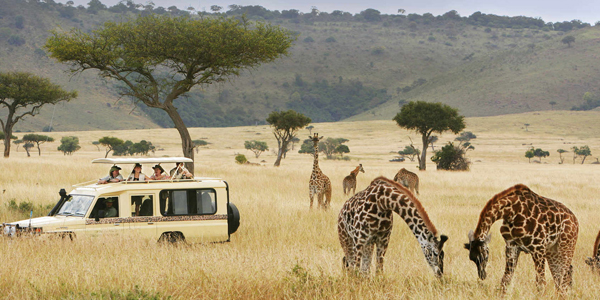 Image Source: https://kileleclimb.com/
The word Safari- originated in Kenya – wherein based on the Swahili language, safari means journey. Kenya and Safari are almost like synonyms for each other. No doubt, the top most things to do in Kenya are to experience a wildlife safari. Breathtaking landscapes, a mesmerizing culture of Kenyan tribes, unusual and luxurious camps, clubbed with close encounters with a wide range of wildlife make Kenya, one of the best countries to explore wildlife safaris in the African continent. 
Kenya has abundant wildlife that includes numerous species of birds and mammals. Wildlife enthusiasts are quite keen to watch the Big Five in Kenya Safari. The Big five animals are leopards, lions, Buffaloes, rhinoceros, and elephants. Wildlife in Kenya is untamed yet surprisingly approachable, which provides the best experience to get close to wildlife. There is a wide range of national parks in Kenya right from riverine forests to moorlands, lush grasslands to semi-deserts, with every change in the landscape you will get to varied games. This diversity of game is one of the USPs of a Kenyan Safari. Your Kenya tour package shall be incomplete without an experience of Kenyan Wildlife safari. 
Best places to visit for Kenya Wildlife Safari
Some of the best places to visit Kenya to experience Wildlife Safari are as below: 
Masai Mara National Reserve

Lake Nakuru National Park

Amboseli National Park

Tsavo National Parks

Samburu Game Reserve
Kenya wildlife safari cost
Generally, the cost of the safari includes meals, accommodation, Transport, Park fees, and a professional guide/driver. The approximate cost of a 10 days safari in Kenya would be around INR 250000 per person. Safaris on a budget would be around INR 140000 per person, and a high-end luxury safari would cost around INR 750000 per person. These amounts do NOT include visa fees, insurance, and international flights. 
3. Go for Hot Air Balloon Ride in Masai Mara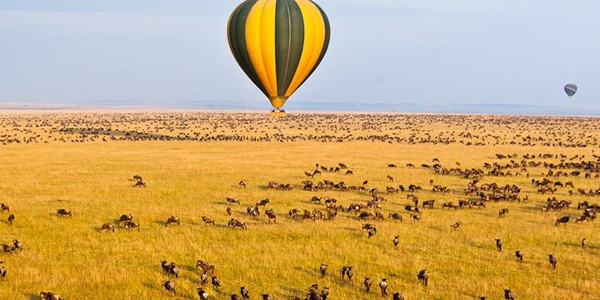 Image Source: https://www.maasaimarakenyapark.com/
Masai Mara National Reserve, aptly known as a jewel of Kenya, is one of Africa's best wildlife reserves. It is spread across 600 square miles and is renowned for its year-round density of wildlife and Africa's Big Five. A Safari in Masai Mara is truly a lifetime experience. A minimum of 2 nights stay is required to explore any game reserve, wherein there morning and evening safari for game –viewing. Each safari will be an altogether new and different experience. To top it all, or rather we could say the icing on the cake, would be to have an exhilarating experience by taking to the skies, opt for Hot Air Balloon Ride in Masai Mara, and get a bird's eye view perspective to watch the wildlife. There are many other places in the world wherein you can experience a Hot Air Balloon Ride, but to ride on a Hot Air Balloon and to view all the exotic animals in their natural habitat is completely an evocative experience. 
The entire Hot Air Balloon Ride experience begins with an early start, wherein the participants are expected to be ready by around 0500 hours in the morning, picked up from their respective lodges or camps in Masai Mara, and transfers to the Balloon take-off site. The crew would be working on the launching and fixing of the Balloon. Once the Balloon is floated and ready to sail, passengers would board the Balloon and then take off for a one-hour flight. The number of passengers in a basket depends on its size. A maximum of 16 passengers can be accommodated at a given time; hence it is advisable to book this activity well in advance. 
Once you are up in the air and are sailing over the game reserve, you will feel a deeper appreciation and a wider perspective of the Mara ecosystem, the synergistic relationship between humans, flora, and fauna. You will be able to see how the Mara River curves through the valley. At the end of this hot air balloon ride, you will be served a bush breakfast at a place close to the landing site. Celebrate the balloon flight with a customary champagne toast. You would have included various Kenya tourist attractions in your Kenya tour package, but if you do not include this activity your trip to Kenya would be incomplete. 
Timings for Hot Air Balloon Ride in Masai Mara
The Hot Air Balloon Ride in Mara is during the dawn or early hours of the morning. Generally, the pickup from your accommodation would be around 0500 hours depending on the distance from your lodge to the landing site. The duration of the Hot Air Balloon ride is around one hour. Overall this activity should be over by around 1000 hours in the morning that includes the flight, bush breakfast after landing, and then the transfer to your lodge or camp. 
Cost of Hot Air Balloon Ride in Masai Mara
The cost of the Balloon safari at Masai Mara is around INR 36000 per adult and INR 21000 per child below 12 years. Do note that the price varies on the various factors such as the peak season, the service providers, and your accommodation in Masai Mara. The aforesaid price includes the balloon ride, landing fees, and bush breakfast. It does NOT include any other costs. 
4. Go for Hiking & Biking at Mount Kenya National Park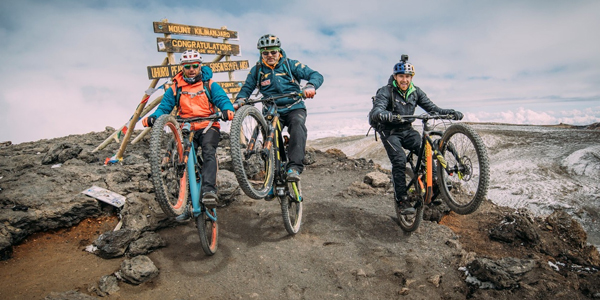 Image Source: https://hansrey.com/
Mount Kenya National Park is spread across 715 square km, having an elevation of around 5199 meters. Mt Kenya is the second tallest mountain in the country. This park was created in the year 1949 to protect Mt. Kenya and its surrounding biodiversity. This World Heritage Site has breath-taking scenery, pristine lakes, glaciers, mineral springs, dense forests, alpine vegetation, and a wide range of endangered and rare species of animals. 
Not just tourists, but this park attracts adventure enthusiasts as well. The park is quite renowned for mountain biking, cave explorations, and hiking in Kenya.  Mt. Kenya has rich volcanic geology combined with unique flora and fauna that makes it an equally amazing experience for mountain biking in Kenya. The terrain here comprises dirt roads and 4 x 4 tracks and has three climbing routes such as Sirimon, Chogoria, and Naro-Moru, which makes climbing Mount Kenya a thrilling experience. There are numerous options for mountaineers and adventure enthusiasts. While riding on the hills of the mountains, along with the thrill of mountain biking enjoy the picturesque views as well. Approximately the biking experience takes around 8 days wherein the ascent takes around 4 days and descent around 3 days. Not just mountain biking, but hiking around the base of Mt. Kenya is an enchanting experience, wherein you will get to see exotic landscapes and unique wildlife. Experience Kenya with Mt. Kenya private tour packages that will allow you to plan and explore the area at your pace. 
5. Visit Nairobi: Capital City of Kenya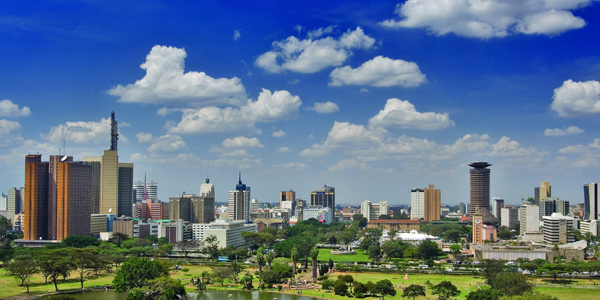 Image Source: https://a.travel-assets.com/
Nairobi is the largest and the capital city of Kenya. The name of the city is derived from the Masai phrase Enkare Nyrobi, which means cool water, this is about the Nairobi River that flows through the city. The safari capital of Kenya is one of the largest and diverse cities on the continent. Nairobi is the getaway for many Kenya safari parks. There are many places to visit in the city, check out the lush landscape of the city, it also has immense history and culture that can be experienced by visiting museums in the city, shopping, explores the Maasai Markets that sell handmade arts and crafts, and lastly do not miss to experience the local cuisine in the city. 
The capital city of Kenya has a classic mix of urbanity and nature. The growth of urbanity in the city with its skyscrapers intermingles with the wilderness of the African bush at the southern edge of Nairobi in the Nairobi National Park. Nairobi is the only city in the world that prides itself in having a National Park at its doorstep. This park is one of the oldest national parks in the country. Nairobi National Park is the only park in the world that is situated in the capital city of a country. At this park, you will find animals, such as impala, giraffe, buffalo, zebra, wildebeest, cheetah, hyena, leopard, lion, and many more. Nairobi is the starting point for most of the Kenya tourist places. Do check out our untamed Kenya tour packages, to achieve a fulfilling experience. 
Best time to visit Nairobi
The capital city of Kenya has comfortable, temperate weather all through the year. It has warmer days and cooler nights. During December to March, the temperatures are very high and the animals are least active. July to October is the peak season for the migration of wildebeest. Try to avoid traveling in April and May as it's the rainy season in the city. 
Places to visit in Nairobi
Some of the must-visit places in Nairobi are: 
Nairobi National park

Nairobi National Museum

Karen Blixen Museum

Giraffe Center

Nairobi Gallery tour

David Sheldrick Wildlife Trust

Bomas of Kenya

Railway Museum
Things to Do in Nairobi
Some of the amazing things that you can do during your stay in Nairobi are as below: 
Visit Kazuri Beads and support its social cause

Kiss and Feed a Giraffe at the Giraffe Centre

Adopt a Baby elephant at Sheldrick Wildlife Trust

Learn about the culture of Kenya at Bomas of Kenya

Enjoy shopping with bargaining at the Maasai Markets

Experience the nightlife of Nairobi

White water rafting on the Tana River

Opt for Skating on the ice at the Solar Ice Rink
6. Scuba diving in Kenya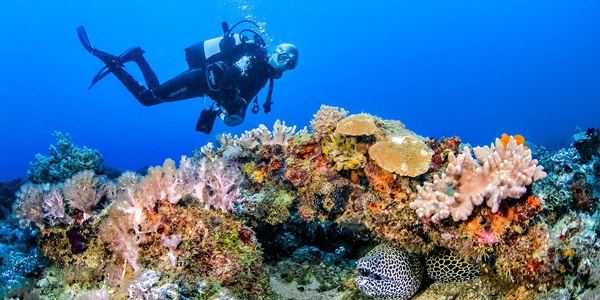 Image source: https://www.divingthecrab.com/
Watersports may not be the few things that one would associate with Kenya. Kenya has always been known for its wildlife reserves and national parks. However, the country has its fair share of underwater attractions and treasures too.
The Kenyan Barrier Reef is one of the longest reefs in the world that covers a distance of around 140 miles. It is considered the world's greatest dive site. Not just the land safari, Kenya is also gaining popularity as one of the marine-safari holiday destinations in the Indian Ocean. Scuba Diving in Kenya is certainly a once-in-a-lifetime experience. 
The surface of the Indian Ocean has a huge wilderness area to be explored. The marine wilderness is equally rich and diverse as the game parks in the country. The turquoise calm waters of the beaches in Kenya are home to myriad sea life. Kenya has gained momentum as a dive destination. Similar to other things to do in Kenya, along with the land safaris, try the new kind of safari, the scuba safari in Kenya. The reefs here are home to big shoals of different species of fish. Explore the undersea coral gardens, schools of sharks, dolphins, whales, rare turtles, and mystical wrecks. The Kenyan coast has many dive locations to fulfill diver's wishes, one of them is the Serena Beach Resort and many other incredible dive sites across the country. If you are keen on watersports, especially scuba diving, do add this to your Kenya tour packages.  
Best time to Scuba Diving in Kenya
The best time for Scuba diving in Kenya is from October till March. During these months, the conditions are spectacular having visibility till 30 m. The ocean waters are calm and the chances to encounter sharks, whales are much higher. It's a great chance for all types of divers be it a beginner or an expert diver. 
Best places for scuba diving in Kenya
Some of the popular scuba dive sites in Kenya are as below: 
Watamu Marine National Park

Mtwapa and Barracuda Reef

Kisite-Mpunguti Marine National Park

Mombasa Marine National Park and Reserve
Cost of scuba diving in Kenya
The price of scuba diving varies depending on the level of diver education, the dive sites that you wish to dive, and the number of dives you wish for. For example, a single dive would cost you around INR 7500 per person, whereas a dive program for beginners would cost around INR 14000 per person. 
7. Go Shopping in Kenya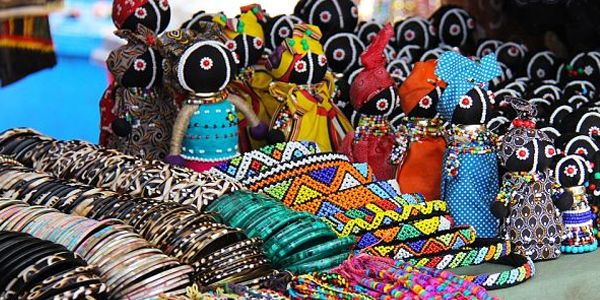 Image Source: https://www.kenyanevisa.com/
A trip to Kenya is incomplete without shopping in Kenya. The colorful country has myriad options of souvenirs, to carry back home. Kenya is a shopper's paradise as it has an extensive range of rare and diverse products. The famous tea, coffee of Kenya, beautiful stones, wood carvings, fabric wraps, all such diverse products are inspired by the cultures of Kenya. Kenya has around 43 tribes, so the amount of originality and ingenious creativity that you will get to see here is mind-boggling. Shopping in Kenya is quite popular in Nairobi, Mombasa, Lamu, and Nakuru. You have to visit the local Masai markets or the Village markets wherein the locals exhibit some of the typical products of the country. The prices of most of the products are quite cheap but do remember that bargaining and haggling are encouraged in almost all markets. Do ensure to add some time in your Kenya tour package for shopping in Kenya. Some of the unique products that you can buy here are: 
Ebony carvings

Kazuri Beads

Kisii Soapstone Carvings

Ebony carvings

Kitengela Glass

hand-woven handbag – Kiondo

Maasai Blankets

Wooden Masks

Hand-woven baskets

Kenyan Coffee
8. Enjoy Traditional and Popular Kenyan Foods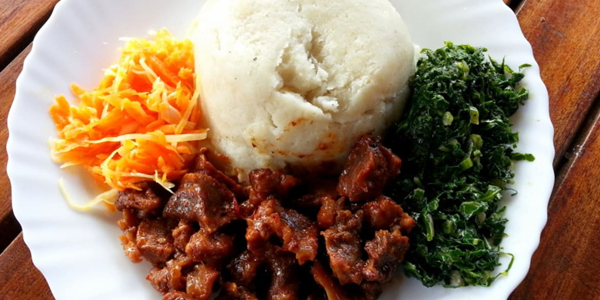 Image Source: https://images.saymedia-content.com/
Kenya is located at the heart of East Africa. This beautiful country is known for its wonderful people, breathtaking landscapes, and wildlife safaris. Kenya has around 42 tribes having different cultures and its unique dish. Hence the culinary scene in Kenya is diverse and a rich mix of tradition and ethnicity. So apart from the wildlife, the country has unique traditional foods as well. The Kenyan traditional foods are generally made from local ingredients that create a unique menu like no other menu around the world. There are many things to do in Kenya and selecting and tasting some great local foods to eat is one of them. Do not miss trying these local dishes while exploring the country with our Kenya tour packages. 
Some of the popular Kenyan foods or dishes are as below: 
Nyama Choma – the national dish of Kenya

, is a Swahili word for grilled beef or goat. 

Ugali – a staple dish of Kenya made with cornmeal. 

Sukuma Wiki – an accompaniment with Ugali is made with collard greens

 Pilau – a rice dish

Githeri- one-pot meal made up of any kind of bean and corn

Mandazi – African doughnut
Frequently Asked Questions About Kenya Tour
1. Is it safe to travel to Kenya in 2021?
Yes, it is safe to travel to Kenya. Based on the guidelines set by WHO, the Kenyan Ministry of Tourism and Wildlife has issued strict health, safety, and hygiene protocols for the hospitality and tourism sector.
2. Is Kenya cheap to travel to?
Similar to other countries in Africa, travel to Kenya may be cheap, but the quality has a direct correlation with the cost. While traveling to Kenya you must consider sanitary conditions, safety, and comfort while thinking about the budget to travel. Overall, the cost of traveling in Kenya would entirely depend on various factors like the number of days, type of accommodation, activities, transportations, safaris, and meals. Avail of our Kenya tour packages that offer the packages suitable for all budgets. 
3. Is it safe to go on safari in Kenya?
Yes, it is very safe to go on a safari in Kenya. While visiting national parks in Kenya, strictly adhere to all the safari rules and regulations as advised by your guide. For example, always stay in your 4WD or van, listen to your guide, keep your voices down, don't carry food with you during the safari, and many more as advised by your respective guide.  
4. How much is bungee jumping in Kenya?
The cost of Bungee jumping in Kenya is approximately around INR 4000 to INR 5000 per person. 
5. Which animals can you see on a Kenyan safari?
The animals that you will get to see on a Kenyan safari are lions, leopards, giraffes, buffalo, zebra, wildebeest, hippopotamus, hyena, and many more.  
6. Which is Kenya's traditional food?
Some of the traditional Kenyan foods are Nyama Choma, Ugali, Githeri, Kaimati, and Mukimo.