Vacation Tour to Bali from Gujarat- From my Eyes – "The Ultimate Island"
Bali is known as the "Island of a Thousand Puras", or "Island of the Gods. The mere mention of 'Bali' evokes thoughts of a paradise. It's more than a place; it's a mood, an aspiration, a tropical state of mind.   Bali is renowned for its diverse and sophisticated art forms, such as painting, sculpture, woodcarving, handcrafts, and performing arts.
Though Bali is Muslim country, it has 85% population of Hindus. It is well known throughout the world for its unique Hindu culture, the splendor of its ritual arts, and the charm of its friendly people. Bali is also called as an island of thousands temples. Temples are spread all over the island from a very simple to elaborate ones. In every family compound they have a family temple as a place to renewing contact with holy ancestors, and in each village there are three temples, which are dedicated to the Trinity Gods (Brahma, Wisnu, Siwa) such as,
Pura Desa is the temple to honor the God in his manifestation as Dewa Brahma – the creator.
Pura Puseh is for honoring the manifestation as Dewa Wisnu – the protector.
Pura Dalem is dedicated to the Dewa Siwa – The Destroyer.
Split stay in Bali in Nusa Dua, Ubud and Kuta/Seminyak offered me to experience beach activities, rain forest feel, night life and shopping.
Nusa Dua – famous for its beautiful beach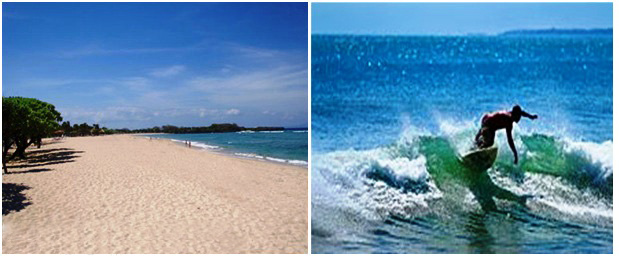 Nusa Dua means two islands. Nusa Dua is home to the most popular its Luxurious Hotels, Golf course in Bali and the main convention center on the island.  Hotels like Melia Bali, Nusa Dua Beach Resort, Grand Hyatt, Nikko Bali and many more offer various activities like snorkeling, surfing n all water sports like banana boat, parasailing, fish fly, water scooter n many on white sand beach. My stay at Melia Bali was just amazing
Kuta – Famous for Its Nightlife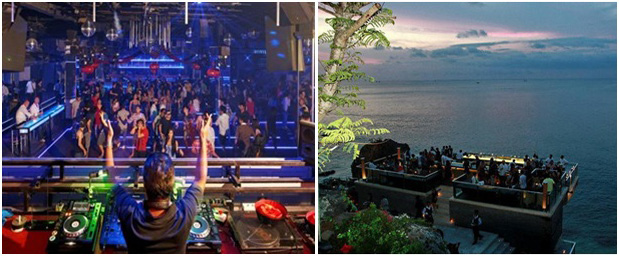 Kuta region is the center of Bali's night-life  It is located just an hour drive from Nusa Dua area. A large variety of clubs and bars featuring a young and active crowd will keep you dancing until sunrise.  It is a surfer central, by far the most heavily developed area in Bali. I had visited Rock Bar at Ayana hotel which is the lifetime unforgettable experience.  Kuta / seminyak offers very good shopping starting from local souvenirs from the street to all brands in the malls.
Ubud –  Rain forest area, Spa & Massage and water rafting at Ayung River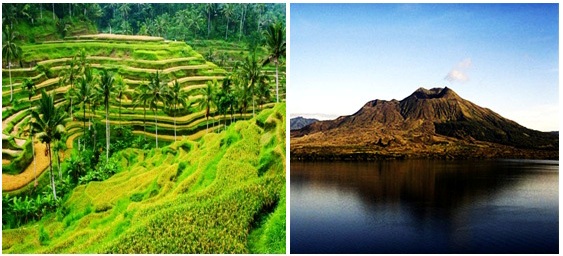 Ubud is popular among tourists because of this location lies between the rice fields and forest that lies between the mountain ravines that create a very beautiful nature. Many hotels in Ubud like Kupu Kupu, Komenika and Bali Rich offers different style of villas where we feel like we are staying in between mountain n river n if we keep mobile off, we can truly forget the world. I also really enjoyed  visiting one of the local coffee "Luwak" plantation n coffee testing.
White Water rafting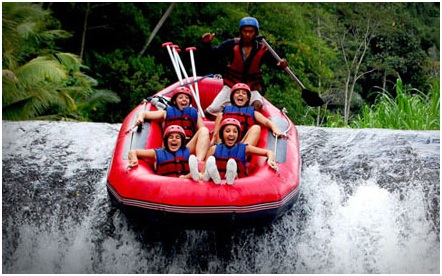 Bali rafting or white water rafting Bali is one of the popular adventure tours for local and international tourist in Bali. I enjoyed 9 km rafting in Ayung River for 2 hours n it was just amazing. The raft passes in Ayung river where both the side s of mountains the story of "Ramayana" is been carved. The artists have done creditable job for many years to explain the story of Ramayana with the characters.
Spa n Balinese massage

There are more than thousand spa and massage centers which offers different treatments and Balinese massages for different durations. Bliss Spa was one of the best place I found during my stay in Ubud, most relaxing, most reviving.
Tanah Lot Temple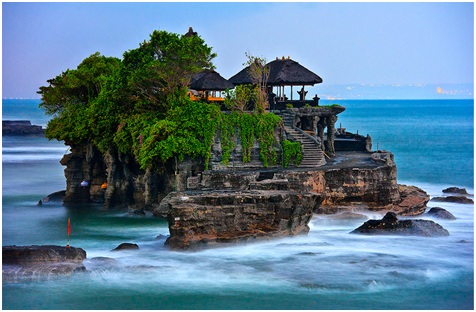 Tanah Lot means "Land in the Sea" in the Balinese language. Tanah Lot is a rock formation off the Indonesian island of Bali. It is home of a pilgrimage temple, the Pura Tanah Lot (literally "Tanah Lot temple"), and a popular tourist and cultural icon for photography. The trip to Bali is incomplete without the visit to this temple.
For more info on Bali Holiday Tour Packages visit Flamingo Transworld.