Chuck the Cliche, Pick the Unique for your Honeymoon !!
Chuck the Cliche, Pick the Unique!
Make your honeymoon a trendsetter!
More than just an external one, a honeymoon tour is also a beautiful internal journey that happens between two people who have become one, isn't it? Isn't its whole idea just too enriching and romantic? We can see you nod, dear reader!  And, that's precisely the reason why your honeymoon has to be everything special, exclusive and unforgettable. Far from the clichéd, here's Flamingo revealing to you a list of unique romantic getaways that will make your honeymoon a trendsetter. Read on and pick your favorite!
1. SA PA, VIETNAM.
So, this is where you enter the world that looks nothing short of a page from the fairytales. The poetic landscapes, sky, greenery, mountains, mist and more – the scenes that surround this hill station Sa Pa in north-west Vietnam are way more stunning than what you can imagine. Established by the French in the year 1922, this comparatively hidden gem is culturally rich too. A hot favorite amongst the trekkers and hikers, Sa Pa has some beautiful hotels to sweep you off your feet. Nestle in here for your honeymoon, devour the natural beauty, visit the valleys and waterfalls, try trekking if you wish to or explore the local culture; you two are sure to come back with a beautiful hangover.
2. LHASA, TIBET
When the name itself means 'the place of the Gods', don't be surprised if Lhasa feels like a place that's beautifully otherworldly in person. Known as the 'roof of the world' and 'the third pole of the earth', Lhasa is utter visual magnificence gorgeously settled at the elevation of 4,000 meters. Throbbing with Buddhism, culture, heritage and options for adventure too, this Tibetan town can make a newly wedded couple bond beautifully over a number of things. Visit its ancient monasteries, palaces and temples, take up some adventurous activities, walk in the beautiful local market lanes, breathe in the soothing Buddhist vibes or just sit back and admire this majestic mountain kingdom – your bond with your sweetheart is guaranteed to find a deeper dimension here.
3. TROMSO, NORWAY.
Shining bright with lively nightlife and the rich Arctic wildlife, Tromso – a charming town in Northern Norway, has an unparalleled magical side to it too! Here's where the miraculous natural phenomenon called 'Northern Lights' blooms in all its glory and leaves you feeling completely awestruck! Hold the hand of your sweetheart, watch the natural neon lights mysteriously dancing in the night sky and feel as if Mother Nature too is celebrating the union of you two beautiful souls. If you were to gift your lover an experience that he/she will forever remember you by, THIS is it! One of those times when mouths remain shut because the hearts are feeling overwhelmed.
4. BODRUM, TURKEY.

If a lavish, luxurious and classy honeymoon is what you are looking for, then Bodrum is definitely one of the best bets. A favorite amongst a number of celebrities for the right reasons, this chic and cosmopolitan Turkish town is an exceptional mix of extraordinary archaeological heritage, bright blue bays and a happening modern life. Serene and spectacular, Bodrum is where romance is just there in the air. Everything looks posh and love gets a dose of timeless elegance. This is where you spoil your partner with leisure, comforts, ocean, beaches, hotels, restaurants, shopping, sightseeing, nightlife, Turkish exuberance, adventures and what not! Let your togetherness begin on an opulent note.
5. BORA BORA, FRENCH POLYNESIA.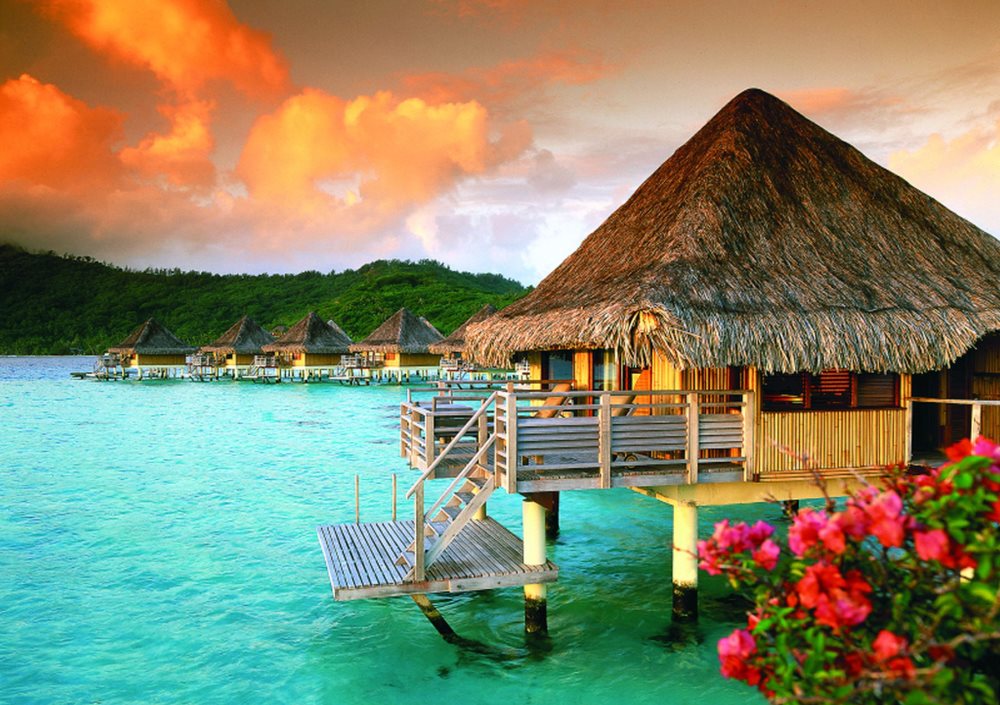 If there exists an island that can compete with your better-half over winning your love and undivided attention, it's this little piece of heaven Bora Bora! It makes you fall in love with it head over heels quite rightfully. Crystal blue ocean, stunning beaches, gorgeous mountains covered with rain forests and amazing hotels – Bora Bora easily qualifies as a dream destination for honeymooners. Dive in to the magnificent ocean, have fun snorkelling, take up lagoon tours, bask in to water sports, go hiking or enjoy the buzzing nightlife – time actually stops when you can do all this in the company of your partner. The perfect mix of peace and pace, Bora Bora is where love blossoms to its fullest!
The honeymoon tours that the honey can't have enough of!
So, are you ready with your pick now, or are you feeling spoilt with the choices after reading this? Nevermind! We are glad for you either way! Leave your partner love-struck all the more in the company of these distinct and dazzling destinations, and seal your love with flair – we say!