Say (Swiss) Cheese! 7 incredible spots in Switzerland that will leave you breathless
If you make a list of the most beautiful places in the world, it will be incomplete without mentioning the mesmerizing, green, peaceful, sophisticated and highly close to nature, Switzerland. The most common opinion of people who have been to this dreamland of chocolates, cheese, and cows is that there is nothing like Switzerland and it is definitely a place that warrants a re-visit. With tons of mountains, waterfalls, smooth public transportation, cities which are a diplomat hub, Switzerland is beautifully wrapped in sophistication, nature served with modernity.
Places to Visit in Switzerland
One may think that it is easy to get bored looking at mountains and snow all day but you have to visit the place to know that reality is otherwise. Geneva, Lucerne, Engelberg, Interlaken, Zurich are the few places that are generally included in your Switzerland tour packages. With the right combination of cities and right number of days spent here you can enjoy both nature and city life without losing that perfect view.
1. Geneva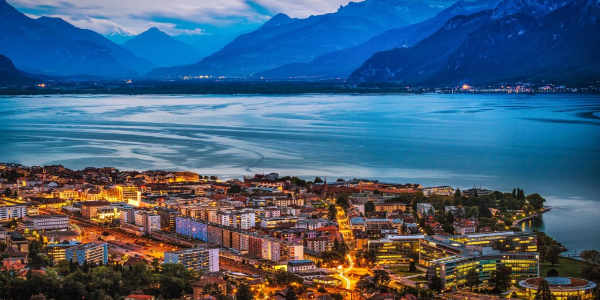 Switzerland's second-largest city Geneva is surrounded by the Alps and the Jura mountains. Serving as the Europe headquarters for multiple organizations such as the Red Cross and United Nations, Geneva is a hub of diplomats but if you look closer you'll see streets full of artists, jewelers, and chocolatiers.  Geneva has a major French influence on it and has an international flavor to it making it a star attraction for both business and leisure.
Things to do in Geneva: Visit  Jet d'eau, one of the world's tallest fountains, enjoy the serene views of Lake Geneva and do not miss Chateau de Chillon during sunset against the beautiful backdrop of mountains, lakes and forests.
2. The Matterhorn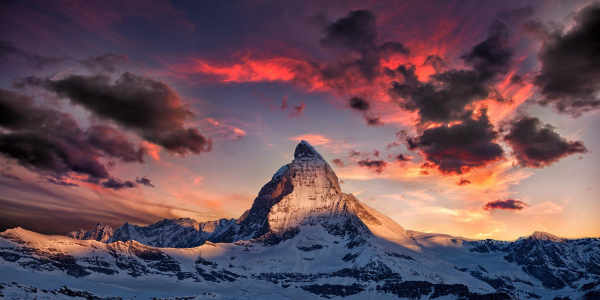 Raising its head like a King, this mountain lies on the border between Switzerland and Italy, the Matterhorn is covered with snow, pride and all that you can call majestic.
Things to do in Matterhorn: During summers, you can take a train to Matterhorn and enjoy the views and the speed and during winters you can ski, play in the ice with your friends, stay in an igloo and experience something new.
3. St Moritz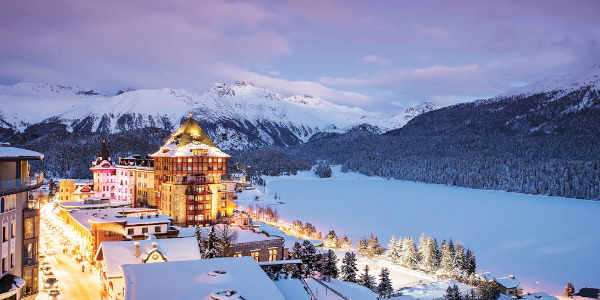 As expensive as its views, St Moriz is your answer to pricey, luxurious, and very celebrity style Switzerland holiday packages. Undoubtedly one of the best places to visit in Switzerland, this luxury alpine resort town in Switzerland's Engadin valley has hosted the Winter Olympics twice and is attracting royals, celebrities, and the Richie riches from all across the world since 1864. With aloof mountains, sapphire lakes and thick forests, St Moritz is your winter wonderland. If your pocket allows then this is a lovely option to consider for your Switzerland honeymoon package.
Things to do in St Moritz:  Take a stroll around and take the town in, sit by the lake, go hiking, rent a cycle or go shopping.
4. Rhine Falls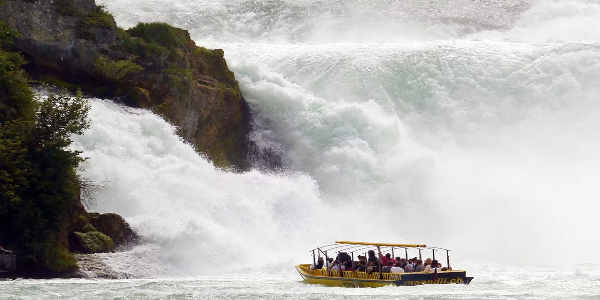 As if the universe thought of experimenting and combined power, force, beauty and pure energy and then came into existence Rhine Falls. The most powerful waterfalls in Europe are located on the High Rhine on the border between the cantons of Schaffhausen (SH) and Zürich.  The best time to visit Rhine Falls is during May/June as the amount of water is at its highest and in full force.
Things to do in Rhine Falls: Stand near the roaring Rhine Falls and experience your atoms vibrate with energy and power, take an adventurous boat ride, click some lovely pictures near the fall. On your way to Rhine Falls, you can also visit the medieval Laufen Castle.
 5. Bern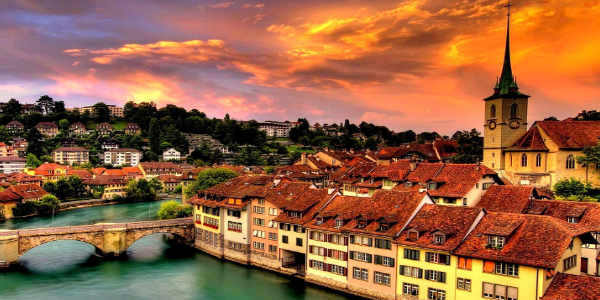 A UNESCO world heritage site, Bern is a small town in Switzerland which will make your heart flutter with its ancient cobbled streets, fairy-tale like vibe and old school charm. It's beauty lies in the fact that it is different and smaller than cities like Zurich and Geneva, thereby making it quieter, peaceful and fun and frolic at the same time.  This 12th century town has preserved its medieval architecture and laid back air, a rare thing to see in a country's capital. Bern is your perfect postcard location, one you would regret not adding in your Switzerland tour package.
Things to do in Bern: Visit the Zentrum Paul Klee, Zytglogge, enjoy the views of Terrasse & Casa, especially when lit up during the evening. Explore the many fountains, go on a walk on the cobbled streets, and go museum hopping.
6. Mount Titlis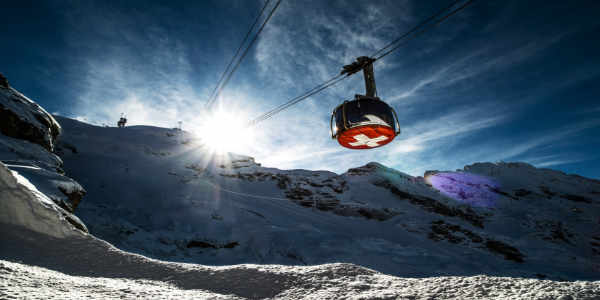 You won't experience anything like this ever again, covered in the shawl of snow between the cantons of Obwalden and Bern Mount Titlis is your 'chill goals' literally. At 3,238 metres above sea level, fill your lungs with some freshest of air, make sure you have layers of clothes on while you enjoy the view of the highest summit of the northern range.
Things to do in Mount Titlis: Experience the Titlis Rotair – the world's first revolving cable car, if you are on your honeymoon tour package and if you are an adventurous couple then Titlis Cliff Walk is another wonderful idea. Titlis Cliff walk claims to be Europe's highest suspension bridge, adding that to your Switzerland honeymoon package will definitely take your game a notch higher. The best time to visit Switzerland is actually up to you, depending on the weather conditions that you'd prefer. There are different things to do in Switzerland according to different weather. During winters you can opt for activities such as cross-country ski runs, a toboggan run and winter walking trails. During Summers Mount Titlis offers activities such as hiking, mountain biking, climbing, and rowing on Trübsee Lake.
7. Lucerne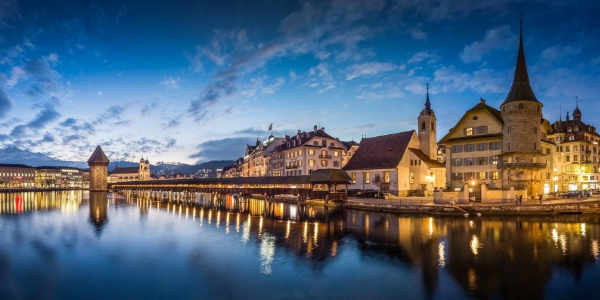 If your idea of beauty includes mystic mountains around a cobalt lake shadowing romantic medieval Altstadt (Old Town) then Lucerne is a must addition to your Switzerland holiday package. You'll witness some picturesque colorful houses and covered bridges. Lucerne is a romantic combination of old towns, medieval architecture and upbeat music. The summers here are balmy and then autumns get more golden by the hour. Lucerne is a good idea in every season.
Things to do in Lucerne:  Take a stroll on the creaky 14th-century Kapellbrücke,  visit the Lion Monument- a 10m-long sculpture of a dying lion, if you are travelling with kids then definitely try the Verkehrshaus. It is an interactive, lovely museum popular amongst children.
A bag of woolen clothes, a phone with an empty photo gallery, and a lot of space for chocolates, cheese and you are ready to visit a place which will occupy a special place in your heart forever; Switzerland should definitely be your next holiday destination.