Must Experience Adventure Sports In Rajasthan!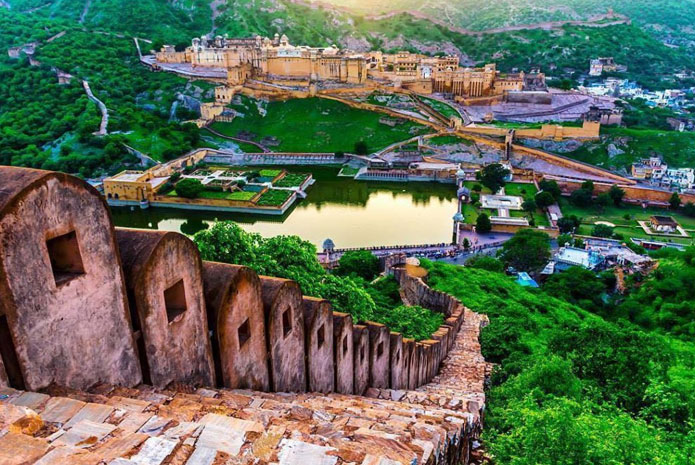 Why adventure activities attract people? The exercise, teamwork, achievement are a few reasons for this but most people love it because of adrenaline rush and self-confidence of doing those tasks which they never thought they could do. Adventure on Rajasthan tour package is a must try as it will add some thrill in your life and also refresh your mind. When people think of Rajasthan it's all about palaces, scenery, temples, and food but very few know that there is a lot more in Rajasthan than this in terms of adventure which we have mentioned below.
1. Hot Air Balloon Rides
2. Parasailing
3. Camping
4. Desert and Camel Safari
5. Wildlife Safari
6. Zip Lining
7. Trekking
8. Boating
9. Cycling
1. Hot Air Balloon Rides:
Image Source: https://k6u8v6y8.stackpathcdn.com/
Imagine you are floating in the sky at several hundred feet above and the view of the world beneath you is just wonderful. Adding to this just think of the view this ride will offer during sunrise and sunset. Many people think of Turkey as one of the best option Hot Air Balloon ride but why travel so far for this when you can experience it on your Rajasthan tour. This ride is not only adventurous but romantic also. Hot Air Balloon Safari was launched in Jaipur in the year 2008 which is also the hotspot for air ballooning in Rajasthan and it has different types of packages. It can be taken when the weather is good with light wind, no rain or lightning in the area. Flying over the palaces, deserts, lakes, and forts is a truly mesmerizing experience and is one of its kind. Depending on the month and season, ride timings are decided but during summer rides before sunset are closed as it gets very hot in Rajasthan. Costing starts from INR 8000 per person onwards depending on how many people are on board but it will be truly worth the experience.
2. Parasailing: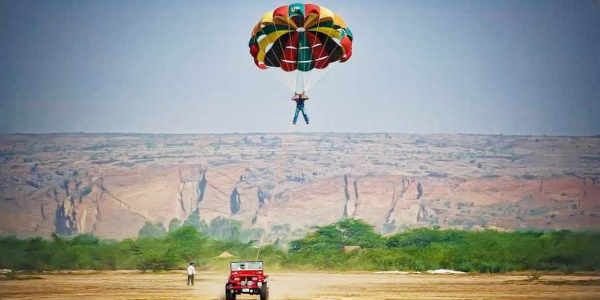 Image Source: googleusercontent.com
Parasailing is one good option to get rid of the fear of height. Sam and Sand Dunes in Jaisalmer is the perfect place for Parasailing due to open desert land. Paragliding and Parasailing are almost similar with only one difference that Paragliding is done at hilly areas where the launch is perfect, while Parasailing is at the open ground with a parachute tied to a jeep. Many people do this activity at Jaisalmer Sam Sand Dunes which lasts for around 15 minutes each ride. Some organizers offer this activity in Jaisalmer, Jaipur, Pushkar, and Mount Abu so you get the view of the golden desert, colorful cities and huge forts and hills which is the beauty of Parasailing in Rajasthan.
3. Camping: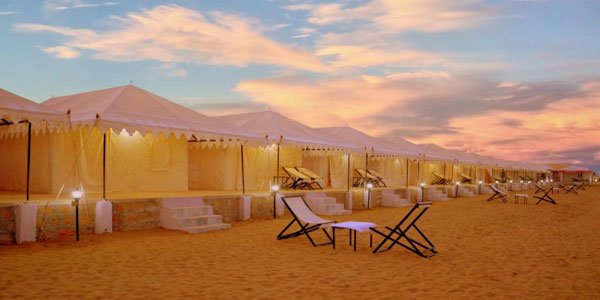 Image Source: pix10.agoda.net
The state is known for royalty and offers extraordinary range of Rajasthani hotels and resorts. But imagine your stay in a tent in the desert area under the sky full of stars with the little breeze flowing. Camping in Rajasthan is unique and a must experience activity on Rajasthan tour package. You can enjoy local food along with folk songs and dances performed by the local people and you can join them in dancing as well. Camping in Jaisalmer, Bikaner, and Pushkar are the most popular ones where even plenty of foreigners come and experience. Normal tents with fan and AC Cottages are available and the rates depend on accommodation type and season of travel. This rate includes camel safari, breakfast, dinner and musical program. The best time for camping is between October to March as the weather is pleasant and the sky will be clear.
4. Desert and Camel Safari: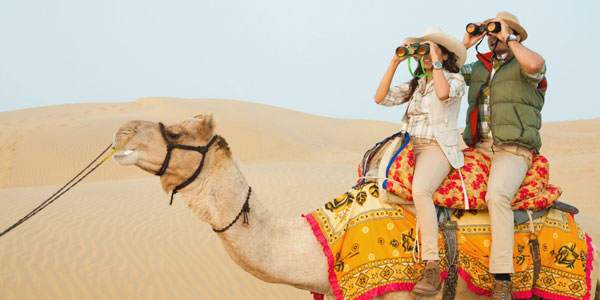 Image Source: www.visittnt.com
There are many safaris in Rajasthan Camel safari, horse safari, elephant safari, wildlife safari but riding across the desert on a Camel or a Jeep must be experienced at least once in life. Camel Safari is a relaxed option where you just sit on a Camel and go for a ride in the desert. Many people opt for this during sunrise and sunset for a picturesque view and take lots of photos. Thrilling one is riding on an open jeep which is speedy on the desert going up and down and Jaisalmer is the perfect place for this activity. There are 2 types of jeep safaris one is either early morning or late evening and the second is night safari where you will go for a ride after sunset. Only jeep headlight and moonlight will be guiding you where you are heading further. This can only be enjoyed at Sam Dunes of Jaisalmer between October to March.
5. Wildlife Safari: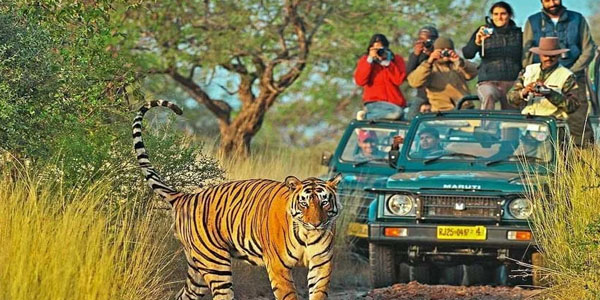 Image Source: www.tirupati.org
Apart from the above thrilling activities, Rajasthan tourism also offers wildlife experiences and in total 21 forest reserves are maintained by the government. Some of the well-known national parks are Ranthambore National Park, Sariska Tiger Reserve, Kumbhalgarh Wildlife Sanctuary, Bharatpur National Park, etc. You can spot tigers, chital, crocodile, sloth bear, hyena, and Indian leopard to name a few. For a closer look at Rajasthan's incredible wildlife, explore the jungles by jeep.
6. Zip Lining: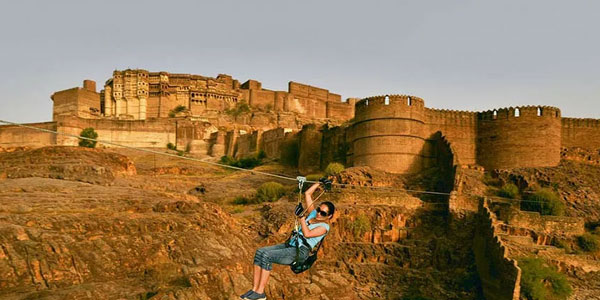 Image Source: www.rajasthandirect.com
Zip-lining is getting very famous in Rajasthan as you get to see a vibrant city when you glide at a height over the city. Jodhpur the Blue City is the place where you can experience this from one area to another at Mehrangarh fort. There are different types of zip-lining activity depending on the distance you are comfortable with starting from 115 meters to 300 meters and costing is around INR 1800 per person. It is activating worth experiencing on your trip to Rajasthan.
7. Trekking: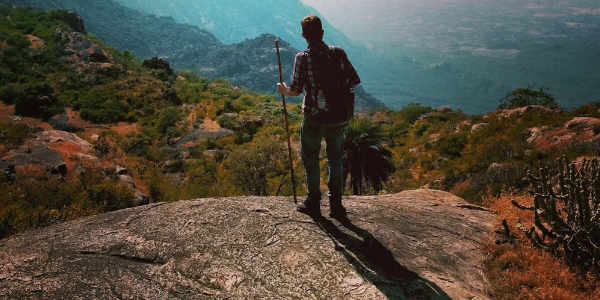 Image source: https://www.erajasthantourism.net/
The hill ranges of Aravali is a trekker's paradise. It is one of the oldest mountain range of the planet. Its rough surface makes it challenging for trekkers but it is worth it. The best trekking places are Udaipur, Kumbhalgarh, and Ranakpur where you can enjoy panoramic views also. Trekking with a guide is always a better way for better direction and knowledge about the local area. The best time for trekking is from October to February as the weather is pleasant.
8. Boating: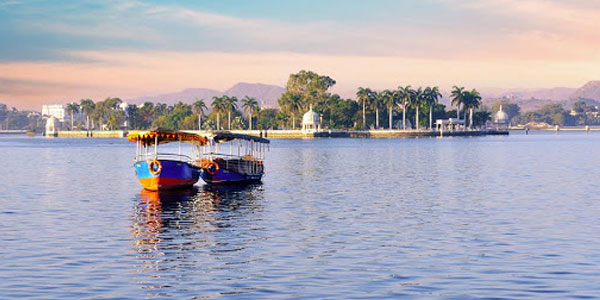 Image Source: lh3.googleusercontent.com
Rajasthan is not a coastal area so water sports are not possible but boating is a nice experience on the serene lakes in Rajasthan. Ramgarh Lake in Jaipur and Fateh Sagar Lake in Jaipur are famous for boating and the beauty of boating here is the view of forts and Aravali hills. You can also opt for a speed boat if you love speed. Sunset cruise on Lake Pichola or a trip to Jagmandir, the Island Palace in Udaipur is very famous.
9. Cycling: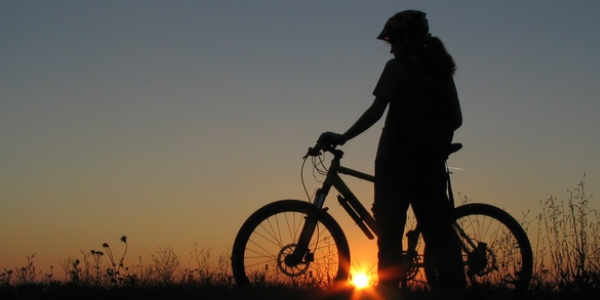 Image Source: goodfon.com
Cycling is one of the cost-effective ways of roaming around the city at your own pace. You can go far places, stop wherever you want and chat with locals having tea. Cycling tours can also be arranged who wish to ride a bicycle for 25 to 90 km with a planned itinerary from one day to 16 days trip with regular intervals. Isn't that exciting?
I am sure after reading this you must be eager to do such adventure stuff. To experience this to the fullest and come out of your comfort zone, plan a Rajasthan tour package. All those who are planning a trip in India should consider traveling to Rajasthan to have fun and thrilling experience in desert and explore beautiful forts. Also to know more about Rajasthan check out our Rajasthan travel guide offering all you need to know.