5 Magnificent Temples to Visit in Bali
Bali is known for its Balinese form of Hindu culture. They practice a different custom and belief, which is not a part of the Hindu origin place India. Yet, Balinese temples are a must-visit in any of the Bali Holiday Tour Packages. These are lake temples, sea temples and beautiful temples in the rain-forest of the Bali Island. Bali is a tourist-friendly place in Indonesia. We have listed here the top 5 magnificent temples to visit once in your Bali vacation.
Bali has gradually gained the top 5 positions in the destination list which is most visited by tourists from all over the world. Previously, Switzerland, Thailand and Mauritius were one such locations which was the most favorite of all tourists. But now Bali has been added in the list which is highly rated for tourist friendliness, tourist spots, temples and cultural spots, etc.
If you are looking for some place where you can spend some lone time with family or friends to revive your mind and body then Bali is one good location. The temples across Bali are not only offer peaceful and healing experience but also it interesting know about the Buddhist religions. Here are some of the must visit temples in Bali that you would not want to miss.
1. Tanah Lot Temple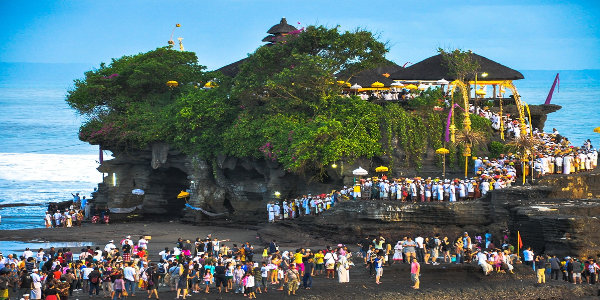 This is a magnificent ancient sea temple in Bali. During high-tide, one must take a boat to reach this temple. However, it is accessible by walk during the low tide on knee level seawater. This temple is dedicated to sea goddesses. It is known to build by a Hindu saint, who meditated here in the ancient time. This temple looks like an architectural marvel on the Indian Ocean. It is built over a huge monolith sea rock. It looks exotic with huge trees and coral life surrounding this temple. A Bali tour without visiting this temple will be incomplete.
2. Uluwatu Temple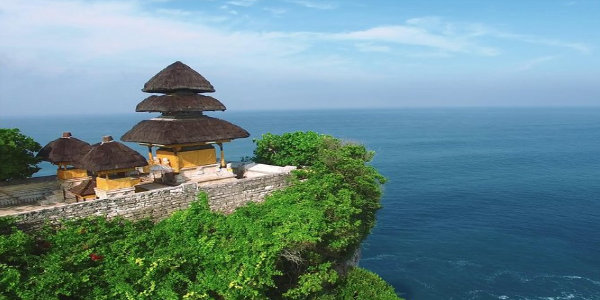 It is a magnificent ancient sea cliff-top temple in Bali. Visiting this temple is through hiking its 25-ft sea cliff. It will be an amazing hike as you can see the vastness of the Indian Ocean from this place. It is the best place to take photos with drowning sun and this temple as a backdrop. You must be here till the evening to see the Kecak dance. This is performed by the young Balinese girls with live traditional music band inside the temple premises. Most of the Bali packages for honeymooners include this temple for hiking the sea cliff.
3. Ulun Danu Beratan Temple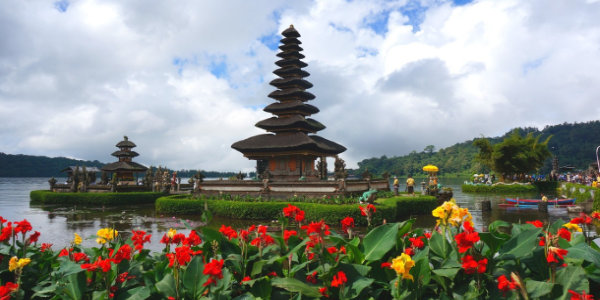 This is a mind-blowing lake temple in Bali. It is the best place for romantic couples and nature lovers to visit and enjoy its aquatic vistas. The temple is present amidst the lake water, which is surrounded by colorful water flowers. You can find the shadow of rolling hills, which is surrounded by this lake area. You can do boating and hike the lake-shore. This temple is a cute example of Balinese architecture. Bali tour package from Mumbai is the best to book through online travel channels.
4. Tirta Empul Temple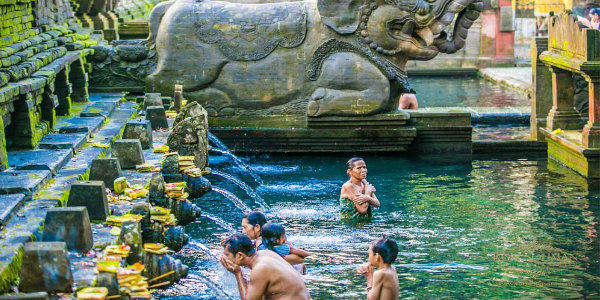 This is a magnificent rain-forest temple in Bali. It will be a natural wonder to see this beautiful temple amidst the tropical plants and coconut trees. It is known for its sacred waters. It is advisable to take a dip in the temple pond to get salvation from your sins. This temple water is used for many holy rituals by the Balinese Hindu people. It is the best temple to perform a ritual bath and get a peaceful mind with its natural surroundings.
5. Besakih Temple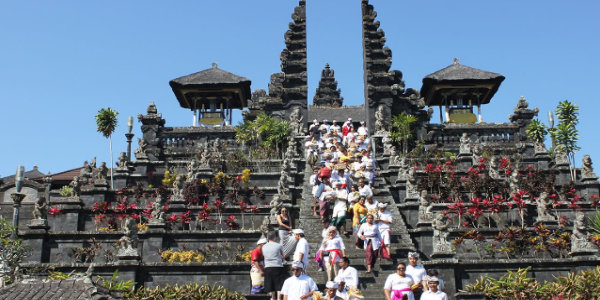 Bali honeymoon packages without Besakih Temple visit will be incomplete for the romantic couples. You both will feel like reaching a paradise as you step up to reach this mountain temple. You can see the blue skies and gateway to this temple as a mystery as you step up. On reaching the gate, you will find a magnificent Balinese Hindu temple. This temple is surrounded by streams and tropical flowering plants.
Bali is  loaded with temples for nature, spiritual, lakes and to see the mountainous beauty of Bali. Tourists of any religion and sects can enter Balinese Hindu Temples in Bali.