Top 10 Virtual Tours Of Gujarat Tourist Destinations!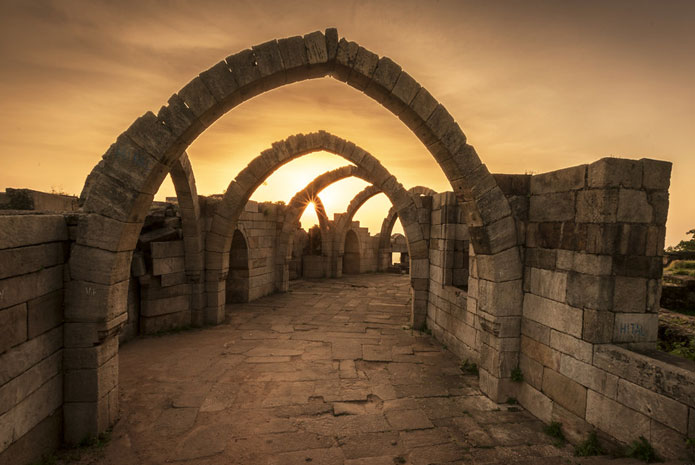 Are you a regular traveler? Are you missing your leisure travels? Missing your summer vacation with family, right? This phase of staying indoors has created a routine of being glued to the television screen watching shows online. We all know that this routine is not going to add much value to our life until and unless you are watching something informative and educational. To help you get rid of boredom and at the same time expand knowledge, we have listed down top 10 virtual tours of Gujarat which can be visited sitting safely at your home. Enjoy the virtual tours and let us know when you are planning your next Gujarat tour package or a weekend getaway with your family!
1. Polo forest, Himmatnagar: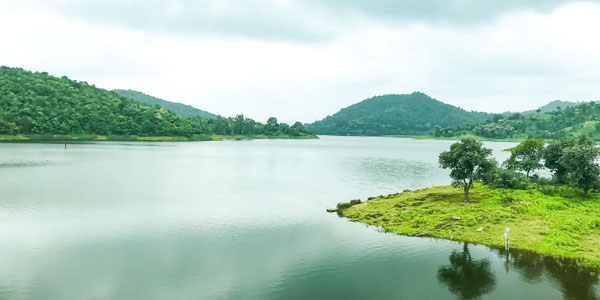 Image Source: https://k6u8v6y8.stackpathcdn.com
Polo Forest is a stunning forest area which is located near Abhapur Village in Vijay Nagar taluka of Gujarat. It is one of the most preferred weekend destination from Ahmedabad city which is 150 km away from Polo forest. You can also choose to enjoy a one day picnic from Ahmedabad and explore the surroundings of Polo forest. The Polo monument includes the ruins of historical state of Parihar, Kings of Idar in the tenth century and is located in the forest of Vijaynagar. The virtual tour includes Shiv Mandir, Surya Mandir, Harnaav Dam, Jain Derasar and some architectural locations. It is an area of around 400 square km full of medicinal vegetation, reptiles, birds and animals. Annually Gujarat tourism organizes Polo festival which includes adventure activities, cycling, camping, and more.
Click here to experience virtual tour of Polo Forest Virtual tour.
2. Siyot Caves, Kateshwar: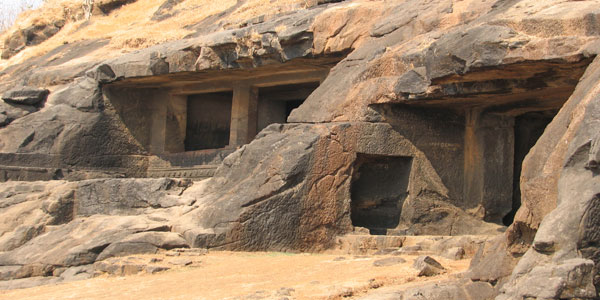 Image Source: https://upload.wikimedia.org
Siyot Caves is also known as Kateshwar Buddhist Caves. They are five rock cut caves situated near Siyot village in Lakpat Taluka of Kutch district. These caves highlight lovely inscription and architecture of the historic time. An excavation of the cave in 1988-89 discovered clay seals engraved with Buddha photos in various mudras (postures), together with engravings in past due Brahmi and Devnagari inscriptions. Some of the alternative findings of the excavation include copper rings, Gadhaiya coins, terracotta Nandi (bull god) with bell and chain, earthenware, which include surahi (a long-necked pot). Locals believe that these caves were used by dacoits to hide things looted from people in past. After 2001 earthquake the site was repaired.
Click here to experience the virtual tour of Siyot Caves.
3. Rani Ki Vav, Patan: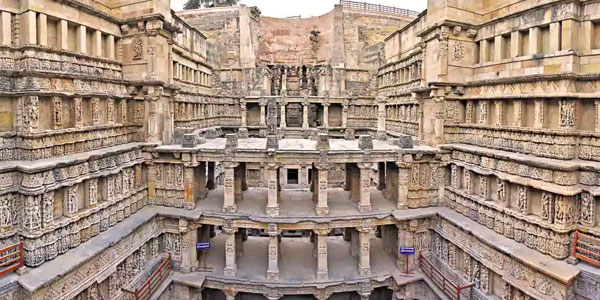 Image Source: https://www.hindustantimes.com/
Rani Ki Vav all known as queen's stepwell' is a stepwell that is located at the banks of Saraswati River. It is believed to be the grandest stepwell in Gujarat representing the Maru-Gujarat architectural style. It is a 900 year old stepwell which is listed in the UNESCO World Heritage Site. And you know what? It is displayed in our 100 rupee currency note issued by the Reserve Bank of India. The stepwell boasts seven levels of stairs with sculptural panels with more than 500 main sculptures and over 1000 minor ones highlighting spirituality, Indian mythology, and secular imagery.
Click here to experience the virtual tour of Rani Ki Vav.
4. Nagina Mosque, Champaner: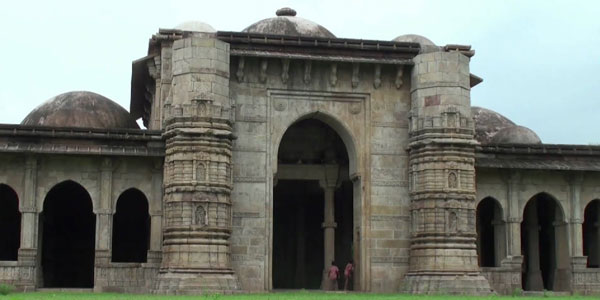 Image Source: https://i.ytimg.com
As we all know, Gujarat tourism boasts numerous holy places to explore, and one important attraction is the Nagina Mosque in Champaner which is also known as 'Jewel Mosque'. It was constructed in the time of Mahmud Begada in the 15 century. The mosque boasts minarets, globe-like domes, and slim stairs. The carvings are very skillfully done with beautiful flowery designs. The structure has three large domes built over the main hall where people pray. The architecture of this historical structure attracts travelers from various corners of the world.
Click here to experience the virtual tour of Nagina Mosque.
5. Lakulish Temple, Pavagadh: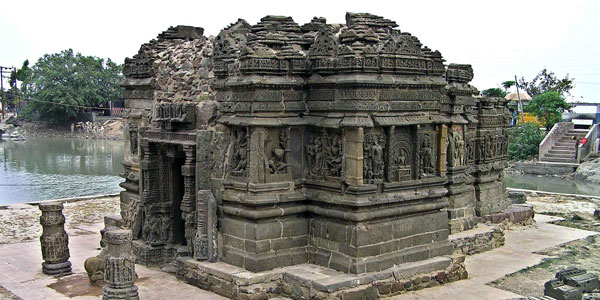 Image Source: https://indiaheritagesites.files.wordpress.com
The Laku lsih Shiva Temple is located on the hill of Pavagadh. The temple was made back in the 10the century and was constructed by Lakulisa. He was the founder of Pashupata Shaivism, the oldest Shaivite School. It is full of intricate carvings and structure of Dakshinamurthy Shiva, Ganesha and Gajantaka Shiva. The temple has been restored lately and is mostly of standstones and to certain amount of Granite.
Click here to experience the virtual tour of Lakulish Temple.
6. Modhera Sun Temple, Mehsana: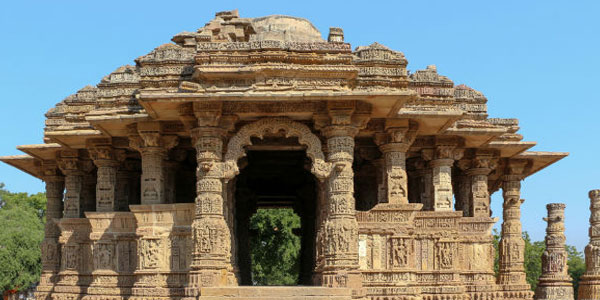 Image Source: https://www.nativeplanet.com/
The Modhera Sum temple is a jaw dropping structure in, 25 km away from Mehsana. It is dedicated to the solar goddess Surya in Modhera village. It is built on the Pushpavati River. Worship is not permitted anymore as it is a protected monument which is looked after by Archaeological Survey of India. The temple has three components: Gudhamamdapa which is the shrine hall, Sabhamandapa which is the assembly hall, and Kunda the reservoir. The pillars in the hall have intricately carved exteriors. To reach to the bottom of the reservoir you can take the stairs. Gujarat tourism arranges a 3 day dance festival which is called "Uttarardha Mahotsav".
Click here to experience the virtual tour of Modhera Sun Temple.
7. Helical Vav, Vadodara: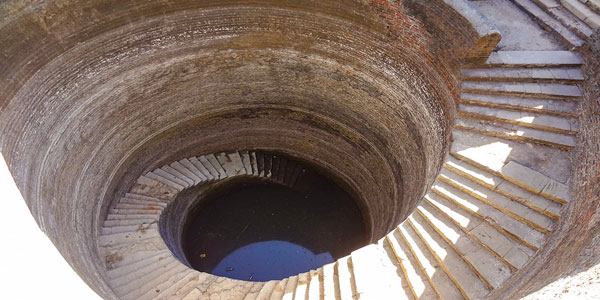 Image Source:https://www.thisiscolossal.com
 Helical Vav is located 45 km away from Vadodara. It was built in the 16th century with a 1.2 meter wide spiral staircase along the wall of the well. It has a very unusual and unique design in comparison to other stepwells of the region. In the 3D virtual tour you can see a 360 degree view of the Helical Vav which includes its tunnel and steps.
Click here to experience the virtual tour of the Helical Vav.
8. Navlakha Kothar, Pavagadh: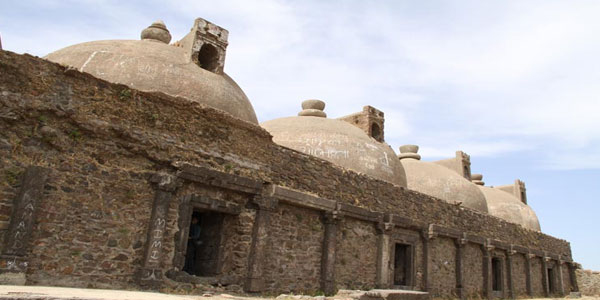 Image Source:https://www.gujarattourism.com
The valley of the vast expanse of Mouliatuk is considered as the Navlakhi Valley. It is in the north of the highest peak of Pavagadh Mountain. The ancient construction is named after the Navlakha Kothar offering an overview of the Mughal architecture. The attraction consisted of a T shaped building which has seven different parts and all of them are covered under a hug dome. It is situated in the edge of the Navlakhi Valley and was utilized as a storehouse for food storage in olden times.
Click here to experience the virtual tour of Navlakha Kothar.
9. Sat Kaman, Pavagadh: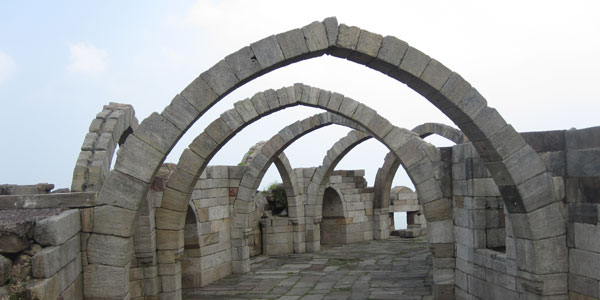 Image Source: https://upload.wikimedia.org
Sat Kaman is a significant structure located on the edge of a hill on the southern tip of Champaner, Pavagadh. The name Sat Kaman means seven arches. At present there are only 6 arches as the 7th one was demolished. The structure is only 4 km up on the hill from the base. It was founded by the most prominent king of the Chavda Dynasty named Vanraj Chavda in the 8th century.
Click here to experience the virtual tour of Sat Kaman.
10. Sikandar Shah's Tomb: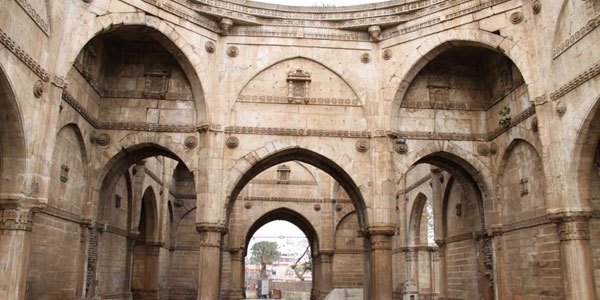 Image Source: https://www.gujarattourism.com
Sikander Shah was the ruler of Champaner who was killed by Imad-ul-Mulk in 1526 AD. He is buried here along with his two brothers. It is a simple stone structure known for its craftsmanship and elegance. The interiors has floral patterns and geometric designs mostly on the porches and pillars. The storied sandstone mausoleum has five small domes and two central domes.
Click here to experience the virtual tour of Sikandar Shah's Tomb.
Go ahead through a digital journey discovering the landscapes, temples, waterfalls, architecture, and culture. This list includes some of the UNESCO sites too! Incredible India is an initiative of the Ministry Of Tourism and you may experience a 360-degree tour of those very locations without spending any money and while staying at your home.
Also, click here if you are planning a weekend getaway from Ahmedabad.