Goa Honeymoon In The Post Covid World – What To Do And Where To Stay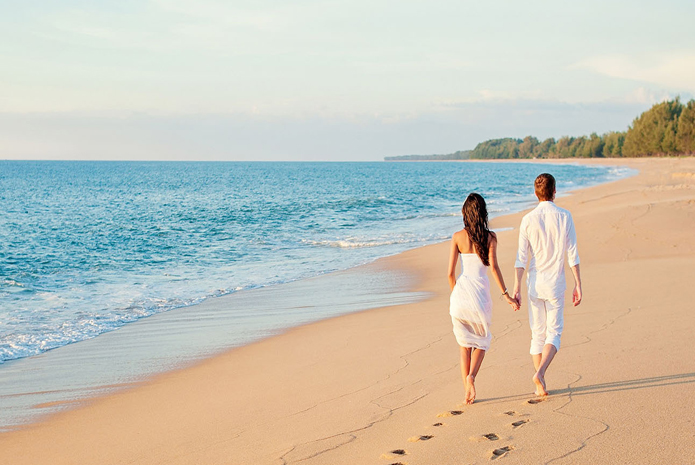 Goa is one of the smallest state of India and considered as the best leisure destination for Indians as well as international travellers also. The economy of this state is totally dependent on travel & tourism, but the liveliness of this place was on a break during the lockdown times faced in our country.
But recently, as announced by the Chief Minister of Goa, the state is again ready to welcome visitors without any restrictions as in one doesn't need to conduct a test for Covid-19 on arrival, also you don't need a negative Covid-19 certificate or e-pass on your arrival. And the best one is that no individual needs to get isolated upon arrival but yes it is the responsibility of each and every individual to follow proper guidelines relating to the situation like temperature checking, compulsory wearing of masks and maintaining social distance in all public areas.
Being an all-time favourite honeymoon place, the Goa is famous for shore-lined palm trees, beaches, forts and caves, vibrant shacks and many other romantic things to do. A honeymoon tour is a hearty affair for anyone and when one thinks of planning for a honeymoon, he/she comes across many ideas of making their honeymoon romantic and sensual one, and we are sure that a trip to Goa will make your honeymoon a sweet and memorable one.
With the increasing number of tourists every year, this small state till date has many secluded places to enjoy for couples. So let's have a quick read to the guide to Goa which covers some of the most romantic experiences, best resorts suitable for couples, and other relevant information related to your travel.
Best Time for a pleasant stay in Goa
Though from November to March, the state is highly crowded, but the best months to enjoy in Goa starts from October and stretches till March, because the weather during these months is quite favourable and pleasant.
How to reach Goa
By Air: The main airport is the Dabolim Airport and you get good flight options from the major cities of India, non-stop or one-stop.
By Road: If you stay in Mumbai, then this is one of the most scenic and best option or also can opt for bus travel
By Rail: Book a train till the Madagaon Railway Station or Thivim Railway Station

Get the cheapest flight rates online with Flamingo
Fly with Flamingo!
Check out some best-selling Goa tour packages and plan your honeymoon to Goa. On an average, you need 5-6 days to enjoy this party place fully.
The Best Beaches in Goa for Couples/Honeymooners
During your visit to this beach capital of India, make sure you visit the short-listed romantic & secluded beaches of Goa, completely scenic and best beaches of Goa. Do go for a romantic early morning or late evening beach walks, to witness the sunrise or sunset.
1. Bogmalo Beach: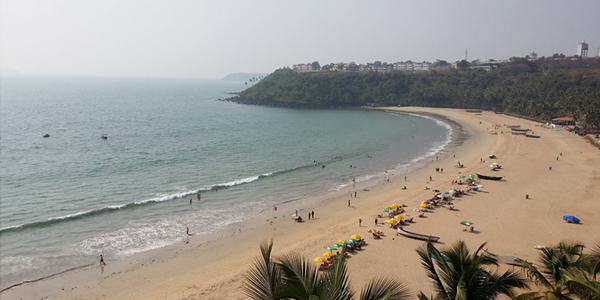 Image Source: https://media-cdn.tripadvisor.com/
This is one of the most scenic and picture perfect beaches in Goa. The couples who loves lively and vibrant shacks with being less crowded, do visit the Bogmalo beach. The most romantic things to enjoy here with your partner is sea bathing, windsurfing and many other water sports activities.
2. Butterfly Beach: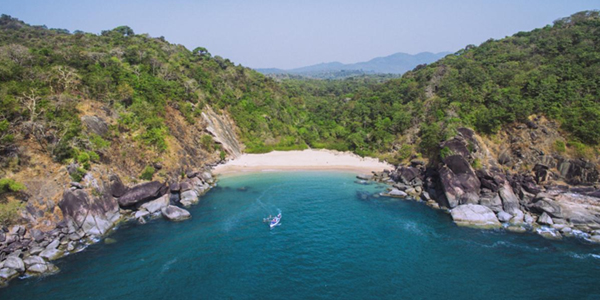 Image Source: https://im.whatshot.in
One of the most secluded and scenic beach of Goa. And you can reach this beach only with the help of the local goan people. As the name goes, here you can find some of the very rare and beautiful species of butterflies. To reach here, you need to go for a trekking through the jungles or else can take a romantic boat ride from Palolem beach. With being less crowded, couples can have their cosy time here. Go for kayaking, walk on the beach, witness the beautiful sunsets or spot the golden fishes and dolphins with your loved ones.
3. Palolem beach: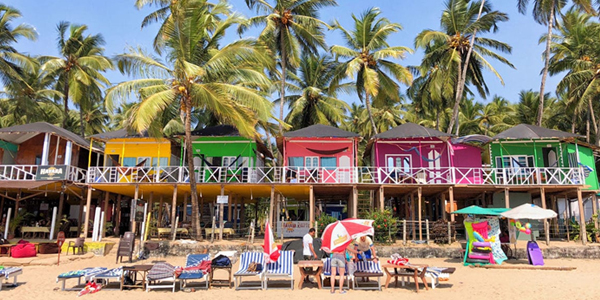 Image Source:https://www.bizevdeyokuz.com
Night lovers and Party lovers, this beach is a must visit for you all. If you are fond of silent noise party nights, then make a point in your itinerary to definitely visit this beach. Along with parties, you can also enjoy dolphin spotting, some extraordinary sunset's photographs and scuba diving.
4. Candolim Beach: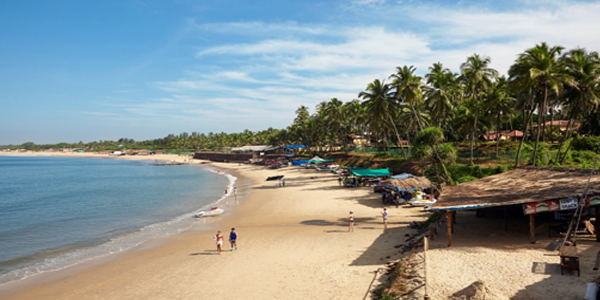 Image Source: https://otdyhateli.com
Get some mesmerising sunset views at this scenic beach of Goa. Said to be one of the romantic beaches in Goa to spend quality time, relax and enjoy with your soulmate. Opened for 24 hours, this beach is famous for jet skiing, scuba diving and dolphin spotting. Even you can go for a pre wedding shoot here.
5. Morjim Beach: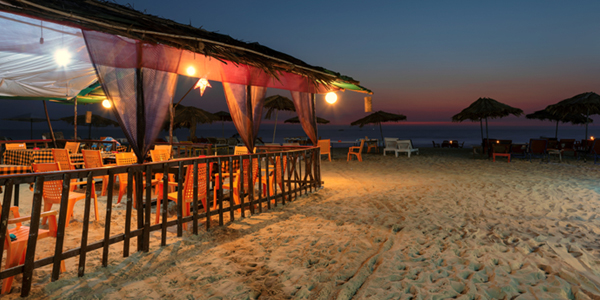 Image Source: https://i.postimg.cc
With being one of the pristine beach in Goa because of its pleasing environment, this beach is also famous for bird watching and a breeding place for the Olive Ridley Sea Turtles. Enjoy at the authentic cottages and restaurants with Goan cuisine and relaxation with your spouse.
Though Goa is a hub for several beaches, but the above listed are some of the uncommon beaches which should be missed during your trip to Goa.

Hotel deals like never before!
You Travel We Care!
Some of the Best Islands for couples/honeymooners
If you looking for some cosy moments with your partner or want to enjoy a romantic candle light dinner, then check out some of the most relaxing Islands of Goa listed below:
6. Grand Island: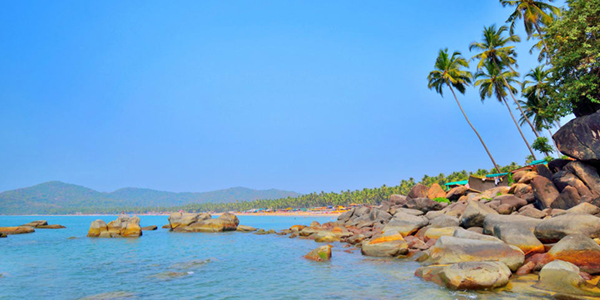 Image Source: https://images.thrillophilia.com
For couples who love adventurous activities, then the Grand island should definitely be in their checklist. It takes only 35-40 minutes via ferry to reach this island, & it is one of the known scuba-diving site in Goa. With spice plantations all over & some best dolphin spotting, this island also hosts some of the best diving sites here like Bounty Bay, Sail Rock & Shelter Cove. You can stay overnight here and if you go for a day trip then you at least need 7 hours to enjoy here fully.
7. Anjediva Island: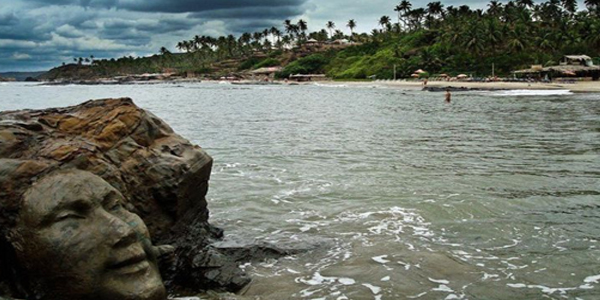 Image Source: https://www.hlimg.com
This is one of the hidden or one can say the unknown island in Goa, & so it's less crowded & so couples can get some private time here. This island is collection of 5 small islands that is Kurnagal, Anjadiva, Devgad, Mudlingud, & Devragad. This island is located on the border of Karnataka & Goa & is very famous for the Anjadiva Fort. Hop on to this island in just one-hour ferry from the Palolem Beach and enjoy some lovely times with your spouse.
8. Charao Island: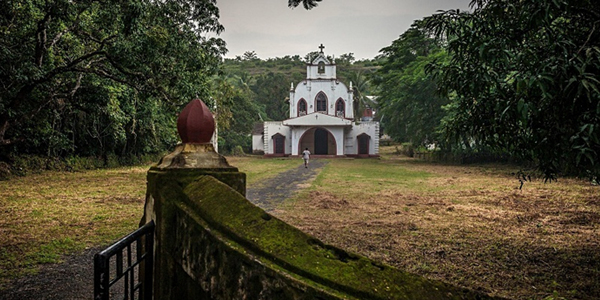 Image Source: https://www.trawell.in
Charao Island is one of the most beautiful island, on the banks of Mandovi River. With mangrove trees spread all over, this island is also shares a part with Salim Ali Bird Sanctuary and you can find some of the rare and amazing bird species here.
Couples who are fond of nature and enjoy bird watching, should definitely not miss this hidden place in Goa. To get to this stunning island, go catch a ferry from Ribandar.
Best Romantic Waterfalls not to be missed by Honeymooners
Visit some of the most scenic waterfalls in Goa to add beauty to your Goa holiday tour package. Check the below refreshing waterfalls of Goa:
9. Dudhsagar Waterfalls: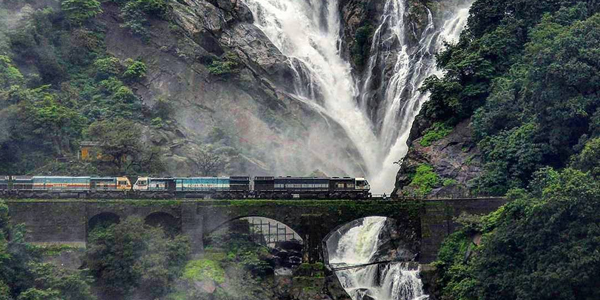 Image Source: https://i0.wp.com/
Opt for scenic ride of 60km to reach this waterfall with your partner amidst the lush green dense forests of Goa and witness the beauty of this majestic waterfall. The Dudhsagar Waterfall is the 5th largest waterfall in India and one of the best things to do in Goa. The entry fee to this attraction is INR 400 per person and from October to April is considered as the best time to visit here.
10. Harvalem Waterfalls: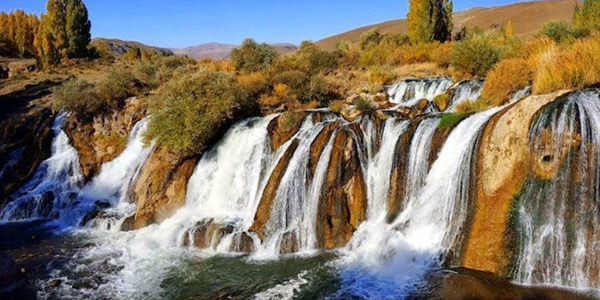 Image Source: https://img.traveltriangle.com
This falls are a pleasure in your eyes. Surrounded with dense green forests, this is one of the best romantic places to enjoy with your soulmate. Here you can also enjoy the Rudreshwar temple and seek some blessings. You can hire a taxi from Panaji and visit this beautiful waterfall. The best time to enjoy this waterfall in from the June to November.
11. Bamanbudo Waterfalls:
Image Source: https://www.holidify.com/
Bamanbudo waterfalls are one of the eye-catching waterfalls in Goa. You don't need to climb any steps or walk as this waterfall are just located at the roadside. Come & enjoy this stunning attraction with your loved ones and have a moment of life time. You don't need to pay any entry fee to enjoy this beauty.
Amazing Forts not to be missed while during your visit to Goa
Forts are not only for those who enjoy history and especially the ones in Goa, as the listed below are some of the best forts in Goa offering wonderful views & attractive because of their architectural designs.
12.  Sinquerim Fort: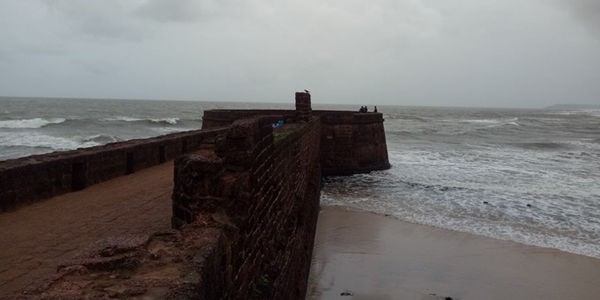 Image Source: https://static2.tripoto.com
This fort is known for its stunning architecture. This destination is not much famous with the visitors and so is less crowded. Visit this beautiful fort with your spouse and enjoy the stunning sunsets, swim in the beach or go for surfing, or just relax under the moonlight with your partner and enjoy the moment. You can book or get a taxi from your hotel to this marvellous fort.
13. Mormugao Fort: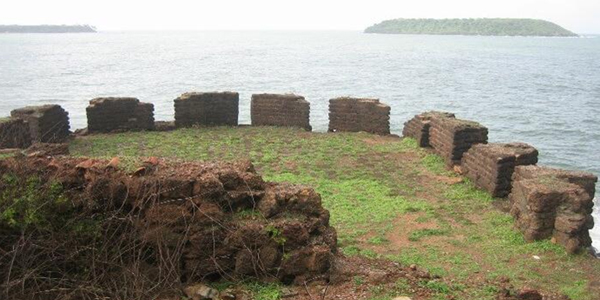 Image Source: https://img.traveltriangle.com/
This fort holds a strong historical background, & is located at the banks of the Zuari river. This is one of the best places to visit for couples to enjoy some peaceful time with each other along with witnessing some of the stunning surrounding views of the scenery. One of the only Portuguese fort in Goa, which is not to be definitely missed.
14. Chapora Fort: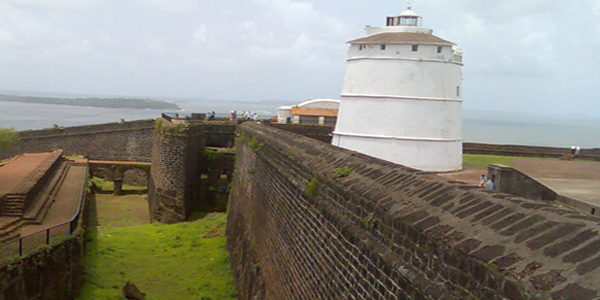 Image Source: https://www.travelogyindia.com
This has been one of the famous spot in Goa, after the hit movie Dil Chahta Hai. Definitely a couple's place, this fort is located at one of the famous and pristine beaches in Goa. Enjoy the stunning views of the nearby habitat with your partner.
15. Fort Aguada: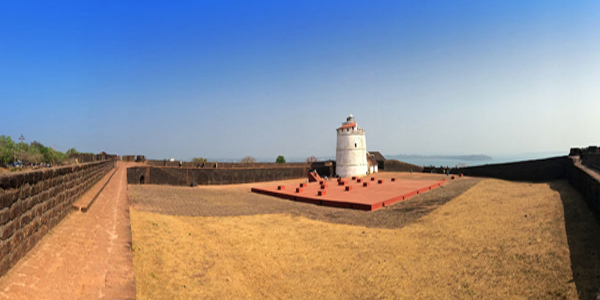 Image Source: https://goa-tourism.com
This is one of the largest and most famous spot in Goa. Though too much crowded but won't let you down with its stunning historical architecture and surrounding views. The highlight point is the hilltop fort, which also houses a light house and offers some of the best views of the Arabian Sea. This fort also shares borders with the famous luxurious property of Taj.
With having a great time at the above listed beaches, scenic beauty and forts, Goa also hosts some of the best hotels for honeymooners & couples. Let's go through some of the suggestible hotels for a perfect romantic stay in Goa & offered by the Goa Tourism in the list mentioned below:
1. Double Tree by Hilton: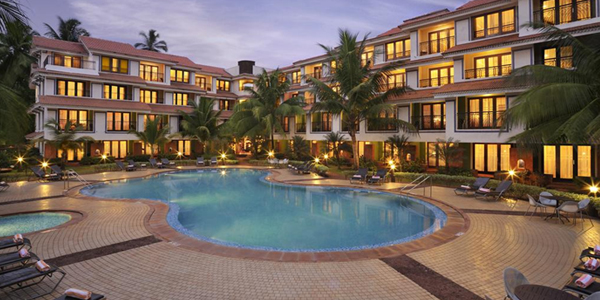 Image Source: https://cf.bstatic.com
With a complete serene environment, Double Tree by Hilton is one of the luxurious and romantic hotels in Goa. With featuring an outdoor swimming pool and 3 restaurants available for dining, the hotel's rooms are mostly inbuilt with a balcony providing stunning views of the lagoon. The famous Baga Beach, Anjuna Beach & Calangute are just at a distance of 5 km from this property. Come and have a pleasant stay at this romantic property.
2. The Lalit Golf & Spa Resort Goa: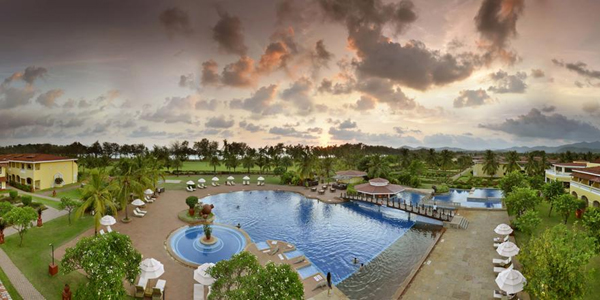 Image Source: https://cf.bstatic.com
Considered as one of the most preferred place to enjoy with your soulmate in Goa and mostly known for its warm hospitality and luxury. The Lalit provides some of the exceptional services to its guests which includes massage & spa therapies, indoor games like squash & tennis courts. You can also spend time by opting to get some adventure by trying parasailing & wind surfing at the nearby Palolem Beach. Come and show some romance to your loved ones at The Lalit.
3. Taj Exotica Resort & Spa, Goa: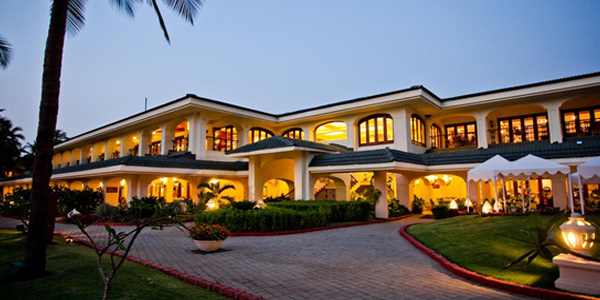 Image Source: https://cf.bstatic.com
Are you confused among the most amazing resorts for your honeymoon in Goa? Without a second thought, definitely go for Taj Exotica, one of the most lavish properties in Goa. Each room houses a private balcony giving some majestic views of the garden area, poolside, or the sea. With nude coloured room walls & dark wooden furnishings, the rooms are equipped with the best of the modern amenities. You can enjoy the golf facilities, relax at the spa & massage centres or have a dip in the swimming pool. Truly the most luxurious hotel in Goa.
4. Taj Fort Aguada Resort & Spa, Goa: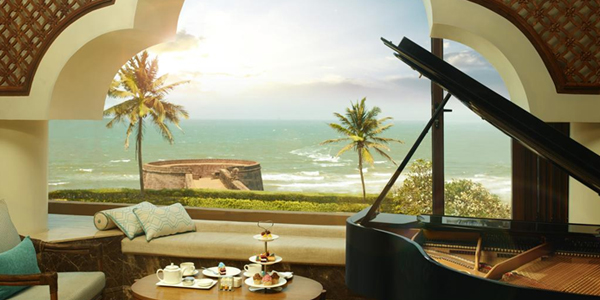 Image Source: https://cf.bstatic.com/
With facing the Arabian Sea, this is an exceptional resort in North Goa. Taj Fort Aguada Resort & Spa in Goa is only 10-12 km away from the Vagator beach and share border with the Fort Aguada. With private balconies for each room &Old Portuguese styled architecture, this resort also offers spa therapies, water sports & courts for squash & tennis. Sip a drink & enjoy the amazing views of the surrounding seas from your balcony.
5. W Goa: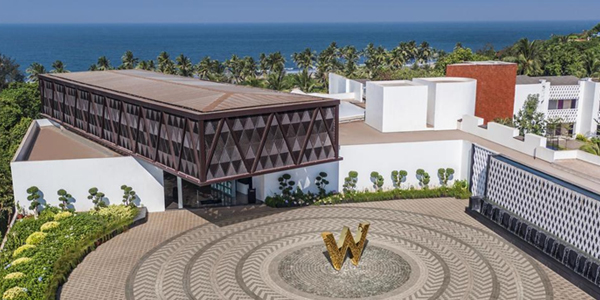 Image Source: https://cf.bstatic.com
W Goa is known for the ultimate luxury property in Goa. The property has some of the best amenities offered to its guests while staying over there. The hotel is set on the Vagator beach & has a selection of some best suite rooms offering the amazing views of the mountains and the blue ocean facing it. You can also arrange a romantic surprise for your partner at the Spice Traders. A stay in the W Goa will sure add on some of the best memories of your married life in your kitty.
6. The Zuri White Sands, Goa Resort & Casino: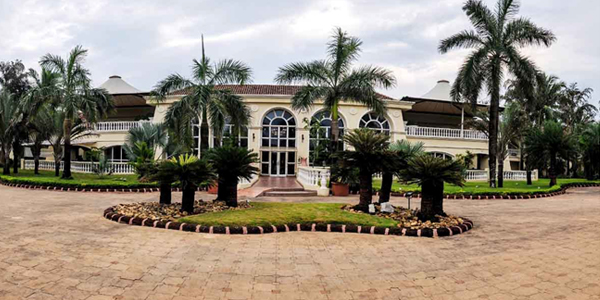 Image Source: https://www.thezurihotels.com
If your honeymoon is meant only for utmost luxury and relaxation, then you are at the right place. Considered as one of the amazing resorts for couples, The Zuri White Sands also houses a casino, for the ones who are fond of gambling. Spread across 38 acres of land, The Zuri has also shared land with the Varca Beach. Come & get pampered with your loved ones at this five-star luxurious property of Goa.
7. Park Regis: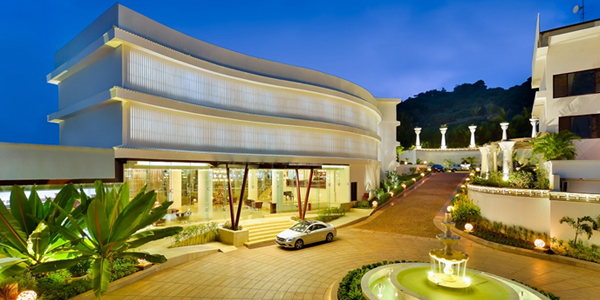 Image Source: https://1p53th2szthj2futa943zgi7-wpengine.netdna-ssl.com/
Park Regis is located in Arpora and is just 500-600 metres from the Baga Market. With pleasing warm coloured & spacious rooms, Park Regis will not let you down when it comes to being hospitable & luxurious. All rooms are modern equipped with lavish amenities with the hotel offering spa & massage therapies to its guests at a very nominal cost. This can be surely considered for a perfect honeymoon stay.
8. ITC Grand Goa: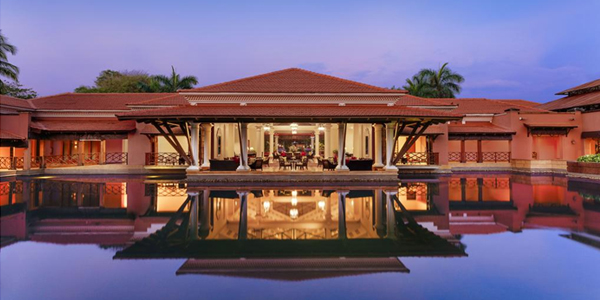 Image Source: https://cf.bstatic.com/
With a direct access to the Arossim beach& Cabo Da Rama fort being at a distance of only 25 km, the ITC Grand Goa is said to be one of the village-styled resort with beach facing. The resort is quite spacious with each rooms having a private balcony offering views of the surrounding lagoon, sea & the gardens. You can enjoy number of activities onsite with water sports being the main one to go for. Visit this resort located in South Goa for a memorable honeymoon.
9. Le Meridien Goa, Calangute: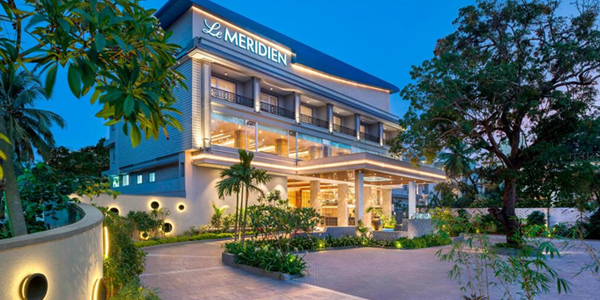 Image Source: https://cf.bstatic.com
With a perfect location, best hospitality, & nicely furnished spacious rooms, Le Meridian should always be considering as one of the best option while planning a stay in a luxurious property in Goa. The hotel is just 800 metres away from the pristine Calangute beach & it is said that this is one of the strongest reason to stay at this property. So don't wait and check the rates of this grandeur property.
10. Novotel Dona Sylvia: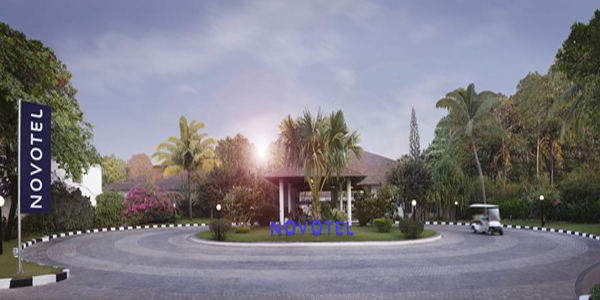 Image Source: https://cf.bstatic.com
The 20-acre resort offers what a honeymooner is yearning for, that is fun for the couples in a way that balances the luxury feel and amenities offered her. The property is a beach property& is just a 5-minute walk from the Cavelossim Beach, so it's a win-win for couples to spend their honeymoon in the most romantic styles. The resort is pretty&the accommodation is in pretty Goan Style cottages with lush green gardens. Don't forget to add this in your list while hunting hotels for a luxurious stay in Goa.
11. Lemon Tree Amarante Beach Resort: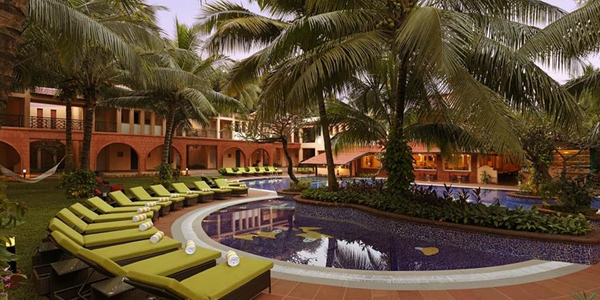 Image source: https://cf.bstatic.com
If you are looking for some historical architecture with a combination of modern amenities, then Lemon Tree Amarante Beach Resort is the right choice for you. With antique painting and glasses, this property is just 250 metres from the beach. This is one of the best suited hotels for honeymooners. The ambiance is quite luring and sets a mood for a complete leisure & romance. Don't miss out this property in your list.
12. Neelams The Grand Hotel: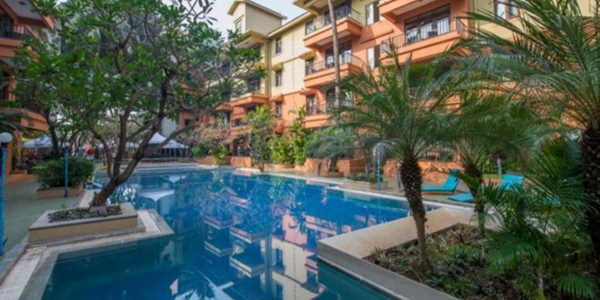 Image Source: https://cf.bstatic.com
If you don't want to spend huge amount on your stay but at the same time don't wish to compromise on the quality, then Neelams Grand Hotel is the one for you. At a distance of nearly 800 metres from the Calangute beach, the hotel is known for spa with Ayurveda treatments. The rooms are also quite spacious with modern amenities. You can enjoy swimming with your spouse or enjoy drinks at the Sport Bars.
13. Novotel Resort & Spa: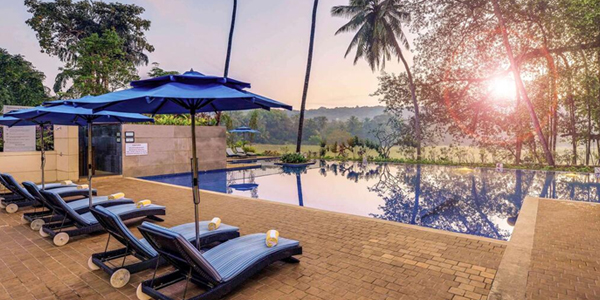 Image Source: https://cf.bstatic.com
The location is great because of the close proximity to the main road & the Calangute Candolim stretch. Novotel Goa Resort and Spa mainly focuses on couples and they score really good for it. A total retreat, Novotel Goa Resort and Spa has a gigantic pool ignoring the paddy fields, a scene one generally doesn't connect Goa with, and get the opportunity to see consistently. What more would anyone be able to request! It is located inside the mainland, which allows the traveller to explore the in-land Goa. This can be one of the best option for a romantic holiday in Goa.
14. Kenilworth Beach Resort & Spa: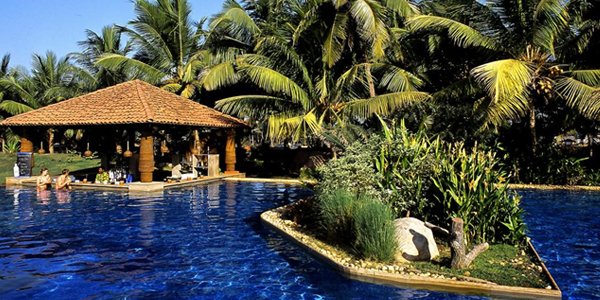 Image Source: https://cf.bstatic.com
The Kenilworth Beach Resort is a 5-star luxurious property in Goa & is just 14 km far from the main airport. The hotel house the state's 2nd largest swimming pool, with also an open-air Jacuzzi, spa centres and 6 different dining options available. Depending upon the allocation of rooms, all the rooms have a private balcony wherein one can enjoy the views of pool and the garden area. To make your stay memorable, do consider this resort for sure.
15. The Golden Crown Hotel & Spa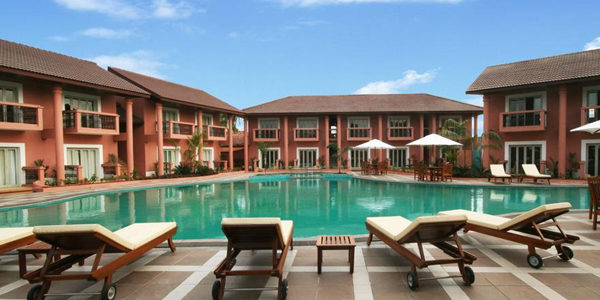 Image Source: https://cf.bstatic.com
Again one of the best hotels if you are looking for some pocket friendly options. With sharing a close proximity with the Colva beach, surrounding paddy fields and almost all rooms being surrounded by pool, The Golden Crown Hotel will surely give you a pleasant stay experience. Sit back & relax in the blue waters and enjoy a drink at this decent but romantic property.
Still confused with the things to do in Goa or the best hotels to make your vacation a memorable with your partner? Guess, all the doubts are now sorted, so don't wait and move a step ahead and book the most awaited dreamy trip with your life partner and add some of the best memories. Happy Honeymooning couples!! 
Frequently Asked Questions about Goa
1. Which part of Goa is best for honeymoon?
Goa known as the party place has two sides. While North Goa is an essential place of Goa tourism, South Goa is the place honeymooners can plan to discover isolation and harmony for a sentimental get-away in a small Indian state.
2. Which is the best season to visit Goa?
The best time to visit Goa is from November to February visiting Goa. These are the best winter month to visit region, with temperatures fluctuating between 21 ⁰C and 28 ⁰C. The pleasant weather is perfect to relax around on the beaches.
3. What are some of the best things to do in Goa?
Couples can go on a cruise on the Chapora River, try catching crabs, dance away at a nightclub, laze around on a beach.
Other things to do in Goa:
Visit to Dudhsagar Falls
RENT A PRIVATE VILLA IN GOA
WATER SPORTS
The Uncommon Market of Ingo
Se Cathedral
Naval Aviation Museum
Party on Butterfly Island
Stroll in the Old Latin Quarters of Panjim
Cycling around the Goan Villages
Couples Spa at Resorts
4. Is it safe to visit Goa?
Goa Can Be Fun, Beautiful and Safe.
You will be fine as long as you don't make yourself problematic. Take the necessary precautions and obey and respect local laws. Have fun and stay safe.
5. A Goa trip should be of how many days?
On an average, you need 5-6 days to enjoy this party place fully.