Not to Miss Nightclubs and Bars in Goa !!!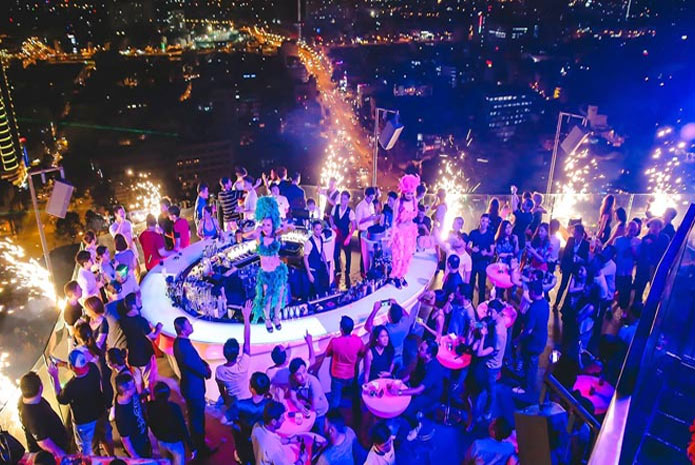 Goa is one of the favorite destinations among Indian tourists, which offer Nightlife, Beach Shacks, Luxurious stays, Carnivals, Rich History, Wildlife Sanctuaries, and delicious food all in one place. 
Goa's exotic nightlife will make you never want to leave the destination. Though Goa is one of India's smallest states, it offers the most promising nightlife options in the entire country. 
Nightlife lightens up the entire city of Goa with woozy neon lights, pompous music, and appetizing food which makes a perfect ambiance which one could ever wish for. Goa's nightlife gets dynamic in bars and nightclubs with live music, a heart-throbbing dance floor, and some hard drinks.
This beach town comprises wonderful beaches, peaceful and delightful sights to ascertain, elegant nightlife, and the best reasonable parties you'll crave for.
Plan your Goa Tour Package in such a way, that you get enough time to enjoy your luxurious stay in the beautiful hotels of Goa as well as explore the beautiful historic city of Goa. 
For anyone's visiting Goa in 2021, here's a list of Nightclubs and Bars which one cannot miss out on:
Night Clubs:
Club LPK Waterfront

SinQ Night Club

Antares Restaurant & Beach club

Marbella Beach Resort, Goa

Hill Top, Goa

Kamaki, Goa
Bars:
Café Lilliput

Café Mambos

Curlies, Goa

Casa Playa

Purple Martini

Thalassa

UV Bar
Night Clubs:
1. Club LPK Waterfront: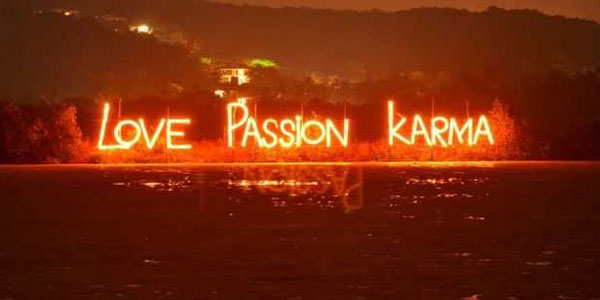 Image Source: https://www.holidify.com
A rock carving-themed club is a lively river-facing club in Goa that serves drinks and fast food. LPK stands for Love, Passion, and Karma displayed in a big neon sign that is not missed. LPK is one of the finest clubs in Goa which describes its uniqueness with rustic ambiance and exotic interiors. Entering this nightclub will give you a marvelous feeling as it offers you to make some dance grooves on hit Bollywood music, grab some amazing cocktails or take a silent walk along the riverfront. This club serves mouth-watering delicacies 24 hours a day. Meeting new people and getting lost in the tracks played by DJ Club LPK, will give you one of a lifetime experience. 
Location: Opposite Bank of India, Verem – Nerul Rd, Nerul, Goa 403114
2. SinQ Nightclub
: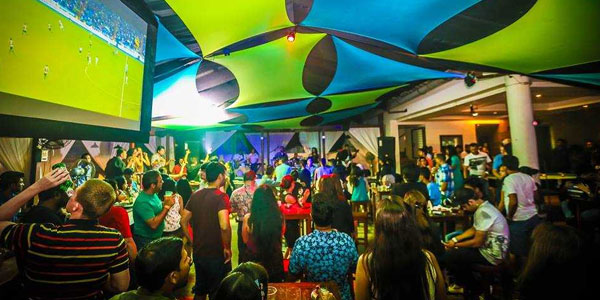 Image source: https://www.holidify.com
A chic & classy nightclub bar & poolside lounge with upbeat stylish chill vibes everywhere, that does not need to wait until the sun goes down. The cozy earthy tones of moderate furniture combine perfectly with the poolside lounge gives a whole lot of party vibes. SinQ nightclub comprises 4 entertainment zones – a snazzy nightclub, a Goan Tavern, a poolside deck, and a lounge – all filled into one to create a supreme party venue. Over here one can party hard or gaze around the outdoor poolside lounge over a couple of drinks. For foodies, the club offers wood fire pizzas and barbeque fare, and the lip-smacking Goan local delicacies. The club is opened from evening 7 Pm to Midnight 3 Am.  
Location: Opposite Taj Holiday Village, Aguada Road, Candolim  
3. Antares resort & beach club
: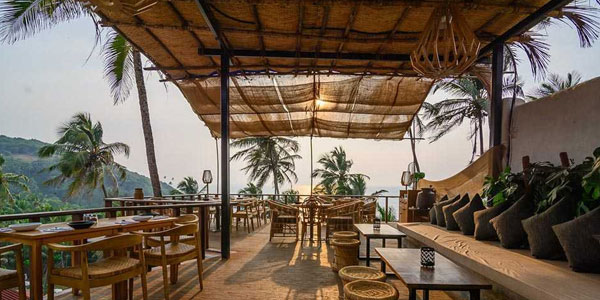 Image Source: https://www.holidify.com
Set on the shores of Vagator, this beach club is one among the Antares' prime gathering places. Here, one can find lavish day beds, wood fire pizzas, and refreshing cocktails to interrupt up the ocean's dips while taking note of sunset rituals and live music played by internationally renowned artists. Antares is a restaurant cum beach club tagged as Goa's most aesthetically pleasing place. With a wide range of cuisine from Goan to French, Antares is a must-visit place for all those of you who wish to interact amidst the actual Goan culture- good food and the perfect ambiance. The beach club is opened from noon till midnight.
Location: Small Vagator, Ozran Beach, Vagator, Goa 403509
4. Marbella Beach Resort: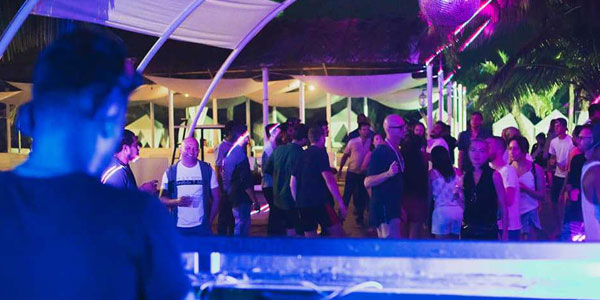 Image source: https://www.holidify.com
This beach resort will catch your attention from a distance because of the white backdrop of shimmering tents and tangled roofs. This club is situated right in the middle of the beach that features a beautiful decoration that adds to the pretty ambiance. Their appetizing pizzas, garlic naan, and butter chicken are must-try dishes. Also, Marbella beach resort is famous for elegant VIP cabanas and hammocks which make the simple place most elegant to relax on the beach. This beautiful Marbella beach club is surrounded by a combination of beauty and privacy that draws a chic and exclusive crowd. White Party hosted at Marbella beach club is a different kind of experience that attracts party lovers. The beach club is opened from 7 am – 11 pm. 
Location: 782, Gawdewada, Morjim-Ashvem Road, Ashwem, Goa 
5. Hill Top: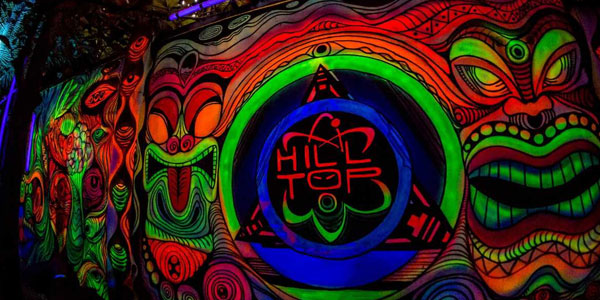 Image source: https://www.holidify.com
Located in Vagator, The Hilltop is one of Goa's most iconic and happening trance party destinations. This café displays a tremendous old-school vibe where you'll prefer either to groove on the trance music or just sit and enjoy the vibe. The entry fees to this happening place differ according to the day of the week. From being a tiny restaurant to being the last destination of psychedelic trance parties in Goa, Hilltop has come a long way. This place is lighted up with neon lights twisted around palm trees which look attractive when you come here for a party or enjoying your food at Hilltop Goa. The club is specifically known for hosting the Hilltop Festival in February. Open & close timings are not fixed. 
Location: Hilltop – Vagator, Anjuna, Bardez, North Goa 
6. Kamaki, Goa
: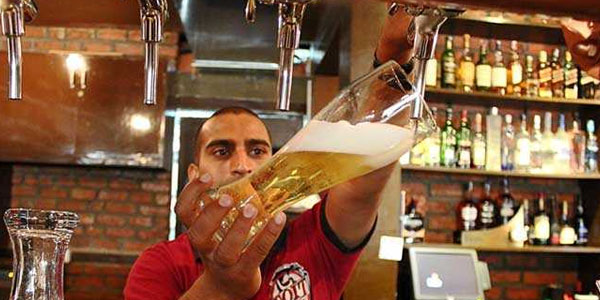 Image source: https://www.holidify.com
Kamaki is a voguish nightclub located in Tito's Lane at Baga Beach. Kamaki is a perfect place for a crazy all-nighter that does not burn a hole in your wallet. People are attracted to this place because of its excellent house music and live musicians that play retro music. It also features a big screen that hosts game nights like EPL, Cricket, and Formula One. The entry charge for this place is around INR 550 per person. Over here one can enjoy the live screening of sports matches as it has 2 nig projectors inside the club. Kamaki, Goa serves drinks all day while serves food from 06 Pm to 04 Am.
Location: Tito's Lane, Saunta Vaddo, Goa
Bars:
1. Café Lilliput: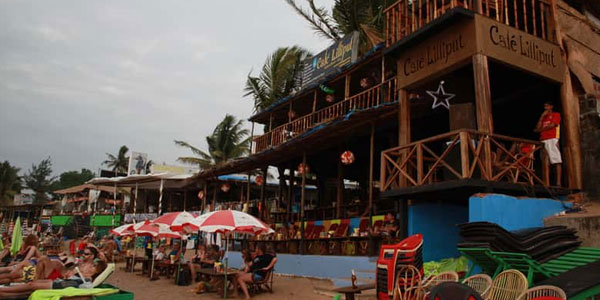 Image Source: https://static-blog.treebo.com
A cool long-standing beach place, Café Lilliput is a famous bar in Goa that assures one of many things such as global food, crazy nighttime parties, a pleasant atmosphere with a cool ambiance and get to groove on popular DJ tracks. Café Lilliput is one of the oldest shacks in Anjuna Beach resort. This bar was opened in the 80s of the past century and is known for its truly iconic facility, where amazing parties are held. Most of the tourists, who have come across this place excitedly talk much about the club and, especially, about the kitchen and its high level of hygiene. The café is opened from 08 pm to 04 am.
Location: Anjuna Beach Resort
2. Café Mambos: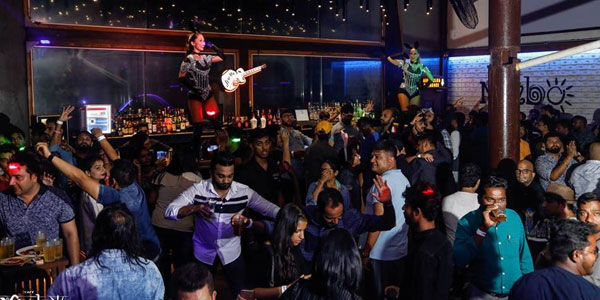 Image source: https://lh3.googleusercontent.com
One of the most energetic and happening places in Goa that host international DJs & live entertainment by artistic performers. Planning a trip to Goa would be incomplete if you haven't been to mambos yet. This is a time to upgrade your party scenes at Goa and take your friends to Mambos to experience an unforgettable night. You will go gaga with the vibe of this place – it will turn on your party mood. While talking about partying in Goa, café Mambos has to be on your top list. It is opened from 08 pm to 03:30 am.
Location: Tito's Lane, Baga, Goa
3. Curlies, Goa: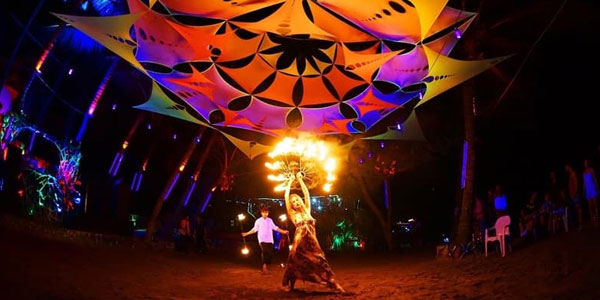 Image source: https://static-blog.treebo.com
Curlies is one of the famous beach shacks in Goa known for its wonderful rooftop ambiance, view of the beach, affordable nightlife, beautiful sea view, and lip-smacking delicacies. Tourists visiting this place are attracted by Trance parties and electro-beach parties. There are various seating options at Curlies Beach shack as it can accommodate up to 500 people at a time, so get a chance to enjoy a thrilling beach party with your squad. This authentic cuisine is made up of local spices and herbs, to create them flavorful and delectable. The beauty of Anjuna Beach, mesmerizing sunset, soft music, laser lights, and ambiance are spot-on that make you enjoy every moment. The club is operational from 8 am till 3 am. 
Location: St Michael, near Flea Market, Gumal Vaddo, Anjuna, Goa 403509
4. Casa Playa:
Image source: https://b.zmtcdn.com
A classy modern European restaurant that serves Paella, pasta & cocktails offered in an open-air pavilion with outdoor tables overlooking the beach. Panoramic views of the Vagator beach are incomplete without slowly sipping a cocktail to intensify your mood. Casa Playa offers a prime location for beaches and is marked as a sightseeing hub of Goa. Casa playa will get you spoiled by choice as it offers nearly 50 varieties of drinks. The operating hours of the restaurant are from noon till late midnight.
Location: Small Vagator, Ozran, Near Antares, Vagator
5. Purple Martini Goa: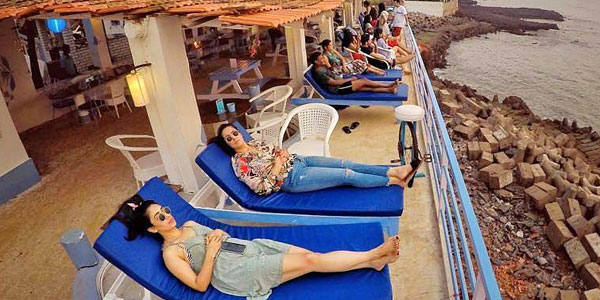 Image Source:  https://imgmedia.lbb.in/
Purple Martini is a bar and restaurant located at Sunset point Goa. This bar offers a beautiful view of the Arabian Sea and serves Continental, Italian, Mediterranean, and North Indian fare. This place offers a bohemian vibe with its Blue and white benches, lounge area, an admirable cliff-top location, sundowners, and a few dedicated cocktails, if that's not enough for you to visit this place we don't know what is. It a quite obvious to guess that Purple Martini is their signature cocktail. Purple Martini is just a laid-back café in the daytime until it turns into a party place post-sunset. This place is hugely filled with tourists, so if you wish to enjoy few good spots, then try to get there a little early before sunset. The best day to visit Purple Martini is Saturday, as it is popular for saxophone sunsets. The café is opened from noon till midnight. 
Location: St. Anthony praise waddo, near club nyex, Anjuna, Goa 403509
6. Thalassa Goa: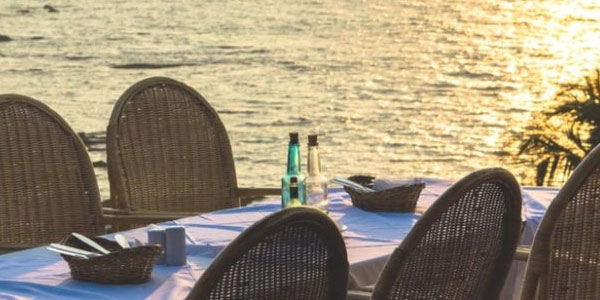 Image source: https://lifestyleasia.com
Visiting Goa and missing out on Thalassa would be a crime. Lately, Thalassa has been a crowd puller for the young generation because of its Greek food that is worth the hype. The outdoor tables shaded by palm trees offer a scenic sunset view at this upscale Greek Taverna. Thalassa is a special place to be in because its design and ambiance will transport you back to Greece at a stance. The place is surrounded by its Greek white decor, terrace flooring, peasant wooden shelters, and cane furniture. Activities such as electronic dance music, traditional Greek dance performance, fire show, and good food makes Thalassa a great place to celebrate life. The restaurant is opened from 08:30 am to 01 am.
Location: Plot No. 301, 1, Vaddy, Siolim, Goa 403517
7. UV Bar, Goa: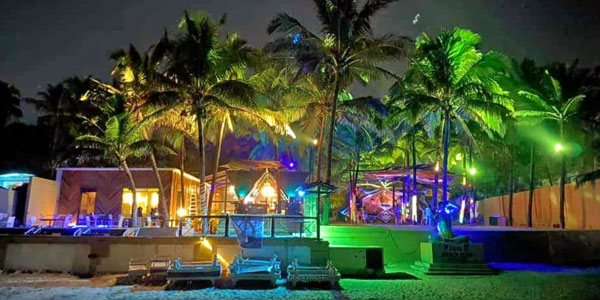 Image Source: https://images.thrillophilia.com/
UV Bar is referred to as a funky bar hosting a range of party nights in a space decorated with UV artworks and dark light. UV bar is rated as one of the trendiest party places in Goa where you get to groove on the most effective trance music. Make yourself comfortable in the happening bar by grabbing a drink of your choice. The club features varieties of drinks to serve. UV bar makes a way to the hearty meal since 2008, as it serves lip-smacking delicacies which will fulfill all your food cravings. UV bar serves a variety of cuisines such as North Indian, Sea Food, Punjabi, authentic Goan cuisine, and Indian. UV Bar offers a variety of services which include Bar, Alcohol, Birthday Parties, Candle Light Dinner, Outdoor Seating, and Night Life. The functional hours of the restaurant are 08 pm – 07 am.
Location: North Anjuna Beach, Dmello Vaddo near St Anthony Chapel, next to san Francisco's Bar & Restaurant, Anjuna, Goa 403509
Looking for the best deals; book your Goa August Month Offer Package from our website Flamingo Transworld Pvt Ltd.