Top 10 Workation Destinations In India!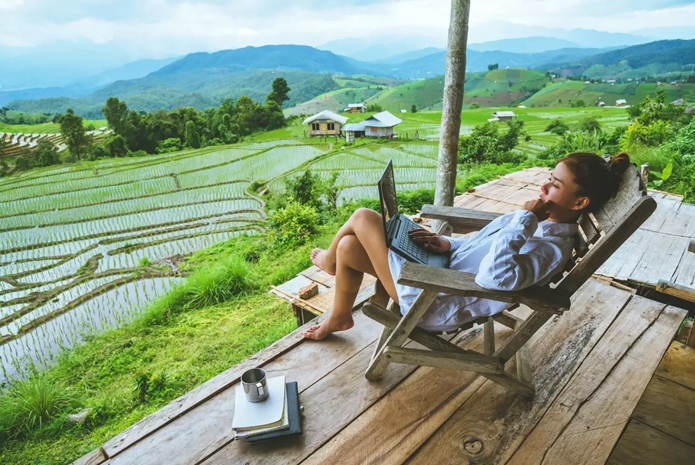 Since lockdown began in India you may have heard about the term "workation". It is kind of a vacation where you can work remotely. The idea of workation has become popular since many of you might be using laptops for work and wifi is now available almost at all hotels and resorts. During this Covid time you might be working from home and unable to go to the office due to restrictions in your area or not feeling safe to commute in the pandemic. Initially, all must be happy to be able to stay with family and also work but now after so many months, you might have dreamt of how good it would have been working at a hill station or beachside or a picturesque destination and work from a serene location. Now that most of the states have lifted restrictions it can be possible to set up your workation with breathtaking views and in a relaxed environment. The best part is even hotels and resorts have understood this need of many people so they have brought some good hotel deals so that you can take the benefit now. Honestly, this is the deal that should not be missed because once the vaccine is out, our normal routine will start again and so you may not get this opportunity later on. So let's look at some of the best workation destinations in India so that your dream can be turned into a reality.
Before we start with the list, let us know some of the things you may require when working at a different location which is unknown to you. This pandemic has made us realize that work location hardly matters. With the technology we have we can work anywhere we want rather than wasting time traveling that also contributes to pollution. At home we have all the facilities but will we get the same at other locations also? Things you should consider first before planning for workation with India packages are:
Getting uninterrupted Wi-Fi connection
Cellular connectivity as you may need to be on normal calls also
Food options whether at your hotel or how close are the restaurants
And most importantly how safe it is keeping Covid in mind.

Get the cheapest flight rates online with Flamingo
Fly with Flamingo!
These are very important things to note so that everything is under control and you don't have to worry when working. Below are some of the places where you can plan your workcation:
1. Goa: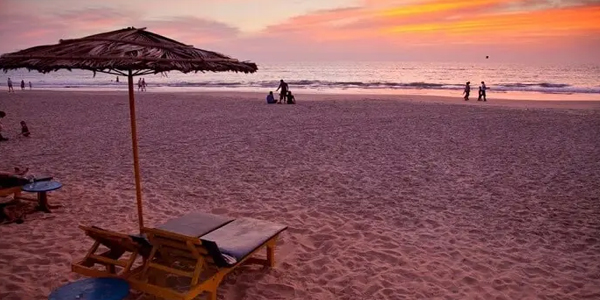 Image Source: img.traveltriangle.com
For a vacation in India, the first place that comes in your mind if you are a beach lover is Goa. Just imagine the feeling that you are sitting on the beach or at beach shacks working in your casual clothes with roaring waves of the blue water and breeze going around and a glass of your favorite drinks. Everyone has their way of refreshing their mind where some like to just relax in and feel the beauty of nature while some like to go for a party after work is finished. Well, a trip to Goa can give you both from heritage to wonderful beaches and waterfalls to night parties and casinos. There are many luxury and budget resorts in Goa that are offering great deals like extended stay offers where if you stay for several days you will get a certain percentage of the discount.
2. Dharamshala: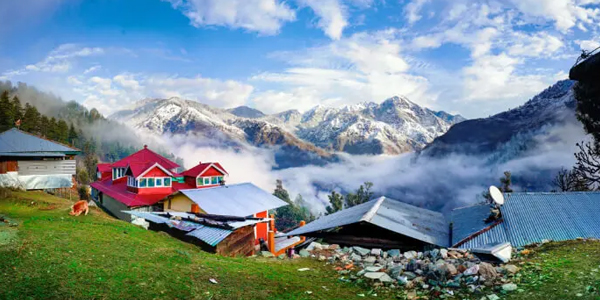 Image Source: Homestays.com
Dharamshala at Himachal Pradesh is one of the best places to work if you want to stay away from the rush of the city. The peaceful environment you get here is unmatched with Himalayan Mountains covered in snow. The hospitality and smiling faces of the locals here make it even more inviting. During the daytime you can work outdoors with beautiful views and a cup of hot chocolate and at night if it gets freezing then either bonfire or a fireplace in your room can be another option.
3. Bir: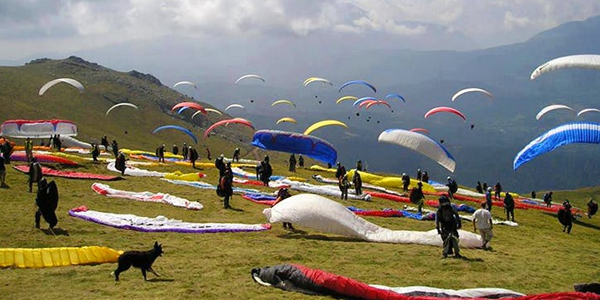 Image Source: imgstaticcontent.lbb.in
Bir is a small village in Himachal Pradesh which is not as famous as other towns in the state but it is gaining popularity as a good workation option. It is also the location of the Bir Tibetan Colony so the culture of Bir has Tibetan influence and you can get the sense of calmness here that you are looking for while working. If you are an adventurous person then Bir has a perfect paragliding launch site at an elevation of 2400 meters. There are many competitions held here as it is one of the best paragliding sites in India.
4. Udaipur: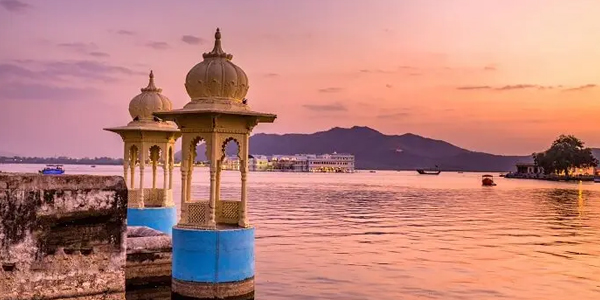 Image Source: img.traveltriangle.com
In search of a workation with picturesque sights, how can Udaipur stay away? Udaipur has a rich cultural heritage backed by scenic beauty making it an ideal place to stay and work. The best place to stay is very close to Lake Pichola as you get to see amazing sunrises and sunsets along with Palace and the famous Taj Lake Palace views. The best part of staying in Udaipur is the feeling of royalty in the hospitality you get no matter if it is a luxurious hotel or budget ones, they give their guests utmost importance and satisfaction. This lake city in between the Aravallis will keep you refreshed that will help you in your work or a project.
5. McLeodganj: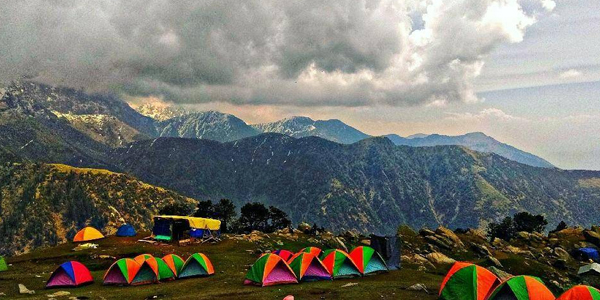 Image Source: storage.googleapis.com
Another popular destination which is very close to Dharamshala is McLeodganj. If you have lots of office work to do but want to book India packages then Himachal is one of the best states to visit in India if not the best. McLeodganj is filled with natural beauty with many cafes around making it one of the best options for freelancers. Many opt to stay here for a very long period in hostel-type properties which are very cost-effective. In hostels, you find many young people from different parts of the country so it is easy to get along with them but if you are looking for a quiet place with privacy then this city will not disappoint you for sure.
6. Panchgani: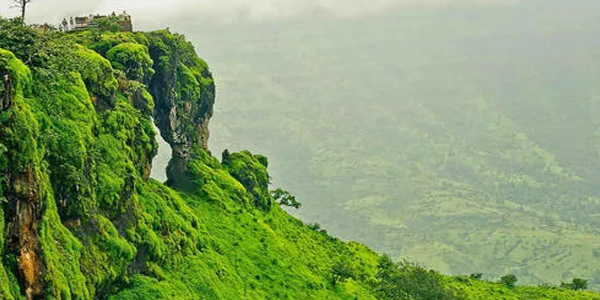 Image Source: tiimg.tistatic.com
One of the best weekend getaways in Maharashtra is Panchgani which is very close to Mahabaleshwar. Some of the hotels here have splendid views of the river surrounded by Sahyadri hills. The temperature here is mostly pleasant so if you are looking for a better place to work then this could be one of the best options. One of the most popular attractions in Panchgani is Table Land which is the second-longest mountain plateau in Asia. During the monsoon and winter season it is mostly covered with fog so it is fun to go for a short walk here (don't go very far as it can be dangerous because you will not be able to see what lies ahead due to foggy conditions). There are few properties here for backpackers, lone travelers, and even couples at a very reasonable rate with amazing views of the hills that can work out perfectly as a workation.

Hotel deals like never before!
You Travel We Care!
7. Varkala: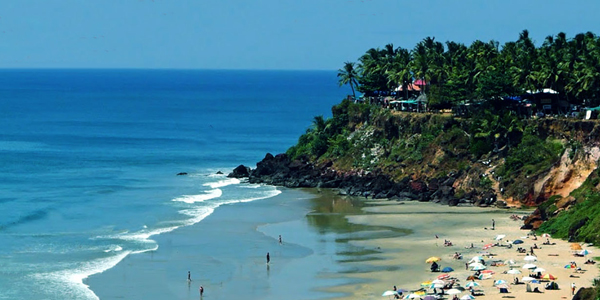 Image Source: ootloosedev.com
Varkala is an excellent choice for destinations working with waves crashing on the shore and cool breeze blowing. When you take a timeout from work then you can visit numerous places like forts, lakes, local markets, etc as this place caters to all modern needs. Varkala never disappoints you due to its enchanting vibes. Imagine in this modern world you are staying in a hut made of bamboo with all basic amenities required and a great view of the Arabian Sea. The experience here can be truly a memorable one for sure.
8. Coorg:
Image Source: dynamic.tourtravelworld.com
Do you like working on your laptop along with your favorite coffee? How about working at Coorg amid fragrant coffee estates. This place is popular amongst nature lovers and those who love to do offbeat things. You can find here many nature home stays and budget hotels that are beautifully located with spectacular views of the Ghats. When you work here your frustrations and irritations take a back seat such is the charm of this place. If you are planning for an India tour packages then many properties here provide attractive packages that are cost-effective as well depending on your needs.
9. Gokarna: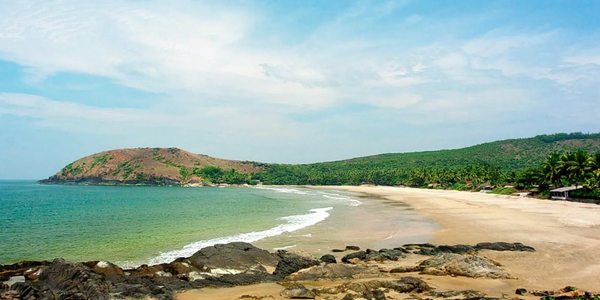 Image Source: images.thrillophilia.com
Gokarna which is also known as Mini Goa is located in the southwestern Indian state of Karnataka. It can be a great offbeat destination for beach lovers planning to stay here for a while and work. You can get to see one of the most beautiful sunsets in India on its clean beaches. Lots of mythological stories are connected with Gokarna from Lord Shiva to Ravana. When you have some time off you can go surfing on the main beach. There are several beaches here namely Om beach, Paradise beach, Half moon beach, and Belekan beach. Om beach is very famous among tourists as it is a naturally Om shaped beach.
10. Darjeeling: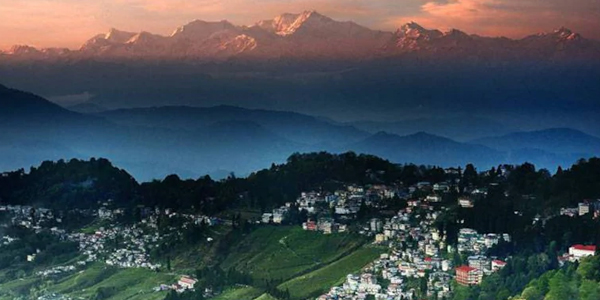 Image Source: akm-img-a-in.tosshub.com
If you are looking for a place to relax and work at a picturesque hill station then Darjeeling is the place you should look for which is also known as Queen of Hills. This destination has it all for tourists to leave a long-lasting impression. The beauty of Darjeeling was such that during British Raj it became their summer resort. Darjeeling is known for tea estates, Kanchenjunga Mountain View, toy train rides, and many more which will keep you entertained and refreshed. This town has many work retreat options that enable you to not only enjoy the true essence of the town but also offer you a convenient space to carry out your day-to-day work.
So when are you planning your workcation tour package? It is a unique concept worth experiencing.